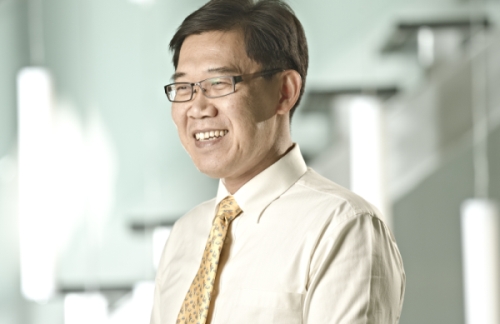 Downloads are never too fast. Webpages cannot load quickly enough, and that YouTube video should have streamed five seconds ago.
If that sounds like a typical day for a smartphone user, it is partly because of the explosion of mobile broadband data in the past few years, which has telecom operators struggling to cope with the demand for more bandwidth.
With users updating their Facebook status every other minute and worse, when machines start "talking" to one another to transmit, say, sensor data of an impending flood, how can mobile networks cope?
Techgoondu had a quick Q&A with StarHub's chief technology officer, Mock Pak Lum, to find out more. A veteran of the industry, Mock has been the CEO of 1-Net, Singapore's broadband exchange, and has had stints in Hewlett-Packard and MediaCorp.
He will be speaking at next week's UNWIRED 2012 conference in a panel discussion on Adding Network Smarts. 
Q: We know that the explosion of mobile data has been a worldwide phenomenon that's taken many telcos by surprise. Can you share with us StarHub's experience and how you have coped?
A: We have been upgrading our infrastructure in step with the growth of our mobile subscriber base and mobile data usage. Recently, we have started building our LTE network. The first phase of the network is expected to go live by the end of the year, covering key business areas such as Singapore Changi Airport, Marina Bay, Suntec and Shenton Way.
Q: What type of apps and services do you expect to be more popular in the coming months and years?
A: Social networking (e.g., Whatsapp), video streaming and tethering are frequently used services on our mobile broadband network. Besides these, high signalling traffic created by smartphones is also putting pressure on the network.
Q: How do you intend to cater to these new uses, as well as the much-talked about machine-to-machine communications in the long term?
A: To cope with the growing demand for bandwidth, we will continue to increase the capacity of our network, look for mobile data offloading solutions, and introduce tiered pricing for data plans.
Q: Will there be enough spectrum in the air to offer ever more bandwidth for new mobile networks or will we one day have to offload some of that to Wi-Fi or somehow transfer some of the load to wired networks more efficiently?
A: Wireless spectrum is scarce and network resources are finite. We are testing mobile data offloading using existing Wi-Fi technologies and also new technologies like TV White Spaces.
Q: How do you see OTT services, such as streaming TV, considering that StarHub is also a content delivery company? Will they become more important than networks?
A: There is no reason for operators to fear OTT players. In general, the OTT sector has helped drive up the sales of mobile data subscriptions for operators. So, operators need to find ways to work with OTT players as well as develop their own OTT services to meet customer needs.
Mock Pak Lum will be speaking at next week's UNWIRED 2012 conference in a panel discussion on Adding Network Smarts. Get more insights from Singapore's independent wireless and mobile event by signing up for the event here.