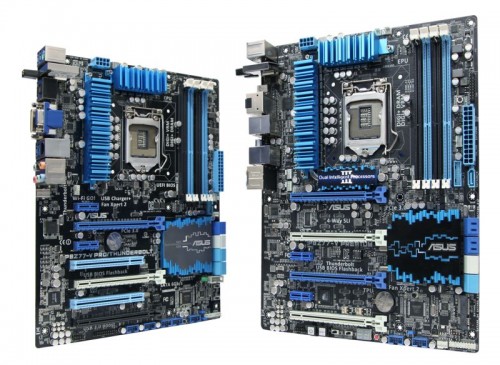 The news is official today. The first Thunderbolt-enabled motherboards will be shipping soon, starting with vendors such as Asus, and users can look to hook up external drives much faster than with current USB 3.0 ports.
The first boards from Asus unveiled today include the new top-line model from its Intel Z77-based lineup, the P8Z77-V Premium, as well as a version of the existing P8Z77-V Pro which will come with a Thunderbolt connector included.
Apple's Mac laptops and desktops have been the first machines to feature Intel's new technology, which promises to be twice as fast as USB 3.0. Now, PC builders can also hook up a number of drives from the likes of Promise, Elgato and Lacie. 
Intel has been ramping up the publicity for its Z77 motherboard chipset along with its Ivybridge CPUs in the past month. The inclusion of the Thunderbolt feature in new motherboards will surely give it another shot in the arm.
Asus is not the only one with Thunderbolt on its boards. Rivals such as MSI and Gigabyte are expected to come up with updated designs that will let users hook up much faster storage both internally and externally.
Thunderbolt, like SCSI of old, also lets users daisy chain devices and use only one port on the PC, so there's no need to worry about how many ports there are onboard, like with USB.
If you are building a new PC and are considering something for the future, these new motherboards with Thunderbolt could be worth waiting for.