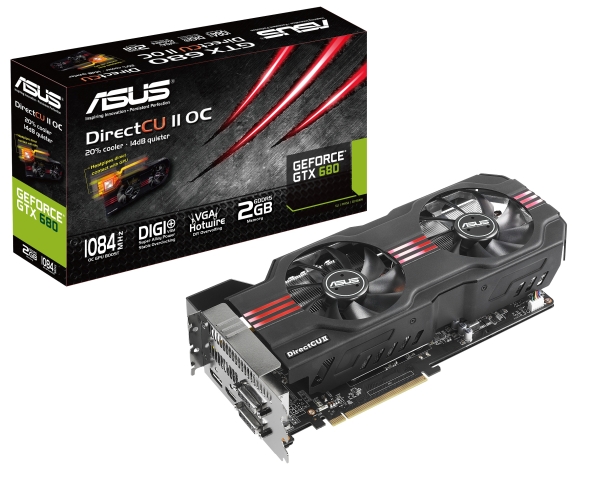 Want that beast of a graphics card for your PC but not the noise that comes with it? There are now two versions of Nvidia's GeForce GTX 680 from Asus that promise to run more quietly while enhancing performance.
Unveiled late last week, the new cards come after a slew of GeForce GTX 680s released last month, which as expected, all sported identical reference designs from Nvidia. In other words, little differentiated brand A from brand B, except for the decal on each card.
Well, now Asus has now come up with two self-designed versions of the GTX 680 that sport its popular Direct CU II heatpipe cooler and fan. This setup promises to run 20 per cent cooler than stock, with two 100mm fans running at 14dB more quietly than before.
Of the two new cards, the GTX 680 "TOP" version is overclocked at a top speed of 1,201MHz, compared to the regular 1,058MHz. There's a slightly less aggressive version, the "OC" version, which will boost the speed moderately to 1,084MHz.
Both will feature Asus' enhanced hardware add-ons, which will be welcome by enthusiast PC builders who don't want to go the water-cooling route but who prefer to have the top-end performance without the usual heat and noise that come from reference cards.
Okay, these behemoths will take a good three slots on your motherboard, but that's the price to pay for that quietness! And unless you are running several 30-inch monitors, one GTX 680 should be good enough for almost everything you throw at it now, so for most folks, there are no worries about running out of space there.
UPDATE: The "TOP" version of the GTX 680 will cost S$899 and reach Singapore in early May 2012. Asus advises buyers to pre-order with resellers because of limited stocks.
Snagged a GeForce GTX 680 recently? Share with us the performance scores.