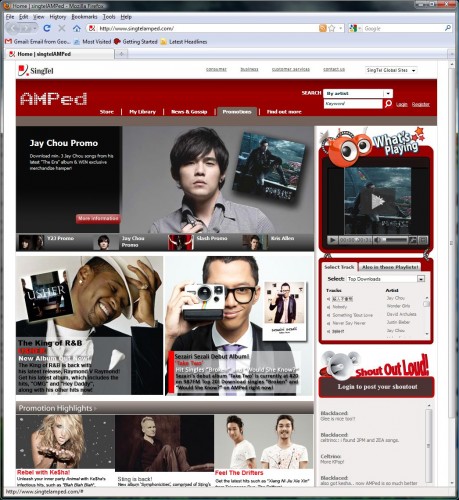 SingTel added Justin Timberlake, Jay Chou and a number of other Sony Music artistes to its AMPed mobile music download catalogue last Wednesday, boosting the number of tracks on sale to its users to over 1 million.
The 150,000 new tracks will be accessible to more than 70 different mobile devices, including the Apple iPhone and Android numbers such as the Samsung Galaxy S and Sony Ericsson Xperia X10.
Why I wanted to post this piece of news, despite missing out on it last week, is the fact that SingTel has pressed ahead when other music stores that employ DRM (digital rights management), such as Soundbuzz, died a long-overdue death in the past couple of years.
The SingTel store has been offering DRM-free music since last year – users can download 15 DRM-free tracks a month to own and share. Yes, share. That's from SingTel's press release. That's not a big number, but it's still a start in a continent where Western content owners consider a piracy hotspot.
Even Nokia's ovi music store, that well-meaning but notoriously hard to use service (only works on Internet Explorer), is opening up to DRM-free tracks worldwide for its ala carte purchases. Songs downloaded through its all-you-can-eat Comes with Music service are still tied to the Nokia phone.
Kudos have to go to Apple for pushing for DRM-free music on its iTunes store, and the likes of Amazon for popularising DRM-free MP3s on their sites.
There's a good reason for DRM to go. It's never worked to fight piracy, instead inconveniencing users who actually want to pay for the music. That's not to mention the bad PR record labels have bestowed on themselves when one of them – Sony BMG Music Entertainment-  inserted rootkit-type of programmes that were able to spy on users and opened their computers to hackers in 2005.
With DRM gone, here's hoping more "free-for-fair-use" tracks will be on music stores such as SingTel's. Of course, if there's a big store that sells millions of tracks to every user – not just SingTel's – that would be great for Singapore users (no, we don't have iTunes Store here).
What all music fans would like to see also is for music to be sold across geographical boundaries. Also, for those pickier, like me, high-rez versions (at 24/96 or even better), please.
Already, high-rez downloads are available from independent stores such as Linn Records and Chesky Records, which are popular with audio geeks.
If there are many more such stores selling great-sounding high-rez tracks, I'd really be spending hundreds of dollars there instead of going to the CD shop to buy a disc, rip it onto my music server and play through my PC or hi-fi system.
But unfortunately, that's what Singapore users face here.