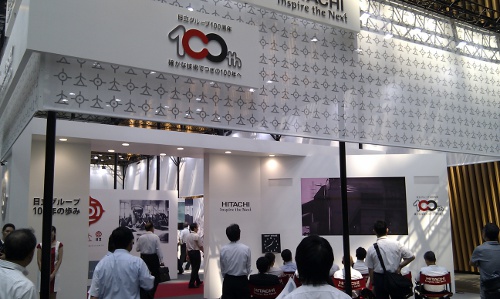 Hitachi celebrates 100 years as a company this year, and I was invited to Japan to attend their annual uValue event, where they had some fanfare for this occasion. This year the event runs from the 22nd to 23rd July at the Tokyo International Forum (near Roppongi).
One thing I learnt from the uValue event is that Hitachi is a sprawling technology conglomerate that spans many divisions: from IT and telcos, to transport, to consumer devices.
Yes, I know they are a high tech company that builds computer and consumer electronics, but I didn't know they also build train systems, elevators and nuclear power plants.
The company generates US $100 billion in annual revenues and it's the third largest high-tech company in the world in terms of revenues, behind Samsung and HP.
Hitachi, which in Japanese is 日立, or sunrise, is named after a village (similar to brands like Fujitsu and Samsung). One of the main central themes of Hitachi is green technology, and Hitachi aims to cut the world's carbon emissions by 100 million tons through the use of Hitachi products and services by 2025. 70 million comes from their energy production sector, and the other 30 million from industry, transportation and consumption.
Look out for a more detailed story on Hitachi Data Systems — one of Hitachi's many subsidiaries — on Digital Life soon, but here are some pictures from the event: