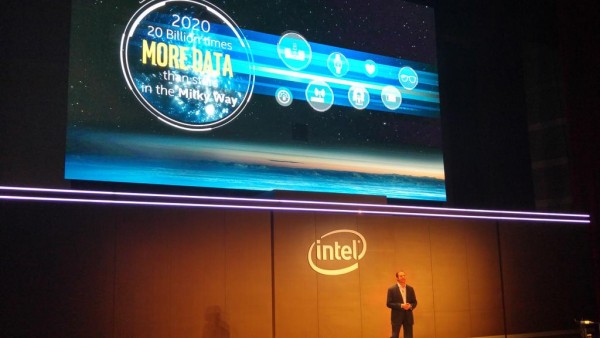 Intel is bringing 10 new fifth-gen processors to the desktop and laptop PC in the next month or two, while claiming progress in a tough smartphone and tablet market that had previously been hard to crack.
The world's largest chipmaker is banking once more on performance in its new chips to pave the way, after seeking to cut cost and power consumption to compete in the past couple of years.
The new Core i5 and i7 processors for the PC come with improved graphics capabilities that will be helpful to users who do not wish to buy a separate graphics card.
The top-end processor – the Core i7-5775C – promises up to 35 per cent better media performance and is said to be twice as fast for graphics performance with the built in Iris Pro graphics, when compared to the older Core i7-4970S chip.
Based on the similar "Broadwell" design that was first seen in last year's low-power Core M chip, these fifth-gen processors are able to improve their performance because more transistors can be crammed into an ever smaller chip area.
Kirk Skaugen, the general manager for Intel's client computing group, also reiterated that the upcoming sixth-gen chips, codenamed "Skylake", will be unveiled later this year.
He showed off two slim reference designs – a 10mm-thin all-in-one desktop computer with a foldable hinge that lets it be laid flat on a table, and a tablet featuring a 4K screen and USB-C ports that is just 8mm thick before it is docked with a keyboard.
The new chips will offer the best Windows 10 experience, he told industry partners gathered at this year's Computex show in Taipei.
Besides PCs, performance is something that Intel continues to push in its tablet and smartphone chips as well.
On stage at the Intel keynote, long-time Taiwanese partners Acer and Asus both showed off their versions of souped up tablets using the chipmaker's Atom processors.
Acer's Predator 8, an 8-inch Android tablet, uses the zippy Atom x7 chip that is at the top-end of the mobile chips from Intel. Boasting four speakers at the edges, the tablet will try to convince tablet gamers to spend more for performance, as PC gamers have.
Asus, meanwhile, hyped up its new ZenPad 8 using more power-efficient Atom processors, such as the Z3530. A high-end version has a sharp 2,048 x 1,536 resolution, while supporting DTS-HD audio to bring high-quality sounds from movies to the small screen.
The electronics firm also has stuck to Intel's old game plan of two-in-one convertible PCs, perhaps believing its fortunes are tied to its American partner.
Asus' new Transformer Book T100HA unveiled today, for example, is a 10.1-inch 2-in-1 that boasts the thin profile of last year's Transformer Book T300 Chi, but comes with an Atom x5 processor and the latest USB 3.1 Type-C port. It's out in the third quarter, with Windows 10 included.
Perhaps the biggest test for Intel's foray into the mobile market will come when it stops subsidising its trusted partners to use its Atom chips this year.
After losing billions of dollars in this business in the past two years, it now wants to win over partners through the strength of its chips, said Skaugen, when addressing reporters after his speech.
He pointed to the improvements in performance, power management and app compatibility that it has made since it entered the market belatedly.
The company is now improving the master reference design that lets manufacturers ready their product designs in weeks rather than quarters, he noted. Plus, the bill of materials for an Atom x3 chip is comparable to a chip from rival Arm Holdings today, he argued.
Asked if partners would dump Intel when it stops footing part of the bill, he said: "We're not going to lose our girlfriends."