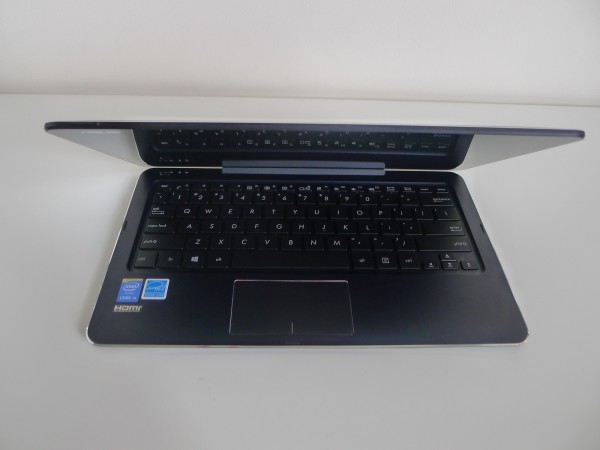 When I first saw the Asus ultra-slim two-in-one machine last year, I was wowed by its svelte profile and promise of full-fledged Windows performance using an Intel Core M processor.
Almost a year later, holding the Transformer Book T300 Chi in my hands, I'm still happy with it. Yet, it has a lot more competition now, in the form of Apple's MacBook as well as Windows rivals such as the slim Lenovo Yoga Pro 3.
Asus certainly hopes that the Chi's two-in-one feature is something that tablet users will upgrade to, giving them the best of both worlds in terms of portability and performance.
Detach the main touch screen and it becomes a Windows 8.1 tablet. Plug in the included keyboard dock and it works like just another laptop.
The 12.5-inch screen is just larger than a tablet's 10- or 11-inch display, but slightly smaller than the 13.3-inchers that thin and light ultrabook laptops are known for.
With a sharp 2,560 x 1,440 resolution, your eyes will thank you for the added detail, especially when you have to view images on the go. Or just to work on some spreadsheet or report.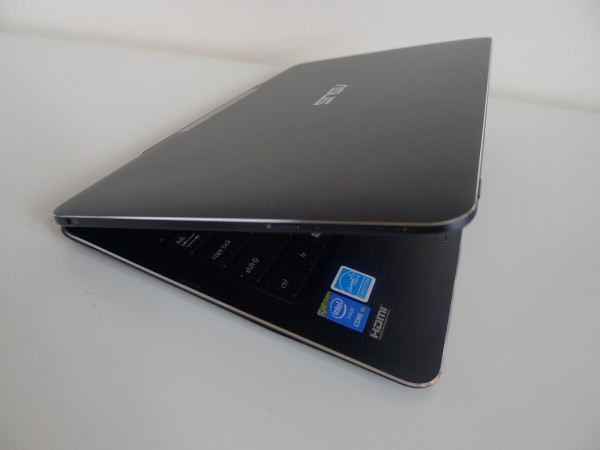 The main selling point, of course, is the sleek profile. Just 1.65mm thin, the Chi is skinnier than the MacBook Air, the benchmark for many users of thin and light machines.
However, the biggest drawback for the Chi is the thick bezels around the screen. Though the viewable size is 12.5 inches, the chunky edges mean that the device isn't that much smaller than a regular ultrabook with a 13.3-inch screen.
Weight is another issue. At 1.43kg with the keyboard dock, it's heavier than many 13.3-inch laptop. Indeed, it's substantially heftier than my old Sony Vaio Pro 13, which weighs about 1kg and is truly a lightweight machine.
What I will give points for is the high-quality build. The edges of the Chi get a metallic finish, distinguishing it from low-cost variants that also promise similar performance.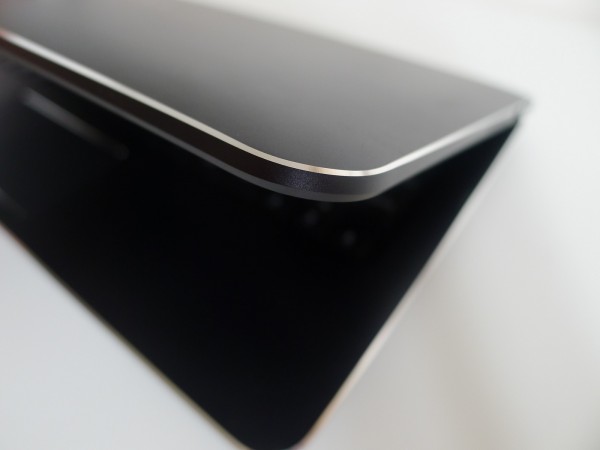 The other highlight is the docking system. Two sturdy looking magnets connect the screen to the keyboard and dock in a way that's as reassuring as you can get from two-in-one designs.
The keyboard itself is a joy to use. Unlike other thin and light machines, the key travel on the Chi is substantial, which means you do feel the keys when you are typing away. You don't feel like you are banging your fingers on metal, like on a MacBook Air.
What of the much-heralded Core M processor from Intel? Promising the performance of a mainstream PC chip while running cool and fan-less at times, it is supposed to bring the best of both PC and tablet worlds.
Well, it certainly doesn't disappoint when it comes to performance. Plugged in and running at full throttle, the Chi's Core M 5Y71 processor helps it score relatively high on the usual tests.
It easily bests last year's two-in-one options, scoring 2,518 in the PC Mark 8 test for typical tasks at home and 3,009 for workloads at the office. Last year's low-cost Pentium chip in a Dell machine scored around 1,300 in the same tests.
To be sure, the Chi doesn't do everything well. When it comes to heavy duty tasks like Photoshop, for example, you'd still want a beefier processor, like the Core i7 found in a performance-based laptop, that usually get scores of more than 4,000 in these tests.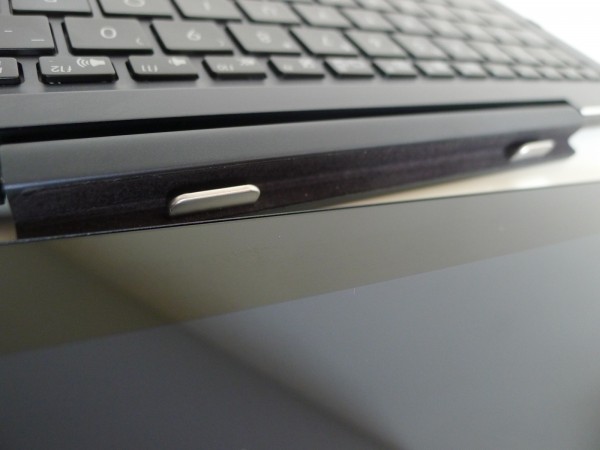 The Chi is obviously not a gaming machine either. In 3DMark tests, which simulate typical games out there, it scores too low for any serious gamer.
In our tests, the modest onboard graphics helped squeeze out 388 in the Fire Strike sub-test, 1,471 on Sky Diver, 2,165 for Cloud Gate and 36,861 for Ice Storm. For a comparison with a true gaming machine, see the much higher scores here.
Of course, you'd not be buying the Chi for gaming. Certainly, for its price of S$1,498, it is more suited as a portable machine on the go. Compared to a top-end iPad just under S$1,000, for example, it seems like a good deal.
After all, the Chi packs the serious hardware. Not only has it got a 128GB solid state drive (SSD) that's zippy, it also comes with 8GB of RAM which is useful for running a number of programs at the same time.
That would have won over more users, if there wasn't more competition. I'm thinking of Apple's MacBook, which also sports Intel's Core M processor and a 256GB SSD, but offers a better-looking though traditional laptop design at S$1,788.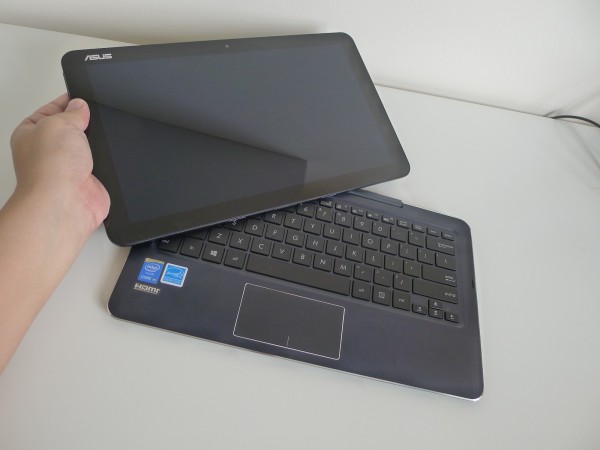 The biggest reason I can recommend the Chi over the MacBook is its flexibility as a two-in-one device. But that comes with lots of caveats too.
For example, you have to charge the main tablet screen separately from the keyboard. Since they use Bluetooth to hook up, it takes a few seconds to connect whenever you fire things up from sleep.
Plus, the Chi suffers from the MacBook's main shortcoming too – it has very few ports onboard. Want to plug in a USB memory drive? Use an adapter. Fortunately, Asus doesn't make you pay an additional S$60 for that – it has included one in the box.
Ultimately, the Chi is a commendable effort from Asus. If you want a two-in-one machine, it has to feature highly on your shopping list. The Core M processor is handy to have around, especially if you hate waiting on slow tablet CPUs to do their thing.
The biggest issue with the Chi isn't with Asus. It's just that people don't think of Windows much when they want a tablet, and that's why the two-in-one Windows design is hard to sell.
If you are not a fan, the Chi will seem to be forcing you into trade-offs, say, in its screen size. In that case, you might be better off with a regular laptop plus a tablet.