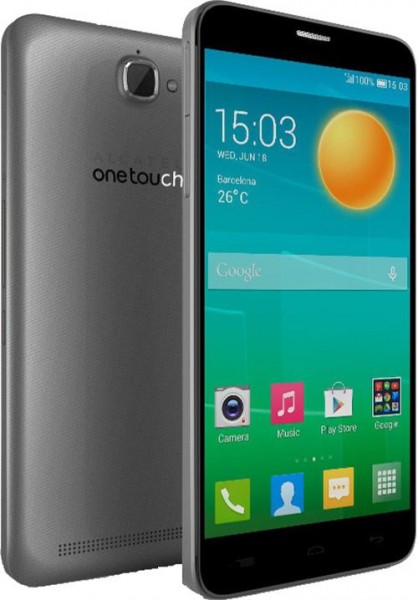 Following the launch of Xiaomi's Redmi Note last year, a slew of smartphone makers have been jostling for a slice of the market for low-cost phablets.
China's TCL Communication recently joined the fray with its Alcatel Onetouch Flash, which is now being sold by online retailer Lazada Singapore at S$188 with an 18-month warranty.
Like the Redmi Note, the Onetouch Flash sports a 5.5-inch, 1,280 x 760 pixels display with 8GB of storage that can be expanded via a microSD card. Both are dual-SIM devices that tout 13-megapixel and 5-megapixel rear and front cameras respectively.
The Alcatel Onetouch Flash is about 50 grams lighter than the Redmi Note, but is no slouch when it comes to build quality.
The well-made device feels solid in my hands, and it looks like it can withstand a knock or two. Its textured back cover offers a firm grip of the phone, especially during a run when your palms can get sweaty.
Because of its non-removable back cover, the phone's dual SIM and microSD card slots are located along its edges, along with a volume rocker and a power button.
The device's 720p IPS touch display offers good viewing angles, but there's a yellowish tinge that makes colours less accurate than they should be. Text on webpages and menus appears sharp and crisp.
Like most Android handsets, the Alcatel Onetouch Flash comes with a custom interface that is less refined than that of some rival handsets. Both app and system icons on the device, for example, look a little rough around the edges.
That said, TCL has baked in some nifty gesture-based features, such as double-tapping on the screen to wake the phone, or drawing a "C" to activate the dialer while the device is in sleep mode. The gestures worked like a charm.
Powered by a 1.4 GHz MediaTek MT6592M Octa-Core processor and a Mali 450 GPU, the Android 4.4-based Onetouch Flash handles most productivity apps with ease. But with just 1GB of RAM, things will start to slow down once you run too many apps in the background.
The Alcatel OneTouch Flash is marketed as a 'selfie-centric' phone that comes with a slew of photo-enhancing tools.
However, its 5-megapixel front camera had trouble focusing on a subject (even in a brightly lit room), resulting in images that appear blurry. Its front camera fared better. Outdoor scenic shots looked vibrant, though you can detect some image noise when zooming in on a subject.
The brightest spot has to be the phone's great battery life. During a recent business trip, I slotted two SIM cards – a data SIM from a foreign telco and a M1 SIM – into the Alcatel Onetouch Flash, which I used to reply to emails and messages, take photos and make calls. The phone's 3200mAh battery lasted for more than a day before it needed a recharge.
All in, the Alcatel Onetouch Flash is a decent phone for its price, though the market is getting more competitive by the day with new rivals like the speedier Lenovo A7000 offering a more refined Android 5.0-based interface. TCL still needs work out a few kinks to lure more consumers to its devices.