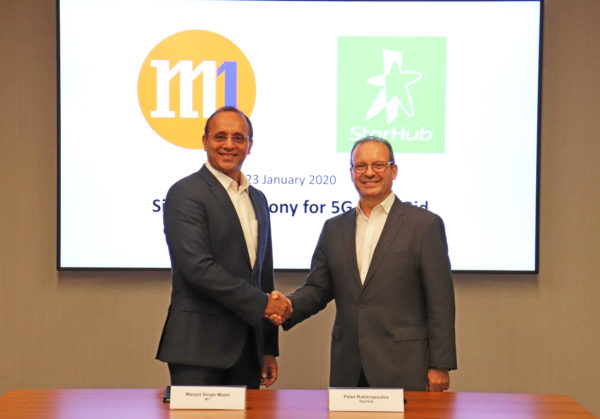 StarHub and M1 will put in a joint bid for a 5G licence in Singapore, the first time rival telecom operators are launching such a bid, amid fierce competition in the city-state.
The number two and three telcos here said yesterday that they had signed an exclusive agreement and would work towards the February 17 deadline set by government regulators.
Though not unexpected, the move is notable because it is the first time two of the largest telcos here are seeking to build a cellphone network together.
With previous generations of the cellphone network technology – up to 4G – Singtel, StarHub and M1 have each rolled out their own equipment and run their own networks.
However, in the past few years, prices for cellphone services have tumbled, amid the entry of a fourth player in the shape of TPG Telecom. Even Singtel, the biggest player here, has seen earnings fall drastically.
At the same time, improvements in the virtualisation of network technologies have made it easier to share the hardware involved while keeping the data and traffic separately managed.
This means lower costs while keeping an operationally separate network. Though M1 and StarHub did not allude to this, the technological changes in network equipment could be one reason behind their decision.
The Singapore government said last year that it is giving out two 5G licences that offer islandwide coverage. By 2022, it expects these networks to cover half of the city.
With M1 and StarHub content to share a network, there may not be a tough contest for the remaining licence. Nothing is confirmed now, of course, but it doesn't look like there will be a new 5G player in town at this time.
That leaves Singtel, which now owns half the cellphone market in Singapore, open to bid for and win the other islandwide 5G licence to run its own network. That's unless something extraordinary occurs.
Together, these three players are expected roll out what is known as a "standalone" version of 5G that not only offers the speed boosts of the early 5G rollouts today but also the low latency that enables new uses like autonomous cars and remote surgery.
The Singapore regulators are also open to 5G networks that serve particular spots in town, for example, industrial parks.
These networks are not "standalone", so they can be upgraded from existing 4G networks. However, they would have limited reach.
Among the players in the market, it is still unclear what TPG Telecom's plans are for 5G, though it announced a 5G trial at the Singapore Science Park late last year.
The newest player here has just installed its 4G network in 2018 and is yet to launch a paid service. It extended a free trial to users in November 2019.