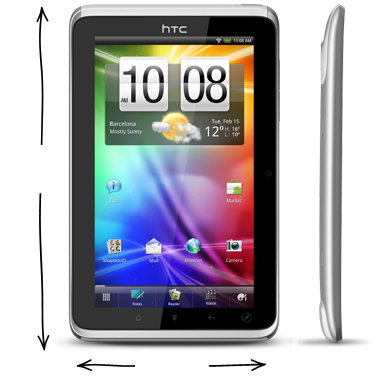 HTC has dropped the price of its 7-inch Flyer tablet a day before it starts shipping, a sign that the tablet wars are truly here in Singapore to offer users more choice and competitive prices.
The Flyer will sell for S$899 from tomorrow, as part of a Great Singapore Sale promotion, said HTC today, after earlier announcing the price to be S$1,068. 
The S$169 price cut is likely a response to the launch of rival Android tablets from Samsung, Acer and Motorola, as well as Apple's iPad 2, which started shipping this month.
Running Android 2.3 with HTC Sense, the Flyer packs in a 1.5GHz processor, 1GB RAM and 32GB storage. But it is coming up against strong contenders running a newer made-for-tablet Android 3.0/3.1 OS.
Samsung's upcoming 10.1 Galaxy Tab is due any time in Singapore, while Motorola's 3G-enabled Xoom goes on sale tomorrow as well for S$988. That's not to mention Apple's iPad 2 with Wi-Fi and 3G starts from S$848.
To be fair, the HTC Flyer is unique from other tablets in that it supports a stylus that also lets a user draw and scribble notes even as he uses his fingers to navigate menus (Techgoondu hands-on here). The question is whether it would be lost in a sea of tablets set to be hitting the shelves this year.