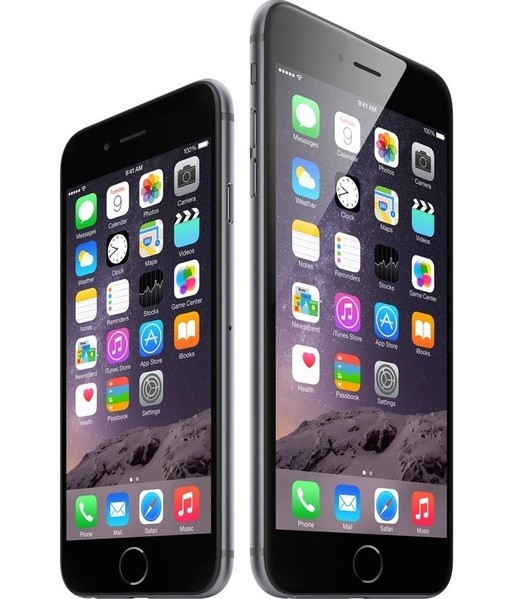 When I first took the iPhone 6 Plus out of its plain white box, I was slightly disappointed that it wasn't larger.
In fact, the size looked just right. It certainly wasn't gigantic, the way other reviewers said it was. I can't help but think that this is probably because we're used to super-sized phones like the Samsung Galaxy Mega.
The iPhone 6 Plus' screen, as seen through my 40-year-old eyes, is gorgeous. The 5.5-inch, full HD screen has very good contrast and colour saturation with deep blacks. And it doesn't have the green hues of AMOLED screens found in certain flagship devices.
The phone is beautiful in pretty much the same way the HTC One M8 is, though the iPhone 6 Plus' thin aluminium body may subject it to bending under high duress.
But as Consumer Reports has found, it's going to be just fine for most people. Apple claims that out of the millions of iPhone 6 and 6 Plus units sold, only nine people have called in about bent new iPhones.
The iPhone 6 and 6 Plus are curvy. The phone's screen now curves down to meet the metal unibody. A pervasive thought everytime I use the device: Don't drop it! I have medium-sized hands, and I prefer using two hands to operate the phone.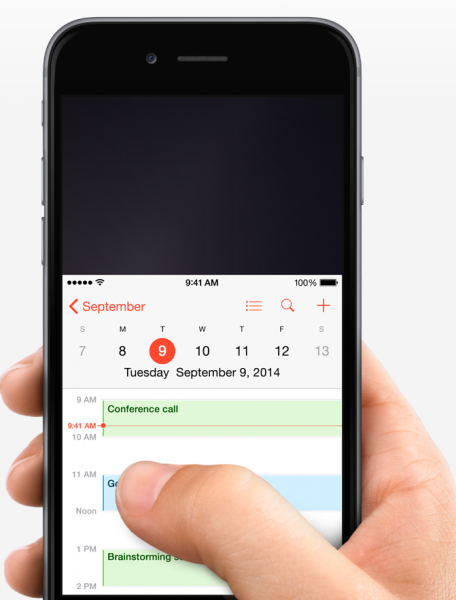 In software, Apple has devised a feature called Reachability to help users work on larger phones. This lets you reach the top of the screen by double-tapping the home button. It works well, and I wish it was an option on some of the large Android phones I'm using.
The move to big
I've always preferred small phones. They're more personal, and they fit well in my pockets. But my ageing eyes have been crying out for a larger screen.
The iPhone 6 Plus looks like a comfortable size, but handling it may be an issue. With a larger phone, your hands have to contort to a bird-like claw to hold it—fingers supporting the left, right and bottom edges.
My fingers started to ache after holding the phone throughout the day, and I envision some kind of muscular-bone disorder coming my way.
That said, some iOS 8 features like predictive texting makes typing more pleasant on a large screen. In fact, I enjoyed texting a whole lot more. I'm even writing on my phone extensively because it's just more comfortable to do so.
Part of this review was written with the phone. I generally made fewer mistakes, and I certainly don't miss typing on a BlackBerry. The iPhone 6, though, is still a little too small for typing. The iPhone 6 Plus gets this right.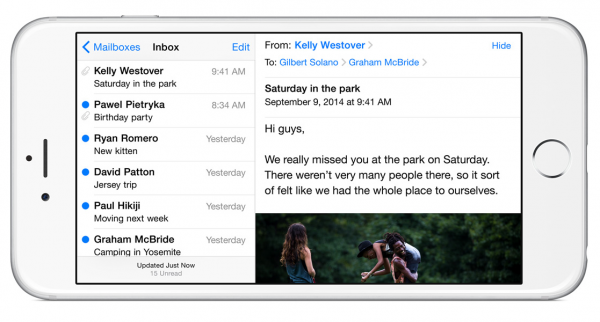 Apple made a bit of fuss about the new landscape orientation, and the ability to read e-mails and text messages in a two-pane screen like you can on the iPad. It's useful, but things get a little cramped. Writing in landscape mode doesn't work very well either. The keys on the soft keyboard become way too small for accurate typing.
Buggy software
Apple constantly crows about the tight integration between hardware, software and services, though in reality this integration isn't flawless.
For one, some features in iOS 8 didn't "just work." My hundreds of keyboard shortcuts (similar to the kind you create on a BlackBerry — for example, typing "omw" will result in "on my way") were all gone.
Well, they disappeared, and they came back, and then disappeared again. (Note: The fix to this is to close all apps on your iPhone or iPad running iOS 8, and restart the device. Your keyboard shortcuts should all return).
Some apps simply crash after they are launched, while others are just more crash-prone, including the Facebook app. And apps that have not been optimised for the new iPhones look slightly fuzzy. Developers are fast catching up, as evident by the dozens of app updates each week.
But Apple did polish some rough edges that made their way into iOS 7, which introduced a slew of animations and behaviours that slowed down the buttery-smooth operating system. While buggy, iOS 8 feels smoother, at least on newer devices.
What stood out
The experience on the new phone is one largely due to size, because that's the most obvious improvement.
Other notable upgrades include the iPhone's camera. Apple has never been keen to increase megapixel count, recognising that smaller sensors don't perform well when you pack in more pixels.
Instead, the iPhone 6 and 6 Plus tout better low-light and auto-focus performance, thanks to on-sensor phase detection, a technology available only for DSLR cameras. The results are obvious: check out this story to see the same subjects shot with every version of the iPhone.
If you like shooting videos, the good news is the faster autofocus works wonders. Just don't expect the same results when shooting videos in low-light.
Decisions
So should you get the iPhone 6 Plus? It depends.
If you are an iPhone user, and you're in your comfort zone but want something larger, go ahead. The camera improvements are also good reasons to upgrade if you're a shutterbug.
For Android users itching for a new experience, the iPhone 6 and 6 Plus are good options. Apple did knick some features from Android, such as customisable keyboards and interactions between apps, which Apple calls Extensibility in iOS 8.
However, Apple's Extensibility is slicker than what Google has done for Android. You can easily turn on and off apps you want featured in Extensibility, while the list of extensions grows longer in Android as more apps are installed.
But if you're platform-agnostic, there are several big, bold beautiful phones out there. They include the Nokia Lumia 930, which is hefty but colourful and solidly built. The LG G3 is another great option as it has a 5.5 inch at a fraction of the iPhone 6 Plus' size.
And of course, let's not forget what is likely the most beautiful Android device out there, the HTC One M8. Like the new iPhones, it's curvy and metallic, and of course, damn slippery as well.