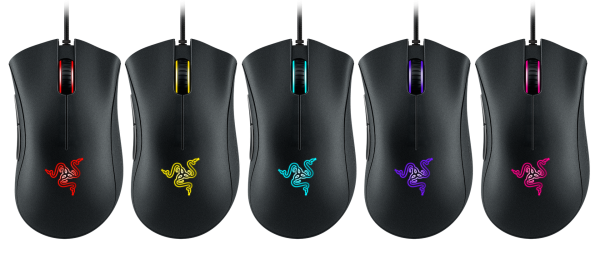 Razer has announced the arrival of the DeathAdder Chroma gaming mouse, bringing updated sensors and customisable lighting to its ergonomic mice series.
The DeathAdder Chroma melds the ergonomic design from the original DeathAdder with a 10,000 dpi (dots per inch) optical sensor that can track movements as small as 1mm on most surfaces, including glass.
Being able to capture movement speeds of up to 200 inches per second at 50G acceleration, the mouse will keep up with your exploits in the virtual world.
Functionally, the mouse continues to offer five independently programmable Hyperesponse buttons, one of which could be mapped for on-the-fly sensitivity adjustments to meet the demands of different in-game weapons and vehicles.
The bundled Razer Synapse software includes a Stats & Heatmaps feature that provides users with details like game time, button presses, distance moved and even overall pressure exerted while gaming.
Such data allows players to analyse their individual play styles and improve their accuracy and technique.
Through Synapse, users can also personalise the mouse with 16.8 million colour options over a range of lighting effects.
The lights can react to in-game events, such as a base being under attack, provided the game developer takes advantage of the features built into Chroma's software development kit to do so.
The DeathAdder Chroma is now available at Razer's online store for S$99.90, with local retail availability to follow in October.