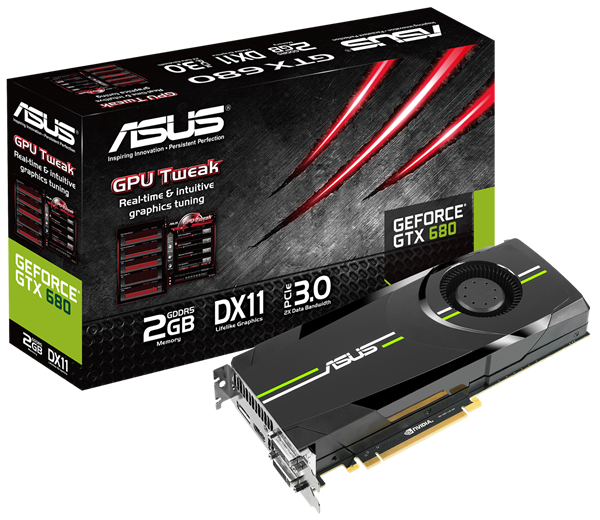 For extreme PC gamers who will only settle for the fastest graphics card, and those with three monitors running in a surround gaming mode, the first top-end cards sporting Nvidia's GeForce GTX 680 GPU are going on sale now.
Indeed, some GTX 680 cards had appeared to already gone on sale on e-retailer Newegg earlier today, perhaps to catch the early demand for these cards.
Nvidia's answer to AMD dominance for most of 2011, the GTX 680 is based on the much-touted "Kepler" architecture and is expected to uplift DirectX 11 gameplay performance for the most hardcore PC gamers. By this, usually you mean folks with more than one monitor, because even the most demanding games often run fine on 30-inchers now.
Cards like the Asus version (pictured above) will come with 2GB RAM and be clocked at a base 1,006MHz and a "sped-up" 1,058MHz when the performance is needed. The GPU is also expected to keep to a comparatively modest 195W TDP, which should prevent the fan from sounding like a vacuum cleaner all the time, like many top-end cards can.
[UPDATE: Asus has said their GTX 680 card will retail for S$869 in Singapore]
As you read this, benchmarks should be out comparing the GTX 680 with AMD's Radeon HD7970. Nvidia will once again emphasise its top-end performance, while AMD will point to its more mature 7000 series, which still have lots of headroom to squeeze performance from.
Still, this round of battle between the two graphics chip makers should make for some truer upgrades than before. There's one reason this Techgoondu is still rocking an AMD Radeon 4870×2 – it's still a pretty fast card now after two generations of AMD cards, and can run almost anything, except Battlefield 3, with everything "maxed out" at 1,920 x 1,200.
The GTX 680 and AMD's followup to challenge that should bring about a real fight at the top-end, which should delight the PC faithful who have seen graphics performance move ahead a lot faster than what many games now demand, with the exception of recent titles like Battlefield 3 and The Elder Scrolls V: Skyrim.
Here's a quick look at some benchmarks done by retailer Newegg, which said the fans were really quiet.