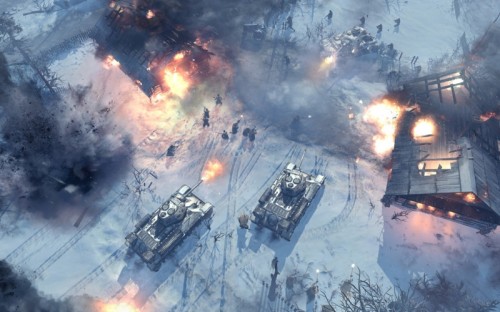 While all the hype right now is about Diablo 3, one other game that PC buffs might also want to upgrade their machines for may be the much-awaited Company of Heroes 2 unveiled today by publisher THQ.
The followup to the ground-breaking Company of Heroes real-time strategy (RTS) game of 2006 will start firing up in PCs come early 2013, and is expected to feature some of the most eye-catching graphics for its genre. Yup, the perfect excuse to buy a new graphics card!
The new game will feature the new Essence 3.0 Engine, an update over the current version 2.0 used in the popular Warhammer 40000: Dawn of War II series.
Both the Warhammer series and the original Company of Heroes were pioneers in getting the best effects onboard an RTS. In Company of Heroes, for example, the early DirectX 10 support created excellent effects like more detailed terrain and soft edges for objects. Explosions were also more dramatic and realistic, without any blockiness.

Next year, developer Relic Entertainment is expected to ratchet up the eye candy with the new engine when Company of Heroes 2 takes on the Eastern Front during World War II.
The story will have you take command of Soviet forces, as you defend the home territories against the might of the Nazi army, before fighting your way to Berlin to end the war in Europe. Here's a brief from THQ:
It is 1941 and the beginning of what will become the most brutal conflict of World War II, asGermany launches a full-scale invasion of the frozen tundra of the Soviet Union which would result in over 14 million military casualties. Take command of the iconic Soviet Red Army in brutal frontline warfare to free Mother Russia from the invading Nazis. Your strategic skills and tactical expertise hold the power to tip the very balance of this conflict in the sequel to the critically acclaimed and multi award-winning Company of Heroes. Engage in visceral tactical combat that will define you as a military leader and challenge you to wield the might of the Soviet Empire as you smash your way to Berlin.
If you are building a PC to play Diablo 3 on May 15, maybe it's also time to save up on a more powerful graphics card that can take on the additional features that will be coming onto your PC screen next year.
Maybe PC gaming is not dead, after all. And maybe it's time to save up for one of these puppies?