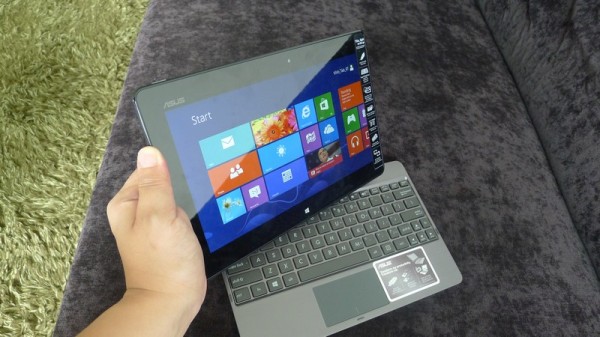 When I was loaned a review unit to test out last week, I wasn't too sure of the Asus VivoTab RT.
Here was a stripped down version of Windows 8 and a tablet that had few of the apps that users have been used to on an iPad or Android tablet.
Yet, after a few days with the Windows RT tablet, I have to say I have been pleasantly surprised at the build quality and value it offers.
The TF600T model I had came with what you'd expect of a high-end tablet. There's an Nvidia Tegra 3 quad-core CPU, 32GB of storage and a 10.1-inch screen.
If it looks like Asus' line of Android-based Transformer Pad tablets that come with a dockable keyboard, it's because it uses the same sleek yet practical design.
The big difference here, of course, is that the VivoTab RT uses Windows RT, a sort of stripped down version of Windows 8. Is that a good thing? The answer depends whether you are looking for a "tablet-plus" or "laptop-minus" machine. There are trade-offs either way.
But more on that later. Let's start with the tablet's design, which reinforces how far the Taiwanese manufacturer of motherboards has come from its OEM days.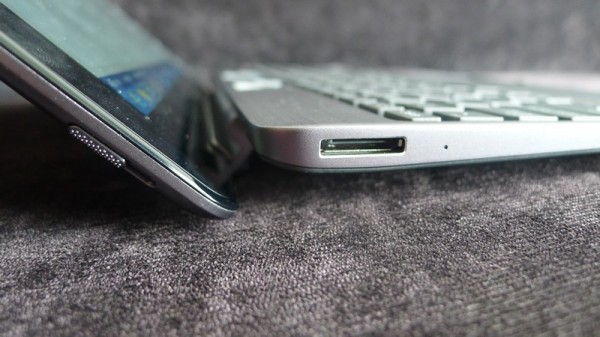 The brushed metal finish at the back of the tablet looks accomplished, as does the matte grey base which provides a nice grip for your fingers when you're carrying the device.
The hinge and catch that hold the tablet screen snugly on the dock also impress for their solid build. You'll need them to be sturdy if you are flexing the screen so often.
Good news is, with all that packed in, the VivoTab RT remains nice and light to carry around between meetings. Weighing just 525g as a tablet and 1,036g with the keyboard dock and additional battery, this is a very portable work machine.
Indeed, that's what Asus and Microsoft will be keen to sell. Compared to the iPad and Android tablets, so many more things work out of the box.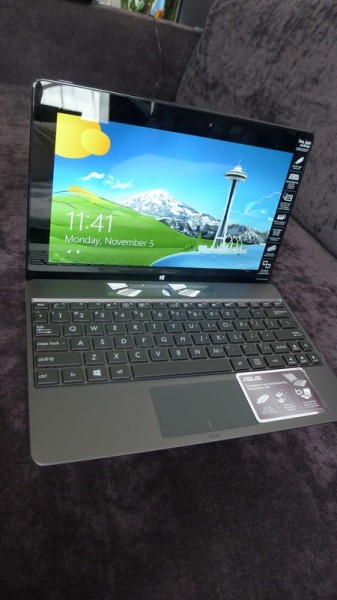 Chief among this is Microsoft Office RT, of course. The work productivity suite is bundled on every Windows RT device, so you will be able to start working the moment you power on the machine.
This means no installation or downloads needed for those add-on programs to edit documents sent over e-mail attachments. Plus, your Powerpoint presentation will look exactly as you have created them on the big screen. Just bring along this little device to show the slides either with the tablet or to plug into a projector via HDMI (or an adapter).
Most importantly though, the Windows RT tablet has much of the flexibility of a full PC. Besides the microSD card slot on the tablet itself, Asus has included an adapter that lets you hook up USB hard drives and flash memory drives directly. The dock, of course, has its own full USB port.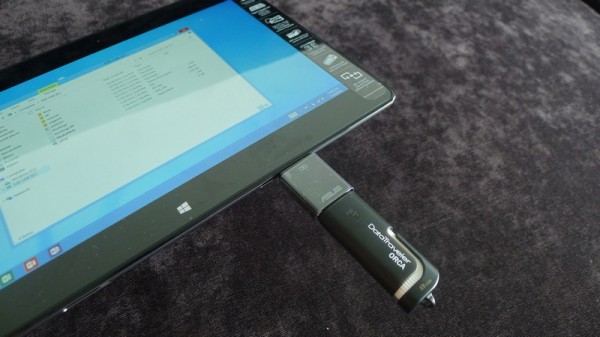 Out of the box, the VivoTab RT is an excellent machine. For its current asking price of S$949 in Singapore, it's a not a bad deal for folks looking for a tablet for work.
Having said that, it's also limited by the rather new Windows RT ecosystem, which is lacking in the apps you can download. If you are used to Google Maps, for example, you'd have to start living with Microsoft's Bing. Alternatively, you can fire up Google Maps in a browser, but that's not as great an experience as the Google Maps app itself.
You also have to note that this is not a full-powered Windows PC. With Windows RT, you can't install your old Windows programs. You also have to download apps from the new Windows store, much like with Apple.
If you are okay with those limitations, then this Windows RT tablet could be a great travel companion. The 10.1-inch Super IPS+ screen displays great contrast and really vibrant colours, going by the movie trailers I saw. The resolution's not too shabby either at 1,366 x 768.
What I want to really praise Asus for is the sound quality. Unlike much of the wobbly audio coming out of tablets, Asus has taken the trouble to include a pair of speakers that at least sound decent. There is some control here and none of the gratingly painful noises coming out of other tablets.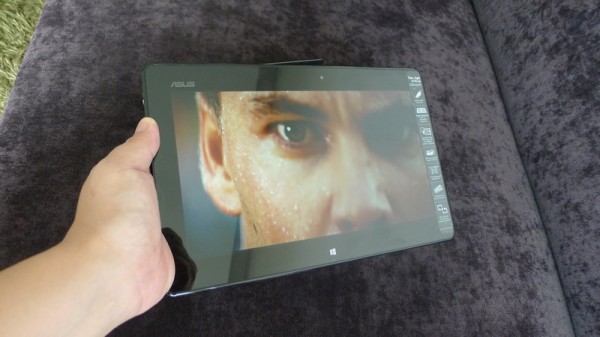 Finally, one note of caution. What I feel Asus has had to compromise, thanks to the small frame here, is the keyboard. The keys provide nice feedback when you press down, but they are pretty much cramped in and a little small if you have fat fingers.
I won't mind taking out the VivoTab RT to fire away a few e-mails, or edit a report, but to write a 2,000-word article from scratch? I might hesitate spending hours on the small keyboard.
In the end, there are trade-offs. If you want a more comfortable keyboard, perhaps an ultrabook might fit your purposes. Maybe that, plus an iPad, would offer the best of both worlds. Or perhaps more powerful tablets, such as a Windows Pro-version of the VivoTab or even Microsoft's "Surface Pro".
But for folks who want a "tablet-plus" to bring on their frequent work trips, the Asus VivoTab RT is a contender you should consider before taking out the money for an iPad or Android tablet.