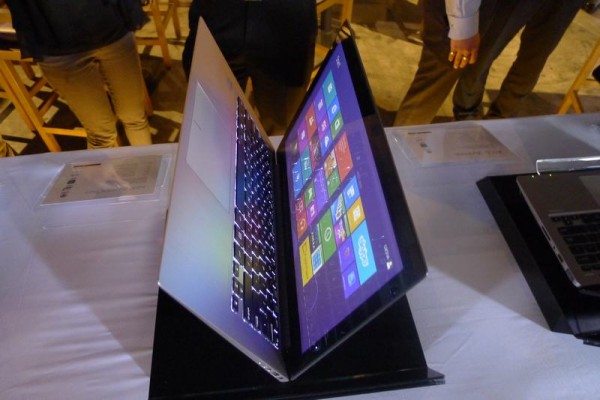 Asus laid open its Windows 8 cards on Wednesday, as it joined the mad rush to push out as many new tablets, laptops and hybrids as possible with the new operating system's launch.
Among the many touch-screen laptops, slide-out tablets and even a dual-screen laptop cum tablet, we've managed to pick out three that warrant a closer look. If you are looking for a new tablet or laptop, then the VivoTab Smart, Zenbook Touch and Taichi should definitely be on your radar.
VivoTab Smart
The VivoTab Smart, pardon the long name, is part of the Taiwanese notebook maker's lineup of Windows 8 tablet devices. Sure, the VivoTab line includes an interesting 11.6-inch tablet with a Wacom stylus (the S$1,399 VivoTab) and a S$1,049 Windows RT-based machine, but the most attractive offer is in the shape of the VivoTab Smart.
It features an Intel Atom processor – Asus has avoided Intel Core chips in this line – and runs regular Windows 8. So, the light 580-gram tablet doubles up as a PC if you want to plug it into a desktop monitor or wireless keyboard.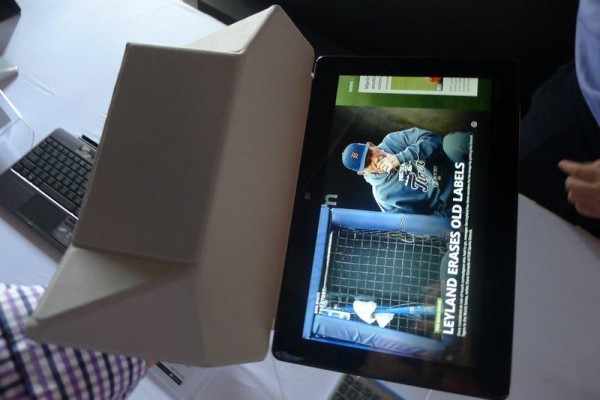 The 64GB solid state drive onboard suggests that you'll need an external hard disk and the 2GB RAM is modest, but if you're on the go, this is one nice companion to have. Most importantly, it is priced right at S$699.
What I'm also impressed with is the smart magnetic cover, a la Apple's iPad. But this one actually folds up nicely, almost like a paper aeroplane, to prop up the tablet.
The 10.1-inch screen is also very bright, offering great contrast. In my mind, there are few companies, other than Apple and Samsung, offering such great screens, and Asus is one of them.
There's no information on when the VivoTab Smart is shipping here in Singapore. But it looks like one solid device to have for mobile warriors who want the best of both Windows compatibility and the convenience of a tablet. Microsoft's Windows Surface Pro has competition on its hands.
Zenbook Touch
The Zenbook Touch is another mobile gizmo that attracted my attention at the Asus event in Singapore. Yes, there are other touch-enabled laptops, but this one is one of the most stylish and has a great screen to go with it.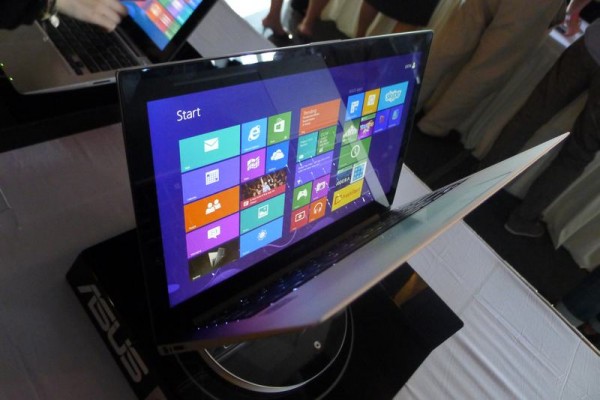 The contrast here easily stood out as one of the best in the room. Place the 1.4kg Zenbook Touch next to the other models here, including the cheaper VivoBook models with touch-screens, and it's clear the Zenbook Touch is aimed at the high-end.
The model on show was the UX31A, which features a 13.3-inch full HD IPS (in-plane switching) display that promises a clear view even if you are staring at the screen from the side.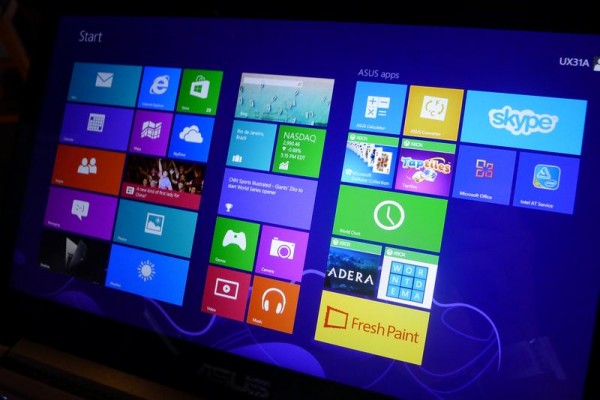 It's not cheap though, at S$2,498, for the Core i7 and 256GB SSD version. If you are a traditionalist who wants a bit of touch-screen fun with Windows 8 – that interface begs for you to "touch" things on screen – then the Zenbook Touch is your ticket to the new Windows 8 world.
Taichi
Finally, there's also Asus' Taichi. This was unveiled earlier this year to much fanfare, and in terms of a sleek device, it surely turns heads with its dual screens.
Essentially, it's a clamshell design with two screens on either side of the lid. These are independent screens, so you can either have two users staring at things on both sides, or have them both display the same thing. I tried scribbling on one side of the screen and sure enough, the effect of my handwriting is seen instantly on the other screen as well.
But I don't think people will buy the Taichi to share with others. Its Full HD IPS screen is great if you just close the lid and use the machine as a tablet.
Like the Zenbook Touch, the Taichi sports a Core i7 chip and a generous 256GB SSD. Despite all that's packed in, it is really slim to carry around and it weighs even lighter – at 1.25kg. The Taichi, to be fair, has smaller 11.6-inch screens.
It's also not cheap, going for S$2,698, at a time when sleek ultrabooks cost less than half that price. Yet, Asus seems to know something about the high-end geek who wants a sleek device, all spec'd out with the latest processors and really fast to fire up for both work on the go and viewing movies on the plane.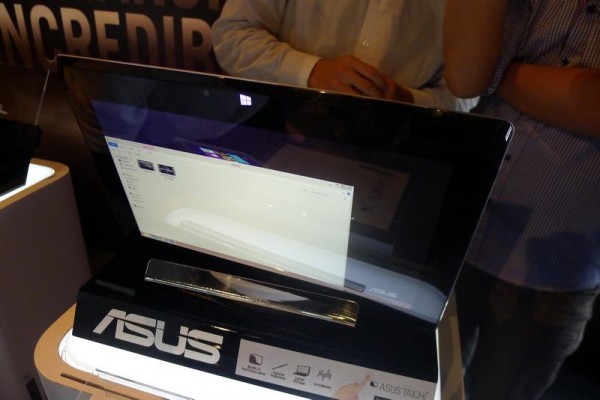 Only concern I have is the amount of power the two screens will drain from the six-cell battery. You'd want to turn off one of them if you're travelling, for sure.
Together with Samsung's really sleek machines, Asus probably has one of the best lineups for Windows 8 devices.
I liked HP's Envy x2 hybrid when it was unveiled earlier this month, but Asus seems to have raised the bar for design. These days, we know first impressions can count a lot more than what's under the hood when consumers walk into a store looking for a laptop or tablet.
UPDATE: Asus Singapore has clarified that the VivoTab RT is selling now at a promotion price of S$949, instead of the S$1,049 it had originally stated in press materials.