In the first part of the roundup, we tallied the entries on the Techgoondu LG TV contest, and Apple iPhone emerged as the favourite gadget of 2008.
In this article, we'll be looking at some of the other gadgets that our readers picked, and why they picked these devices.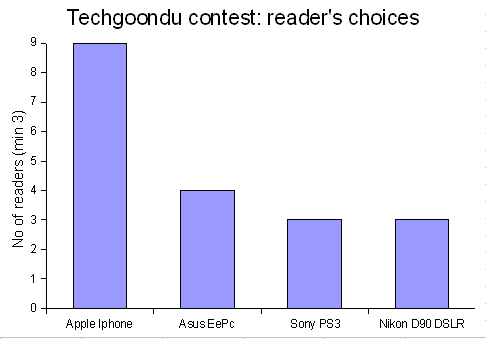 The second most picked gadget was the Asus Ee Pc, which trailblazed a new trend towards cheap and affordable mini-laptops this year. Even though other laptops like MSI Win and Apple's Mac Pro were mentioned, amongst mini-laptops the Asus Ee PC drew the most votes.
Here are some comments from the readers on the Asus Ee PC:
Dennis Yeo from Simei Rise
The Asus Eee PC made mobile computing accessible to the masses with an affordable price price tag and totally caught fellow PC manufacturers unaware by raking in massive profits from this product. It caused a huge urgency for them to come up with similar offerings to catch on to the netbook trend and to try to usurp the throne taken by the Asus Eee PC.
Zulfukri Razali from Tampines
With the current financial instability in the world, consumers need something cheap and good. Most of the people in the world are fascinated by resources in the world wide web so most of them need a laptop as they are always mobile.
The Asus Eee PC is the most affordable yet powerful IT equipment. You get enough performance to surf, check emails and update your blog/photo sharing websites — the 3 most common actions done on a laptop. And at such an affordable price for this well designed beauty, it's just a must have item in your house or on the go.
Tied for third spot was the Sony Playstation 3 and the Nikon D90 DSLR. The PS3 beat other gaming consoles like the Sony PSP and the Nintendo Wii to take mindshare, and the Nikon D90 emerged champion amongst digital cameras like the Panasonic Lumix LZ8.
Beyond handphones, laptops, gaming consoles and digital cameras, we had a slew of other gadgets in many other different categories, from DVD projectors (R2-D2) to microwave ovens (Sharp R-888).
In fact, we even had one reader send us a poem on his OSIM uSpace chair!
Khoo Kay Boon from Hougang
As I lay me down to sleep,
I am serenaded by a wonder 'Chair' that's mine to keep.

A family-oriented gadget that's handsome and strong;
One that my whole family can enjoy and desire to use very long;
One who obeys but does not speaks;
One who'll call out to me every day of the week.

In my household, I know it's gainfully employed,
When I push its button it won't be annoyed;
Relaxes my mind and lights up my moody core,
Massages my tired muscles and begs to do more.

Oh this gadget will nurture our body and mind,
Makes us leave all our stress behind;
I pray that this gadget will last us to the end,
And always be our very best friend.

A cleaning wipe and a polish of leather wax,
This gadget will keep me and my family forever relax;
Sure it's luxurious and cost me serious cash,
Yet its worth is proven as it makes our life great without health-crash.

uSpace's intelligent and a worthy expense,
with quality innovation and craftsmanship that enhance the senses.;
Intelligent, stylish and crafted for deep user-satisfaction,
It's where engineering revolution creates harmonious protection.
Last but not least, a few wrap-up comments on how we the goondus are going to pick an eventual winner from all the entries. Firstly, a big thank you to all readers who participated in the contest.
Unfortunately, we have only one LG TV to give away, so the choice of eventual winner will be decided by a democratic vote by the goondus. It will probably boil down to individual taste and who we felt argued the best on why their entry should win, popularity of device notwithstanding.
Stay tuned in the following few week or so as we finalize the results. Feel free to post a note in the comments section, and we hope you've enjoyed this contest as much as we did organizing it!