The Techgoondu readers have spoken.
For our recently concluded contest, in which we're giving away an almost brand new S$5,000 42-inch LCD TV (kindly sponsored by LG), the favourite geek gadget of 2008 is a product that needs little introduction.
It has been ubiquitous in tech news throughout this year. It has legions of rabid fans, and quite a few detractors as well.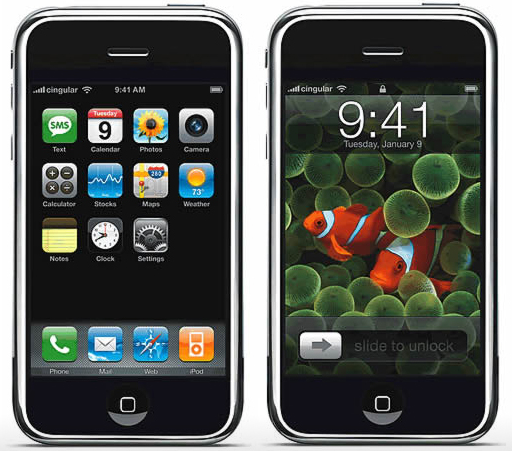 According to readers who participated in the contest, Apple's iPhone is their favourite gadget of 2008. And it wasn't even a really close fight. Discounting the entries that are in the long tail – the chart below shows only entries that have at least 3 different readers picking that gadget – the iPhone won by a fair margin.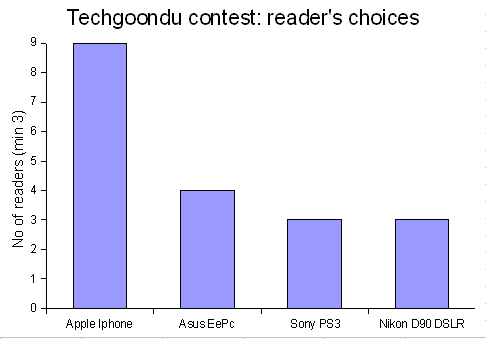 Note that our contest was open ended, and we didn't give any choices to the readers at all. The readers picked their own gadgets, and this ran the gamut from phones to game accessories to microwave ovens.
Other phones like Samsung's Omnia, Nokia's N96, Palm Centro, HTC Diamond and the Google Android (HTC Dream) were mentioned by other readers, but none had the traction of Apple's iPhone.
Here are some of the comments that you made on the iPhone (please note that comments are edited for readability):
Derek Tan from Bedok
Apple's touch-screen iPhone is by far the way best gadget of 2008! It oozes both style and usability, a combination that is lacking in most gadgets.
The iPhone stood out as a unique phone, pioneering a whole range of copycats in the market. While it's not the first smartphone, everyone who knows style would sell his arm or leg just to get a set. People queued overnight to be the first to get their hands on one…
Style aside, it is packed with an impressive array of pack-ins, allowing an immense variety of 3rd party software downloads, allowing users to have their very own customized phone… now which phone would allow you that? Techinical specs can be attained anywhere hence I won't post them here.
But seriously, what are you waiting for?!?
Paul Chua from Jurong
I'm not going to rave about all the cool and neat features the Apple iPhone encompasses (I'm sure it more than widely publicized), but how it has revolutionized how mobile phones are transforming.
I think what's interesting about technology is how it allows people to innovate and recreate. Note my choice of words. Apple Inc. has done this spectacularly well to captivate millions. Apple didn't invent the touchscreen, arguably the most groundbreaking (and unique) feature of this gadget. It bought the technology from a relatively obscure company called Fingerworks and infused it into an multifunctional piece of engineering genius, spawning countless lookalikes in the smartphone-touchscreen genre (wouldn't mention names here, but the latter are either not up to par, or simply, inferior). Visit any mobile shop and you'll be hard-pressed finding a phone without a touch-screen feature.
This creates a ripple effect. Because the iPhone has a set a benchmark so high, it's highly probable that rival phone makers will go into a mad scramble to create better phones to topple Apple's standings. And there you have it, more features in a phone at a lower price! Consumers like us gain!
Thus my favorite and greatest gadget, the iPhone.
P/S: I'm not saying that everyone should own a iPhone, but from the way it has changed our lives, shouldn't the accolade being the top gadget go to it?
Catherine Ong from Jurong West
Before we even get to see it in real, there was already a craze. All over the forums, people were counting down to the release date in Singapore. In fact, the countdown was greater than our End of Year countdown at Orchard Road.
After getting my hands on the Iphone, I could feel the wind blowing against my hair every where I walked. I became a popular person all of a sudden. "Wah, you got yourself an Iphone! How cool!"
The iPhone is like a trademark that tells people you know what the latest gadget is. We, as modern woman cannot represent ourselves by carrying a PSP. It does not work that way!
The iPhone is our latest accessory!
We're not done with our first Techgoondu reader's contest roundup yet.
Stay tuned for Part 2, which will showcase a poem by a reader on his OSIM chair (!), discuss some of the other gadgets (besides phones) that other readers picked, and talk about how the goondus go about picking a winner for the LG TV contest!