Though Google's been getting the publicity over here at Techgoondu, Microsoft also did a nice show-and-tell this week of its upcoming "Wave 3" updates for Windows Live services.
Here's a quick rundown of what it offers, as presented to a group of bloggers this week: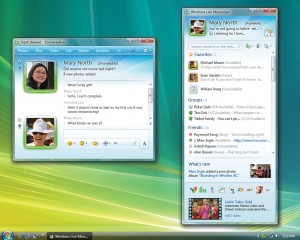 >>Smarter Messenger:
Singapore's favourite IM client gets a nice refresh, especially with a "Favourites" category that lets you keep your most important contacts in a single group. What we'd like to see, though, is the ability to block entire groups of people at one go – say your bosses – at night when you log on. Hopefully, Microsoft can come up with that later.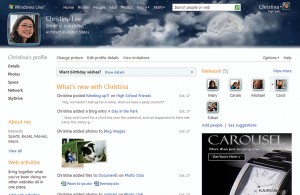 >>Windows Live Homepage
This is basically an MSN-meets-Facebook type of thing, where you get all your updates about what your MSN, e-mail, etc contacts are doing. You also can share pix and get headlines of course, a la iGoogle. Again, it's pretty nifty, and you can see the Live guys have put quite a lot of effort in this.
I won't be surprised if you can get your Facebook updates here in future. Social networking works exactly because it is seamlessly networked.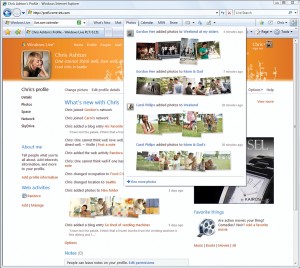 >>SkyDrive
You get 25GB of storage now, where you can share your docs, photos and whatever you wish. All this is great, but where's the collaboration, like Google Docs? I see this becoming really popular in future when Singapore's next-gen broadband network goes into homes at 1Gbps. Otherwise, with our paltry upload speeds now (768Kbps anyone?), who's gonna be uploading Gigs of stuff?
>>New Hotmail
Many users have already seen the changes, as Microsoft rolls it out across different servers. I can't tell if it's that much of an improvement, since I'm a Yahoo and Gmail user. But Microsoft says it now has improved spam filters (I know that's a prob with Hotmail) and you can log in at two places (you can do that on Gmail now). What's more, you also get to see if your Messenger contacts are online – sounds familar? Yup, but it's still a good move by MS.
>>Photo Gallery
This basically gives you a nice interface to upload pictures to your Windows Homepage. It also does pretty well in stitching photos into a panoramic picture, and even "rotates" a video as if it's a photo, as we saw at demos here at Microsoft's Singapore HQ. Not a bad piece of software – it may just rival Picassa and other free stuff out there.
>>Windows Live Calender
This is my favourite actually. Now I can hook this up with Lotus and iCal and Outlook, which means I don't have to worry about old-ass formats like Lotus (who the hell still wanna use that!). I'd like to be able to sync with my mobile device though – it's something that MS may just be holding back for fear of cannibalising on their Office box sales, which if you read MS' financials, are its biggest earners along with Windows.
When are the stuff out? By next month, say Microsoft. However, betas are already out now, and you can try them out yourself.
Afterthoughts: Though this is not as big as the original Live launch, you can see Microsoft trying hard to keep up with the game, now dominated by Google and Facebook. It's not a bad effort if you see MS moving out of a boxed software seller.
But clearly, it still has ways to go, and I get the feeling its old businesses like boxed software that pays its costs are still holding back some of its online efforts.
Still, for end users, the new Live stuff are worth a try. If you are already a Hotmail + Live Messenger user, then the other closely-linked software in the group of offerings, like the Windows Homepage, are even more compelling.