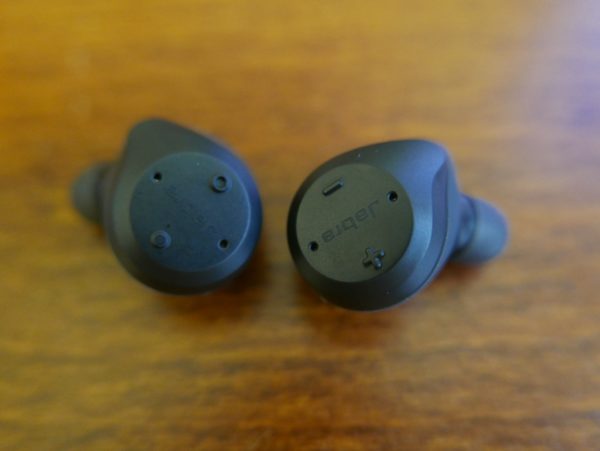 If you're looking for a pair of truly wireless Bluetooth earphones for your runs, Jabra's Elite Sport will be something you'd be interested to seek out at an electronics store. 
Lightweight yet comfortable to wear, these completely wire-free earphones sit in each ear snugly, without ever getting you tangled with a cable again.
Plus, the sound quality is surprisingly durable and delightful even outside of workouts. Wear these on a train or bus and you won't get weird stares like with the Apple AirPods.
Having said that, the irony is that the Elite Sport didn't give me great first impressions. After buying and using a half dozen Jabra earpieces for conference calls and Bluetooth earphones for my workouts, I'm very familiar with the brand's quality.
The one area I'd expect Jabra to do well in – Bluetooth pairing – unfortunately almost made the Elite Sport a non-starter. It took me 15 minutes – half the time I'd have spent on a jog – to get the test unit hooked up to my Samsung Galaxy S7 Edge.
Perhaps the review unit was tested out previously, so it wasn't in its default settings. Or maybe I just somehow scrambled the out-of-box Jabra experience that usually means the earphones are in pairing mode, ready to hook up to your phone in seconds.
Eventually, I looked up the support pages online and found a way to reset things. Only then did things get into sync. Thankfully, I only had to do this once.
Once up and ready, the Elite Sport is a joy to use. During runs, the earphones offer a secure fit while being extremely comfortable to wear. I almost don't notice them when out on a jog.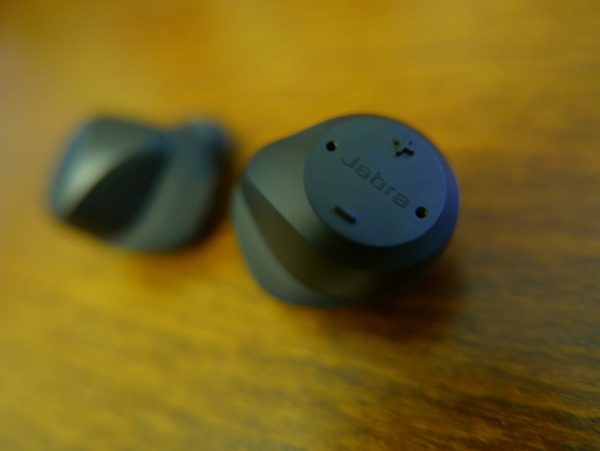 The rubber ear buds or ear fins, which come in varying sizes to fit your ears, are a great help. So is the rubber lining wrapping around the edges of the otherwise plastic case, preventing any contact with your skin from being a jarring experience.
Compared to Samsung's earlier IconX ear buds, Jabra's new earphones may seem bulkier but don't come across as being less comfortable during real use.
One big difference – the sound doesn't seem stuck to your ears and you don't hear your own panting as loudly. In many ways, the Elite Sport seems more natural during my runs.
The device itself is waterproof up to the IP67 standard, which is good enough for the occasional rainy day out. So, no worries there.
It helps that, unlike Jabra's other active earphones such as the Sport Pace from earlier last year, the Elite Sport doesn't use a small USB charging port any more. There are no rubber stoppers to keep water and sweat out.
Instead, the Elite Sport is charged through a separate case that is connected to a power source via a USB port. Just remember to bring the case along on your travels, because it also acts as a standalone battery that can juice up the earphones, say, on a plane.
Speaking of battery life, the Elite Sport does better than the IconX. While I could run out of juice during a run on the small Samsung earphones, the Elite Sport packs in the power for up to three hours. That's long enough for a 21km run for many people.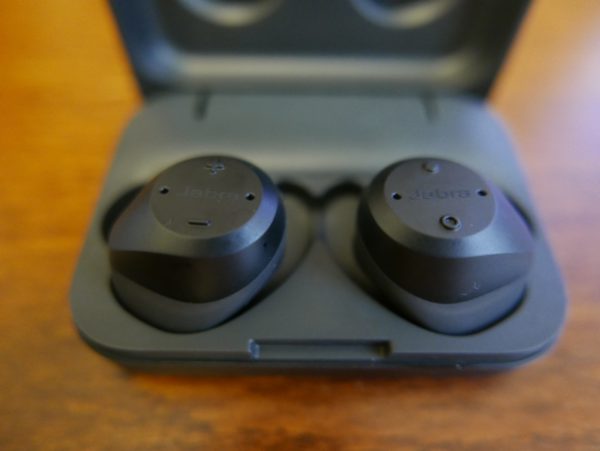 From my quick tests, I'd say the power estimate is pretty accurate. And that's with Bluetooth streaming – the Elite Sport doesn't come with in-built memory that the Samsung earphones do.
What it also doesn't have are touch gestures. To change tracks, you'd have to hold a tiny button on the earphones. Not the easiest trick when you're on the move.
Fortunately, that's not a serious issue since you can customise the tracks before you head out. Plus, it's not all all that frequently that you have to change tracks during a run.
Jabra has also included a heart-rate monitoring sensor that takes a reading from your ears. It's not the first to do so – Sony offered this with its bulkier sport earphones earlier – though it's a handy tool to have for folks who want to monitor how hard they are working out.
For me, the main selling points are still the great fit and solid build that Jabra has been known for. It was among the first to come up with Bluetooth earphones for workouts more than five years ago and in the Elite Sport, it has delivered another excellent companion for a run, a bike ride or a day at the gym.
Perhaps the biggest thing preventing me from recommending the Elite Sport unreservedly is the S$368 asking price. This is more than twice the cost of regular Bluetooth earphones, like Jabra's older S$168 Sport Pace. And it's even more expensive than Samsung's S$298 IconX.
And the IconX can store songs so you can do without a phone to stream songs over. With the Jabra earphones, you still have to bring the additional gadget along.