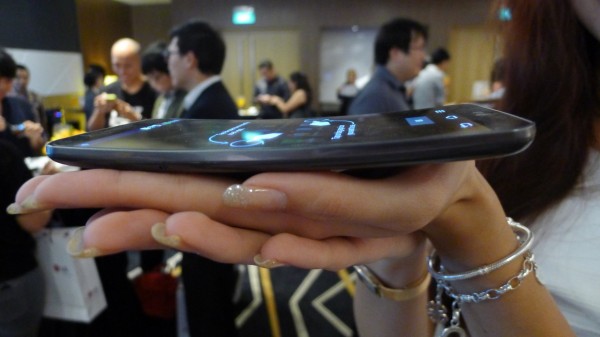 After blowing up smartphone screens to six inches this year, the biggest thing next year for phone makers is apparently a curved display. In this aspect, LG has got a march over all its rivals, including its chief Korean competitor Samsung, with its new G Flex unveiled in Singapore today.
The device has a 6-inch screen that uses Plastic OLED (plastic organic light emitting diode) display technology and is surely a conversation piece should you whip it out of the pocket this holiday season. Made of plastic instead of glass, it is more flexible.
Besides having the latest hardware specs, such as a zippy quad-core Qualcomm Snapdragon 800 processor and a huge screen, the main selling point for this Android phone is obviously its unique curved shape.
Does it start a new trend? Well, I certainly was impressed when seeing the G Flex for the first time today. The curved screen not only follows the contours of your face nicely, it is very flexible and durable, as the LG folks were keen to emphasise at a launch event.
A female model at the event today, who said she weighed more than 40kg, stood on the phone, yes, stood on it, and the screen simply flexed back into position, without being destroyed. Okay, I didn't put my own 70-plus kilo frame to test it, but I've been told it is safe to put in the back pocket and sit on it.
Will it create an unsightly bulge, especially embarrassing for guys if it is placed in in the front pocket of a pair of tight jeans? Well, I tried that with my "regular cut" Zara jeans and it didn't create any unseemly impression on anyone. So I can say it's pretty safe to bring around when sitting on an MRT train here in Singapore.
Besides that neat feature, obviously the LG  G Flex has other useful designs up its sleeves. There are no buttons, for example, on the sides and you control things with the main button and rocker keys at the back of the phone, much like LG's G2 phone.
That actually makes a lot of sense, since phones are so big now you often end up trying to reach buttons by the side. Not just that, LG lets you tap twice on the screen to turn it on, which is a faster way than pressing on the power button, as with most phones.
Another smart feature I noticed is the "selfie" tool. A green light comes on when the camera is turned on and nicely focused on your face when you take a selfie without looking at the screen. This is possible with smart facial recognition built into the phone. So selfies can be taken easily with the phone's 13-meg camera at the back.
If that seems like a gimmick for women, then the hardware should appeal to male geeks. Besides the fast processor, the phone comes with 2GB of RAM to speed apps up, plays 24-bit/192kHz high-res music files and stays alive with a hefty 3,500mAh battery.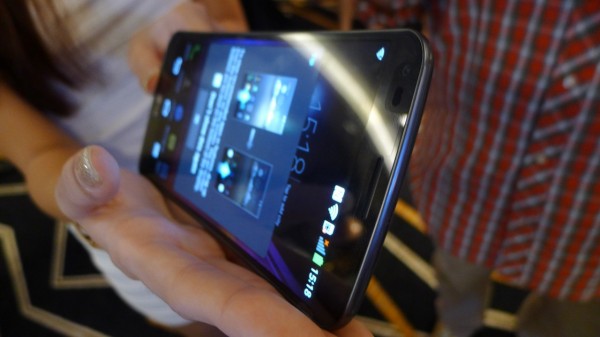 All good, except the trade-off of having a rather "low-res" screen showing at 1,280 x 720 pixels. Many high-end phones already offer 1,920 x 1,080 Full HD sharpness at the same price.
It's not that the screen isn't sharp on this S$1,088 phone with a premium price tag, but resolution is just one of the things you have to give up for having a cool, curved screen. First world problems, as they say, when you decide to buy the G Flex on December 21, just in time for Christmas.