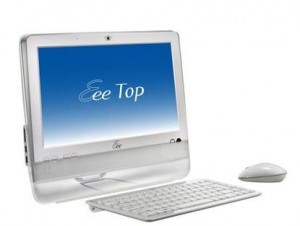 Not sure why Asus called it the world's first touch-screen PC, but its new Eee Top ET16 series of desktop PCs do come with a nice touch-screen and neat "all-in-oneness" that reminds one of the Apple iMac.
The 15.6-inch screen is a tad-bit small compared to HP's previous touch-screen wonder, but this nifty little Eee (it's the desktop version of the Eee PC, thus Eee Top, get it?) comes with a nice price tag of just S$999 for the base model.
Okay, it only has a similar Intel Atom chip used in low-powered Eee PCs and other Netbooks. But with 1GB RAM, Gigabit Ethernet, Wireless N and even an option for discrete ATI HD3450 graphics should you decide to play some games on it, the Eee PC is probably good enough for many everyday uses.
The main attraction, of course, is the touchscreen, which is complimented by a wireless keyboard and mouse combo, should you be typing a lot of stuff.
Asus says the PC comes with software that recognises handwriting, and users can even drop digital "post-it" notes on-screen so family members can see the messages.
I'll have to get my hands on one of these Eee Tops to know how well that works.
But as it is, the new desktop is another nod in the direction of low-cost PCs that have enough juice to do the simplest but most important jobs today – surf the Net, grab e-mail and keep people in touch.