The Licence2Play gaming and electronics fair at Suntec this weekend from 22nd to 24th May may have been touted as the 1st consumer electronics fair offering wholesale prices to the public (no trade buyers and wholesalers allowed), but as a gamer I was far more interested in the gaming than gadgets.
After all, we already have tons of different IT shows already every quarter like Comex, Sitex, and IT Show, and we've grown used to cheap electronic fairs — it is part of our Singaporean geek psyche. This show is also a lot smaller than the previous IT Show, occupying only part of floor 6(Hall 603) on Suntec, whereas IT Show covered 5 floors.
Gadgets aside, however, the gaming aspect of the show is rather fun. It may not as big and established as Games Convention Asia — Licence2Play, set up by SPH subsidiary Sphere Exhibits, is running for the first time this year — but the atmosphere at the fair when I was there yesterday afternoon was buzzing, and there looked to be a roster of fun events running throughout the three days.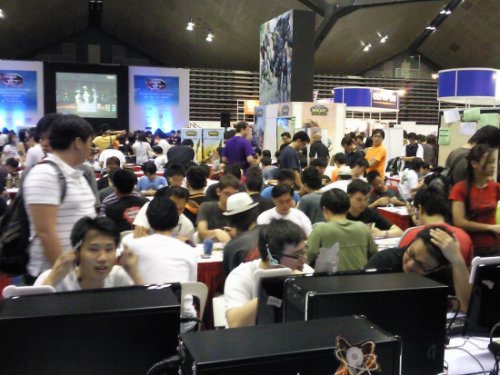 Asiasoft was there as one of the main booth vendors, and that meant games like Maplestory, Cabal and Audition (all MMOs distributed by Asiasoft) were being demoed and played at various stations. Contests like the Maplestory 10X event, Cabal's timed attack Forbidden Island dungeon crawl all serve to showcase the various games. When I was there yesterday, the crowd was watching the live playoffs of the Audition finals (an online dance game that requires fast reflexes).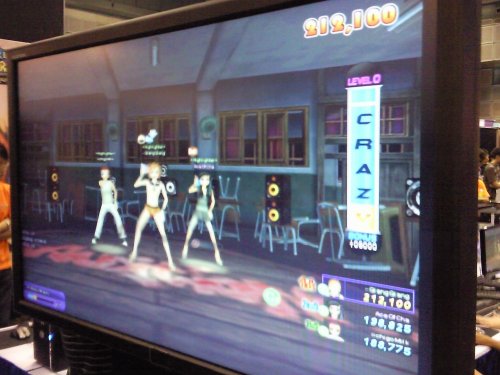 Besides that, there was a large WoW arena contingent in the centre of the hall at the Darkmoon Faire showcasing the WoW trading card game, WoW miniatures (and board games) and of course WoW itself, with competitive arena battles (2v2, 3v3, 5v5) scheduled yesterday and today. The last major game to have an area all to itself was grand old daddy Counterstrike in the FPS segment at the right side of the hall from the entrance.
Other than these, the rest of the gaming portion of the fair was taken up by games and game peripherals: XBOX, PSP, PC games, devices, etc. You can find some gaming bargains if you take some time to wander around. The electronics portion of the fair is towards the back of the hall, and the peripherals sold were more skewed towards gaming PCs, laptops, monitors and graphic cards, with the odd camera booth (like the JVC one) appearing.
One fun highlight of a gaming show is always the Cosplay. I didn't stay for the contest judging late yesterday evening, but there were quite a few Cosplay folks milling about in the foyer area talking to their friends whilst waiting for their Cosplay competition to start.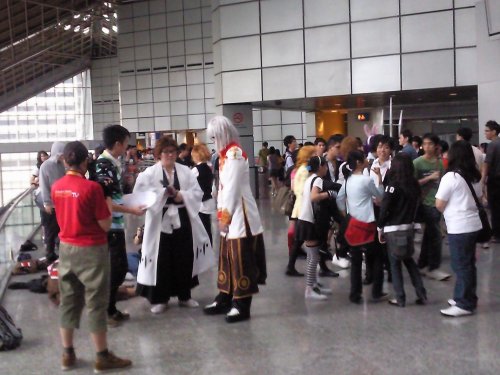 Part of the fun is trying to guess who is who. Haven't been watching and following anime recently, and in certain genres (especially the gao3 xiao4 ones) I'm totally clueless. I spotted arch-villain 5th Captain Aizen taicho from Bleach, Sakura from Naruto, and L from Death Note, but there are tons more I don't recognize.
In all, a pretty ok start to a new gaming fair title, and plans seem to be in place to to run one again next year in 2010.