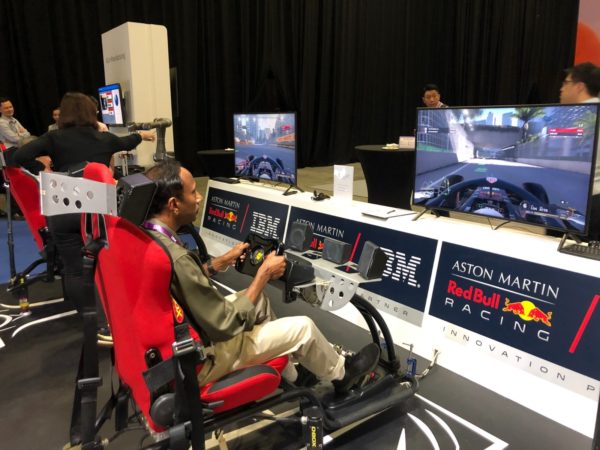 IBM transformed the world 38 years ago, when it introduced the personal computer in August 1981.
The IBM PC allowed third-party suppliers to link to it via expansion cards, software and peripheral devices. It became the standard, opening the market to several PC rivals and creating a market worth several hundred billions of dollars.
Over the last decades, IBM has transitioned out of the computer hardware market to become a software and services company. Its PC and server businesses have been sold. While it retains its mainframe computer, this business is closely tied to its cloud business.
Just as IBM has innovated to stay relevant, Singapore is doing the same, said Minister for Trade and Industry Chan Chun Sing, at the opening of IBM Think Singapore conference on August 14.
"For us to continue to survive and thrive, we will have to be on our toes to continuously integrate with the rest of the world, because what we have today came from the past, and the past is not a promise of the future," he noted.
"The products and the ideas that worked well in the past are not a guarantee of success in the future," he added.
Indeed, to survive in the digital world, it is important for countries and companies to remain open to support the exchange of global trade. They would be much poorer if they do not work together.
Companies that rely on international data flows like IBM and Paypal would not survive in the digital world if the world become fragmented, Chan pointed out.
He added: "There are many parts of the world that do not believe in integration. Instead, we risk being fragmented, being Balkanised. And if the world Balkanises, we will all be poorer for it."
So he urged all like-minded companies to work for integration to share ideas, cross borders and come together to build something for all companies and countries.
At the event, IBM Asia-Pacific chief executive and chairman Harriet Green said over the 108 years of IBM's existence, it has witnessed many levels of globalisation and localisation. As it did so, it has remained completely committed to free trade, she noted.
She added: "We want nations to understand the difference of securing your data and being open about data, and the downsides to protectionism. IBM wants to have the best talent and the best supply chain to keep global trade alive and kicking."
She also highlighted Singapore's smart nation efforts and the way it has used technology, innovation and talent to become an attractive hub for businesses to set up shop.
One organisation that has used technology extensively to reimagine its services is DBS Bank.
Recently awarded the World's Best Bank award by global financial publication Euromoney, DBS has moved from using mainframe to the cloud, said the bank's managing director Soh Siew Choo, who presented an overview of the bank's digital transformation journey.
It took one step further by creating a platform from scratch to make available artificial intelligence (AI) tools to every engineer in the bank.
"We want every engineer to be an AI engineer, to use AI technologies to unlock the value of data so that they can work on personalising solutions for customers," said Soh, who is group head of consumer banking and big data/AI technology.
Another organisation that is relying extensively on technology is the Housing and Development Board (HDB), which offers public housing to the majority of Singaporeans.
Its services touch the lives of almost all Singaporeans every day from HDB parking and housing loans to flat design and estate management.
HDB CEO, Dr Cheong Koon Hean, said that it is reviewing about 500 processes to see how they can be digitalised in a transformation journey which started about four years ago.
Currently, HDB offers about 200 e-services and processes about 50 million transactions yearly. Technology is helping in environmental modelling and simulations, such as wind flow analysis and noise modelling so as to design flats and neighbourhoods that are more conducive for residents.
Predictive data analytics is being tapped, said Dr Cheong, to offer better insights on areas like parking and customer analytics.
She also revealed that the mobile app called Parking.SG which vehicle owners use to pay fees for 800,000 parking lots would soon evolve to a smart parking platform where drivers would be automatically charged once they parked their vehicles.
This is the first time that IBM has held its Think conference in Singapore. More than 1,000 business leaders and tech experts attended the event at Marina Bay Sands. Previously part of Asean grouping in IBM's Asia-Pacific operations, Singapore is now a standalone market.
IBM's Green pointed to Singapore's leadership in the types of industries, technologies, and capabilities which required the tech company to increase its investment and intensify its engagement in the country.