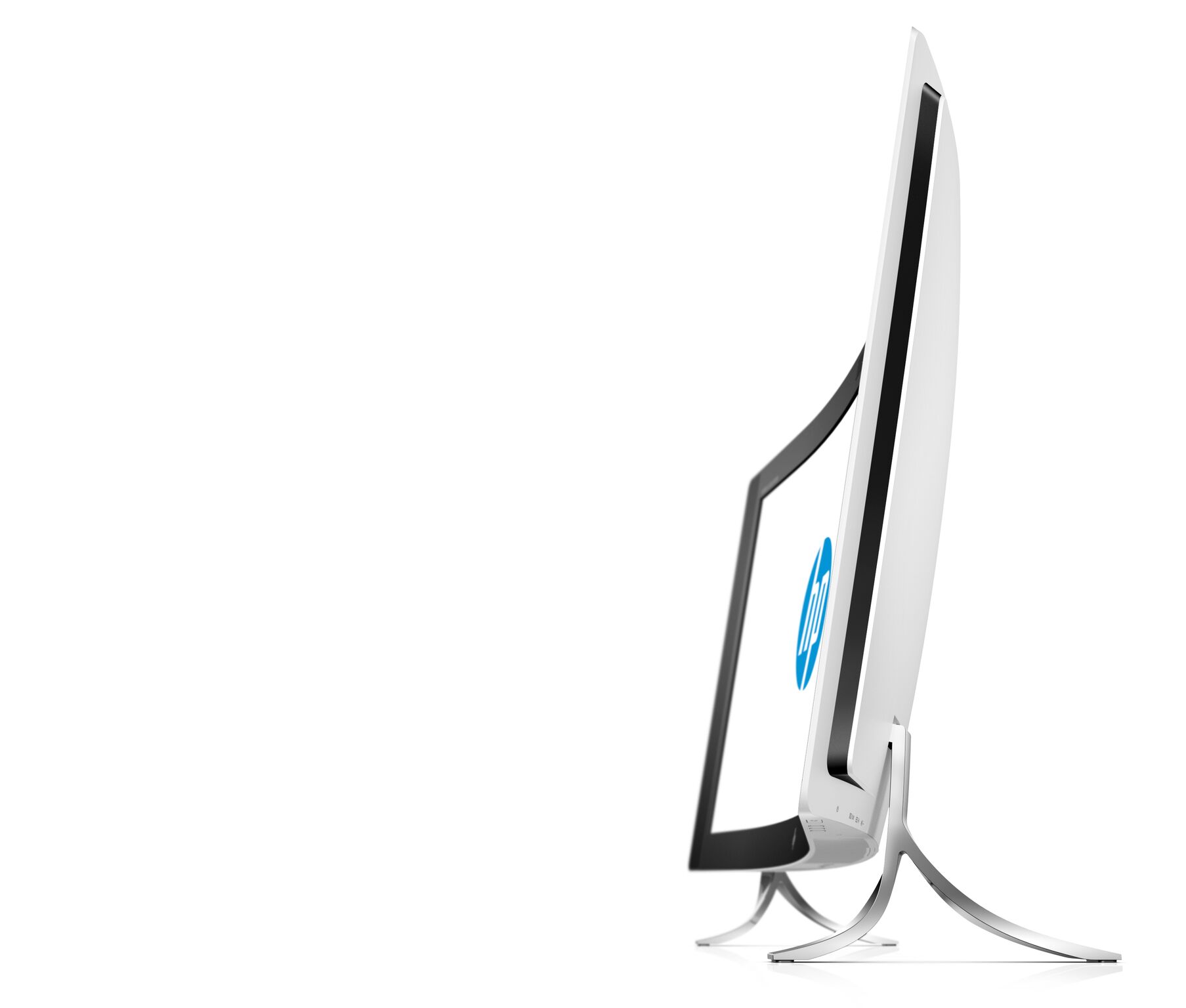 In time for the holiday season, HP showed off a range of consumer PCs ranging from an all-in-one desktop with a curved screen to a tablet that resembles Microsoft Surface Pro tablets in Singapore on Wednesday.
They all feature Intel's new Skylake processors combined with Microsoft's latest operating system, Windows 10.
Two new PCs that catch the eye were the Spectre x2, a sleek tablet, as well as the widest curved AIO in the world, the 34-inch HP Envy Curved All-in-One.
HP Spectre x2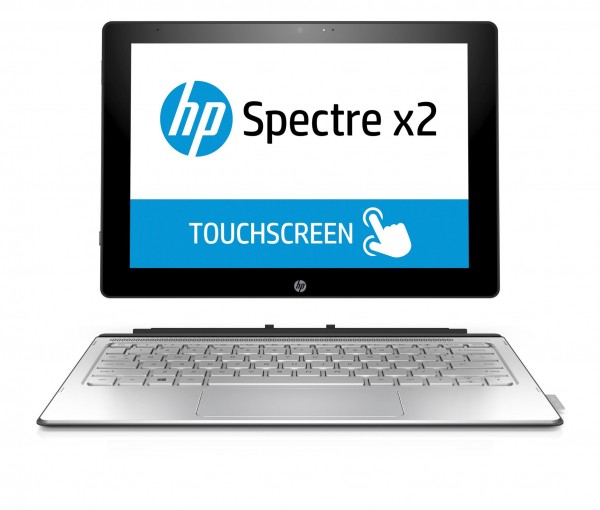 Microsoft may be making a fair amount of noise lately with its Surface Pro 4 and Surface Book, but PC makers like HP are not resting on their laurels. The Spectre x2 showcases HP's design finesse in a truly beautiful product. Photos just don't do it justice.
This tablet weighs in at a cool 800g (or 1.22kg with the keyboard attached), and is just 8mm thin, which HP says is the thinnest 2-in-1 it has ever made.
While the Surface Pro 3 and 4 have a kickstand with infinite angles, the Spectre x2 has a similar (friction hinge) kickstand that extends up to 150 degrees. I like that HP has given some thought about how consumers are using this on their laps.
Microsoft's kickstand design has a sharp metal edge that cuts into your lap after a short while. Not the Spectre x2's. Its stainless steel U-shape has a flat edge that should sit nicely and comfortably on your lap for extended periods.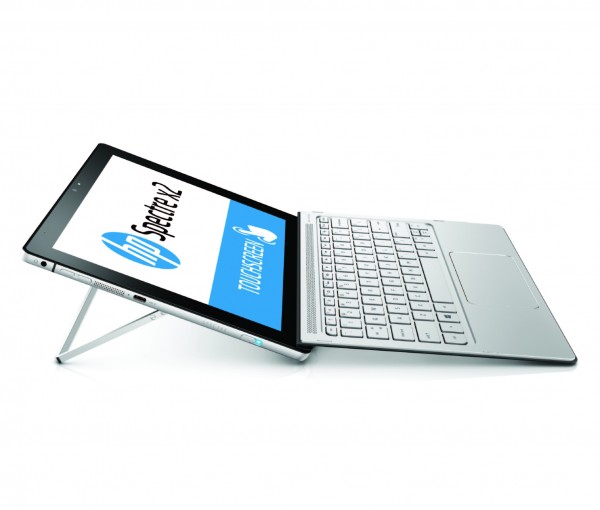 The 12-inch screen has a full HD resolution of 1920 x 1280, and is powered by Intel's Skylake Core m processors. HP says they kept with the Core m processors to ensure that the tablet remains fanless and cool but powerful enough for most uses.
That rules it out as a device for artists and creative types looking for a little more power on the go. Besides, HP's product team wasn't able to provide much information on the active stylus that's sold separately, which seems to indicate that this tablet is not targeted at the demographic.
Just so you know, a quick Google search tells me the pen is a Wacom-based one (not much more information available otherwise).
It's quite a different approach from Microsoft's own Surface Pro tablet, which that company has emphasised over and over again as a great tool for creative professionals.  To be fair, the Spectre x2 competes better with Surface 3, and not the Pro models.
While the stylus is sold separately, the keyboard is included with this tablet, and not as an optional accessory to be purchased separately (looking at you, Microsoft).
And this keyboard is just spectacular. It's got a woven fabric cover, but the keyboard itself is made of aluminum and features island style keys that have 1.5 mm travel.
Typing on it feels every bit like I'm typing on a real laptop keyboard, not some ersatz solution. It's got backlighting as well, and a really wide trackpad that looks like it won't frustrate users the way, say, the Surface Pro 3 keyboard's tiny trackpad does.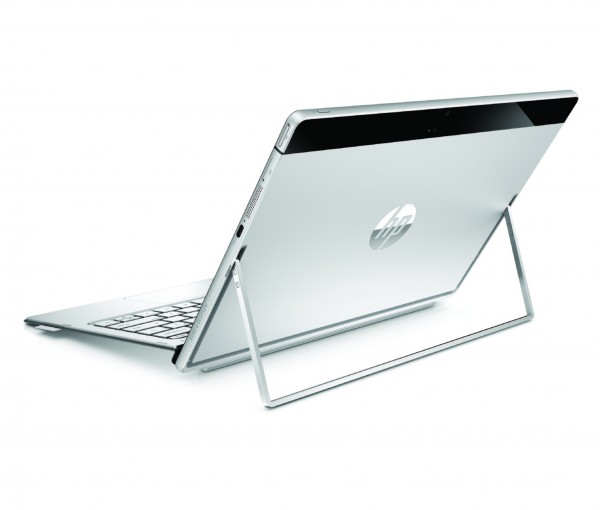 The 8mm-thin device houses two USB-Type-C ports, one on each side (HP provides a USB-Type-C to USB Type-A adapter in the box). Aside from the power button, there is also a kickstand eject button. It also has slots for microSD and (LTE compatible) SIM.
The Spectre x2 has three cameras onboard, a 5-megapixel camera up front for video calls, 8-megapixel camera in the rear for photos and video, and Intel's RealSense Camera for 3D experiences.
Audio's "tuned by Bang & Olufsen" and the device has dual speakers on the keyboard as well as dual speakers on the tablet.
The Spectre x2 features 8GB RAM and will come in two solid state drive configurations -256GB and 512GB. HP says that the 256GB version will be the first out the gate to test consumer interest in the larger storage configuration.
Battery life is expected to hover around eight hours, HP says, depending on usage. Watching videos brings down that number.
Prices start at S$1,799.
34-inch HP ENVY Curved All-in-One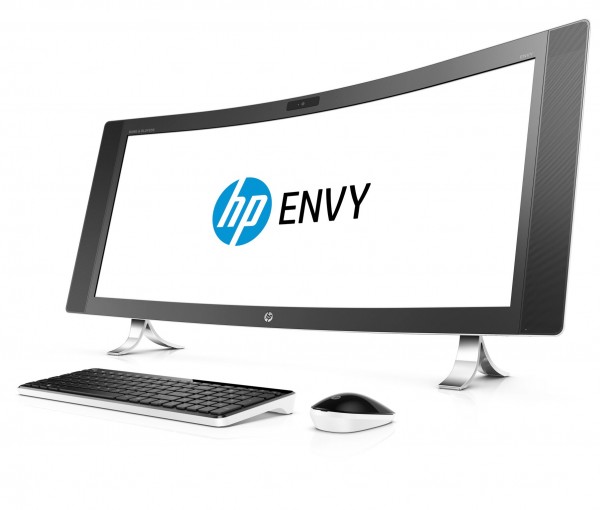 This Envy AIO curved screen is striking. It certainly looks good no matter which part of the house you place it in. HP admits it's not for everyone, but for anyone who wants a computing experience that blends into your home, this white-backed, Technicolor-certified set certainly fits.
It's got the world's first 34-inch curved display in an AIO PC. The display features an IPS quad HD screen (3,440 x 1,440) with an ultra-wide 16:9 view that's great for consumers who want to view multiple documents side-by-side without having to do a multi-monitor set up.
It's too bad HP didn't have any 16:9  videos to show off the beauty of the screen at the event.
Featuring a quad-core Intel i7 (Skylake) processor running at 2.8GHz, the unit accommodates up to 16GB DDR4 memory, and hard disk options of up to 2TB, and is user-upgradeable. It's also got an Nvidia GeForce 960A graphics card with 2GB GDDR5 memory.
Audio-wise, Bang & Olufsen has tuned the audio for the six speakers and two tweeters, but the audio wasn't working in the pre-production unit we saw.
The AIO also features Intel's RealSense camera, which detects anyone standing in front of it to provide full interaction with compatible apps. I got to play a game using my hand to lift some characters off the ground onto a platform where they made their escape, simply by gesturing my hand in front of the camera.
The Envy Curved AIO looks promising, not just as a PC, but an entertainment unit, and the RealSense camera certainly looks like it'll be a lot of fun for party games.
Prices start at S$3,499.