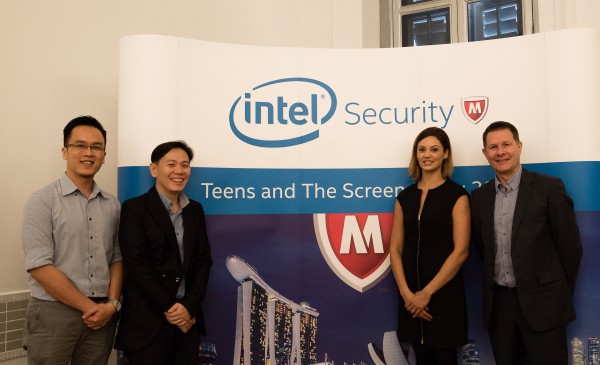 The cat-and-mouse game between parents digging into what their kids are up to and the latter resisting the former's efforts is a battle that continues online, at least according to a survey by Intel Security.
Sixty-nine per cent of parents in Singapore follow the online profiles of their children, hoping to know who their child interacts with and what they get up to.
In fact, 52 per cent of parents know the passwords to their children's accounts, and 89 per cent would want to monitor all of their child's activities across all devices if they could.
Some 501 teens and pre-teens aged between 8 to 16 and their parents were surveyed in Singapore.
In a show of resistance, 61 per cent of children would hide some or all of their online activity from their parents. Within this group, 59 per cent of them would change the way they behave online if they knew their parents were watching, and 31 per cent of them clears their browser and message history.
Still, both children and their parents accept that the worst thing that may happen online is when the child's whereabouts and personal information were discovered, with 61 per cent of parents and 49 per cent of the children flagging this as their main worry.
Other concerns include children interacting with strangers (51 per cent of parents) and damaging secrets about themselves being leaked (39 per cent of children).
Such worries are justified. Among three-quarters of children who indicated they were active social media users, 48 per cent have posted the name of their school and 19 per cent of them their phone number online.
Another area of agreement – perhaps to address concerns over privacy – 85 per cent of parents have had conversations with their children about the risks of social media and 84 per cent feel it is important they receive the right training to do so.
In resonance with their parents' views, 71 per cent of the children surveyed said they learned about online safety in school and 64 per cent have done so from their parents.
Among other interesting findings, 61 per cent of youths surveyed feel that the number of "likes" they receive on a social media post matter to them, and 32 per cent acknowledge that group photos typically get the most likes.
Also, almost half (45 per cent) of the children active on social media have witnessed cruel behaviour on social networks, and nearly three out of 10 children (29 per cent) claim to have bullied someone half the time because they did not like that person.
Such results flag the detrimental impact of the affordances of online interaction, and Intel Security has a couple of tips to facilitate this process of cyber parenting:
Connect with your kids: Parents should engage their children frequently about online risks. They may foster discussion around relevant news stories or cases in school, and make sure communication lines are open.
Set password rules: Parents should explain the dangers of sharing one's passwords with their friends or acquaintances, even if it was done in a show of camaraderie and trust. It is of particular importance to highlight the consequence of this practice, such as its reputational effects, so that they can understand why it has to be discouraged.
Use app reviews: By reading app flags, age restrictions (typically includes everyone, low maturity, medium maturity, or high maturity) and customer reviews on an app, parents will be able to discern if an app is one that is suitable for their child.
Gain access: Parents should have passwords to their children's social media accounts and passcodes to their children's devices to have full access.
Up your tech knowledge: Parents have to stay one step ahead and take time to research the various devices used by their children, and stay knowledgeable about the newest and latest social networks. While they don't necessarily have to create an account, it is important to understand how they work and if their children are on them.