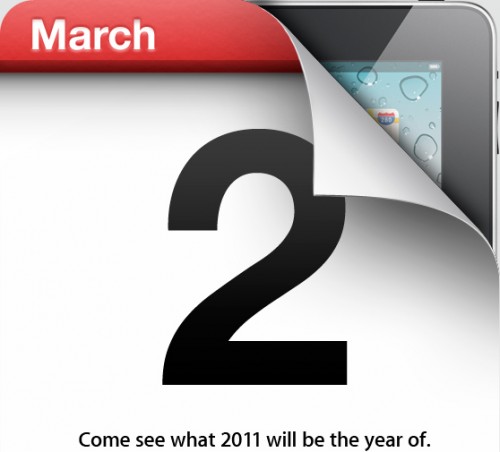 You didn't really expect Apple to sit idly by while Android tablets stole the show, did you?
Apple yesterday sent out a wave of invites to an event held on March 2, when they are expected to unveil the followup to the iPad to the masses. The image on the invite makes it pretty clear that it'll be about an iPad, and the caption proudly proclaims: "Come see what 2011 will be the year of."
We all know 2010 was the year of the tablet. Obviously. The first iPad kicked start an entire category of products, and competitors were quick to follow with their own versions, such as Samsung's 7-inch Galaxy Tab. If Apple has its way, they will make 2011 all about what has been dubbed the iPad 2.
But the iPad 2 has a lot to live up to, facing up against the likes of the Samsung Galaxy Tab 10.1, LG Optimus Pad, and the HP TouchPad. Here's a list of things likely to make it into the next iPad.
Lighter and Faster. This is a given. New generations of Apple products always get thinner and more powerful. Just look at the iPhone, the iPod touch and the MacBook Air. But will it be dual-core?
Dual cameras. There were space in the first iPad for cameras, but Apple decided to leave it out. It doesn't matter whether you think it's a deliberate move to coax cash from early adopters, because the iPad 2 is most certainly going to come with dual cameras for taking pictures and video calling.
Better screen. While slapping a Retina Display on the iPad would be pretty much unrealistic – it would require too much power – it's a safe bet that a better screen will be on the iPad 2, probably a Retina Display-like display.
Support for CDMA. We don't care about that here in Singapore, but now that the iPhone has both GSM and CDMA versions, the iPad will most likely follow that path.
Second dock connector. There could be a second 30-pin connector that lets you dock your iPad in landscape mode, allowing for a more traditional-looking workstation. But it seriously destroys the smooth aesthetics of the iPad, and Apple doesn't like that, so we'll let you decide if this one is likely.
New social options. Apple could be launching a location-based social network called Find My Friends to compete with the likes of FourSquare and Facebook. Niche social networks are not new to Apple; they do have Ping and Game Center.
What do you think? Barring any unknown new features, will you get the iPad 2 or stick to the Android tablets? Let us know in the comments!