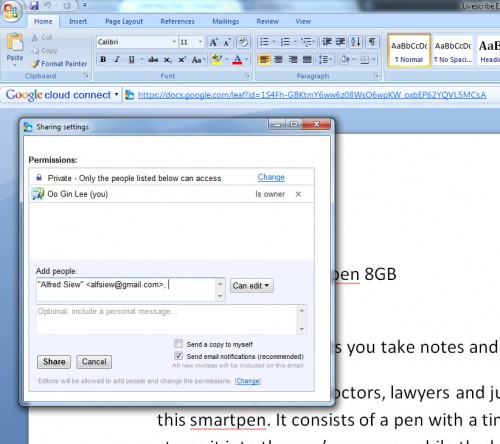 For years now I have been using Google Docs to collaborate with friends and colleagues. That means sharing a single document with multiple users who can all work on the same document on the same time. But frankly, Google Docs is just not as cool as Microsoft Office in terms of other features.
Guess what, now you can have the best of both worlds. Google Cloud Connect for Microsoft Office (Word, Excel, PowerPoint) was just launched today. Now you can do your work with the full features of Microsoft Office and install a Google Cloud Connect taskbar into it (see pix) to upload your file directly into Google Docs. Plus you can share your Office files with friends a-la Google Docs style, again within Microsoft Office. How awesome is that!!!
Here's how to do it.
(1) Install Google Cloud Connect
(2) Launch your Word, Excel or PowerPoint and you will see the extra toolbar.
AWESOME!!