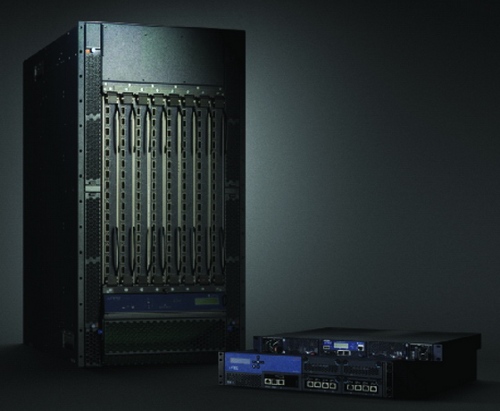 Networking company Juniper has released a new technology weapon — its Stratus QFabric switches and architecture — to conquer the core network switching space.
Released three days ago in late February 2011 in a worldwide launch, Juniper's QFabric architecture is claimed by them to be a technologically superior way to implement network architectures, yielding both higher performance and significantly lower costs.
Lam Chee Keong, enterprise solutions manager for Asia Pacific at Juniper Networks explained that an ideal network architecture has a few key attributes like low latency, high reliability and scalability. These are typically implemented in a three tier networking framework, with core switches being surrounded by access switches and edge routers.
Juniper's QFabric architecture aims to do away with this.
In the most extreme scenario he presented, a network architecture with 6000 server ports, he compared a Juniper QFabric architecture with a traditional Cisco architecture.
Juniper claims that with their architecture they can shrink hundreds of devices into a far smaller footprint — four chasis racks — consuming 90 percent less floor space and using 66 per cent less power.
On top of that, in their scenario, they project that their network speeds will be up to fifteen times faster and require far less management devices — one as compared to hundreds.
This is done by consolidating all the QFabric switches and allowing them to be plugged in directly to the QFabric interconnects. An analogy would be to think of the QFabric architecture as a series of blade servers, but instead of computing or storage, it is for networking solutions.
Attacking Cisco in the data centre space
With the worldwide network switching market's year-on-year growth at 28.1 per cent for 2010, and a total valuation at US$21.1 billion according to research firm IDC, the future prospects look bright for Juniper.
Indeed, Juniper's last quarterly earnings beat analysts' expectations and showed a 26.4 per cent year-on-year increase in revenue. With it's Stratus QFabric launch, Juniper is poised to do potentially even better, and will threaten longtime rival Cisco's share in the core network switching space.
Juniper believes the QFabric solution will play well in the data center space as cloud computing and virtualization are two forces driving adoption. Both floor space and power consumption are big issues here, as well as the latency speed issues that the QFabric architecture solves.
Said Chee Keong, who estimates that data centres comprise 20 percent of the core network switching market: "The battleground is pitched at the data centre, because if it's good enough here [to meet the stringent requirements], it's good enough for other deployments."
In Asia Pacific, Chee Keong is targeting two industries in particular: financial institutions and government. Banks require extremely low latency and robust solutions, and governments tend to house huge complex solutions which the QFabric can help more easily manage.
The QFabric QFX3500 switch ships this quarter and is undergoing customer trials, and the full QFabric architecture — like the interconnects and control plane — will be available in Q3 2011.
Juniper took hundreds of million of dollars and a million hours of R&D to develop the QFabric architecture, which started three years back in 2009 under project Stratus.
Updated (2nd march 2011):
Rival Cisco made light of Stratus QFabric launch.
At the Cisco Partner Summit 2011 in New Orleans, when asked if Cisco had any comments on this potential challenge by Juniper, CEO John Chambers said: "It's a remarkably piecemeal solution given the number of years they've spent on it."
He went on to elaborate that it's far harder being an integrated player — like Cisco — that looks at architectures rather than just niche products.