For a while now, mouse makers have been trying to make mice that work well with a wide range of games by adding more buttons for additional functions. 
The Razer Naga Trinity turns things on their head by letting you have three separate configurations for your first-person shooter, role-playing game or real-time strategy.
Heck, the three separate side plates that snap onto the left of the mouse come with enough options to let you fiddle with Google Chrome, if you wish.
You can have a simple two-button setup on the side if you simply want to gun away in a fast-paced shooter. For a role-playing game that requires you to access certain functions quickly, snap on 12 side buttons.
And finally, if you're more into multiplayer online battle arena (MOBA) games such as Dota, the seven-button circular configuration may be your cup of tea.
The amazing thing is how easily you can interchange these different options just by pulling out one side panel and snapping on another one. They just start working immediately, even before your game is loaded.
If you recall, the Naga mouse has undergone several changes since it was introduced in 2009. We reviewed an updated version in 2012 that came with 12 phone pad-like buttons and Razer later had a Hex version with seven buttons.
These are two of the options on the Naga Trinity today. Plus, the simple two-button side plate will be great for a simple shooter, since you don't want that many buttons getting in the way.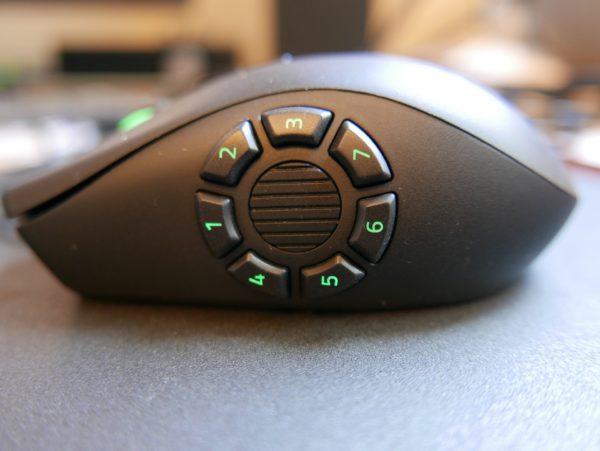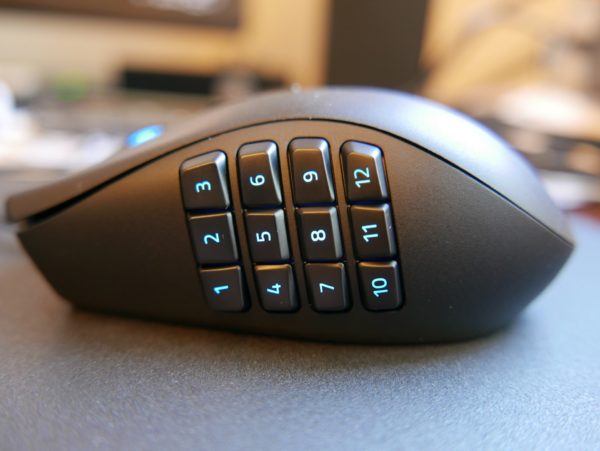 I was pleasantly surprised that the mouse was detected by Windows 10 when I plugged it into my PC. It asked if I wanted to install the Razer Synapse software to get the mouse up to speed.
A quick download and I was able to get in to configure the speed of the sensor and map the buttons to game actions. The only downside, as Razer users might know, is that you need to log in to a Razer account to do this. Once you're done, you can still switch to offline mode later.
The Naga Trinity, needless to say, is wickedly fast. The 16,000 dpi sensor may be too fast for most users if the sensitivity is dialled up all the way to the max. You need both speed and control in games.
When I fired up Call of Duty: WWII for a test run, the new Razer mouse certainly lived up to expectations. You can flip around your view extremely quickly and face an opponent a crucial split second faster, for example.
In role-playing games, the additional buttons are a handy addition to fire up functions like taking on a medical vial or medkit. They save you time from reaching out to your keyboard.
Of course, your mileage may vary, according to your preferences. Sometimes, the keyboard is still better if it is something you're more used to, and can react faster with.
What I also like about the Naga Trinity is the surface. The matt, textured finish is much better than the rubbery stuff that you used to get in earlier Razers, which can get sticky over time. And you still retain a good grip.
The Naga Trinity is not perfect, of course. The small size may not be favoured by gamers with bigger hands or those who prefer a more ergonomic grip with a bit of support, say, for the right thumb.
My good, old Logitech G602 is more comfortable as an all-round mouse for everyday work because of its larger base. However, it is nowhere near as fast as the Naga Trinity.
To be sure, the new Razer mouse deserves your attention, especially if you're into various game genres. It does the job for each type pretty well.
The main downside is the price, which probably accounts for its versatility. While other "simpler" Razer mice can be had for around $100, you have to pay S$159.90 for the Naga Trinity's three-in-one flexibility.