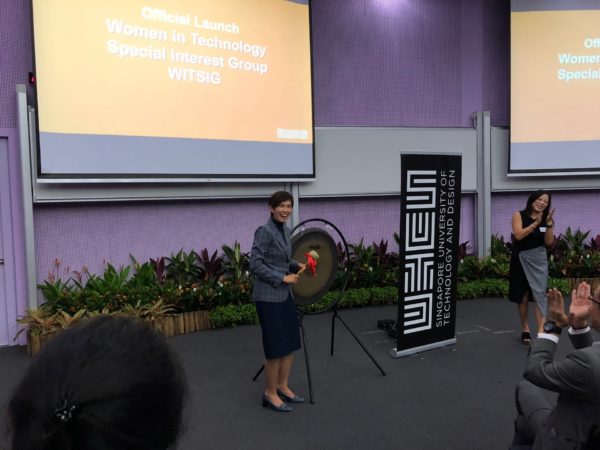 In the early 2000s, the enrolment of women in the computing science degree programmes at the local universities was low.
University lecturers had done all the right things. They held computer science career talks in schools and junior colleges. Open house events at the universities invited young women and their parents in to see the exciting things they could do in the courses.
Yet enrolment remained low, hovering below 30 per cent, they told me. The lecturers were perplexed. Girls were doing well in maths and science earlier in school, they told me.
Singapore was also a global leader in implementing innovative infocomm projects in the public and private sectors. Yet parents didn't want their daughters to pursue careers as systems engineers or programmers because they "will get square eyes" working with computers.
Parents also went as far as getting relatives to dissuade their daughters from a career in ICT, persuading them instead to opt for banking, medicine or law. It was also a cultural issue – ICT is seen more as a career for men.
More than a decade later, the situation has improved little. Despite technology being a key engine driving digital transformation, ICT is still not popular with young women.
In 2016, there were almost 200,000 infocomm employees in Singapore, according to the Infocomm Media Development Authority. However, only 60,000 or 30 per cent are women, a smidgeon higher than in 2010 where there were nearly 41,000 women infocomm employees or 29 per cent, out of 141,300 ICT workforce.
Here are more numbers that should worry parents, employers and policy makers:
-The number of female ICT professionals have grown about 10 per cent since 2011, but this was less than half the growth in the number of men.
-Female enrolment in local tertiary institutions in science and technology (S&T) courses which include computer science, engineering and related disciplines has flattened out at around 3,300 yearly.
-As a proportion of S&T enrolment, women's share appears to be dipping below 40 per cent.
What's the concern? The debate is not that women should comprise half of the S&T workforce. It would be oversimplifying the issue. Women's under-representation in the S&T workforce has repercussions.
First, jobs. In this digital century, technology is the primary engine propelling organisations forward, creating new revenue streams or building exceptional systems to better engage customers.
Like elsewhere in the US and Europe, there are more high-tech jobs than in any other industry and these jobs also happen to be high-paying ones as well. Women will miss out of exciting and potentially financially rewarding career opportunities if they don't have the Stem (science, technology, engineering and maths) skills.
In Singapore, where people are the only resource the country has, women's participation in ICT and Stem jobs is critical.
Second, new industries are emerging which will benefit from a woman's perspective. It's widely accepted that countless women with heart disease have been misdiagnosed in hospitals and sent home, possibly to die from heart attacks.
For decades it wasn't known that women had  different symptoms from men for cardiovascular disease. Women also have suffered disproportionately more side effects from various medications, from statins to sleep aids, because the recommended doses were based on clinical trials that focused largely on average-size men.
Thirdly, we forget that women are customers too. Many gizmos and systems being created by men coders and engineers will find a customer that is a woman.
They are coding for smart homes and cars and internet of things devices but they are not involving the perspective of women in the process. Technology companies are poorer for this.
So I applaud the action of Women in Tech@SG (WiT@SG) which was formed last week to address these concerns. They went beyond just discussing the issues to doing something to alleviate them.
WiT@SG has plans to hold events where women can learn from each other as well as provide opportunities for mentoring and sharing of thought leadership.
More importantly, WiT@SG wants to develop the next generation of women ICT leaders, according to chairman Meggy Chung.
"While we are seeing more women IT professionals at the entry level, we continue to face difficulties in retaining women talent and turning the dial on with regards to senior women representation," she noted.
More work needs to be done to bridge the gender gap, particularly for women holding leadership positions in technology given that such roles are predominately male dominated, said Chung, who is also director of Citibank Technology Infrastructure.
"We hope to educate and more importantly, make a positive influence on our next generations, such as students of polytechnics and universities, on their career choices with a view to encourage them to join the technology field," she told Techgoondu last week.
WiT@SG has a slate of activities including panel discussions, networking events and workshops to support women in tech and leadership as well as to introduce them to emerging areas like data analytics and cyber security; and mentoring for their career and personal development. They are also particularly interested in targeting at the next generation of women in technology.
These activities are critical because they will share their experiences with young women professionals and help shape the next generation of women ICT managers and leaders. It is useful that WiT@SG will be reaching out to schools and universities to showcase role models to attract more women to the profession.
I'm also heartened that the Singapore University of Technology and Design (SUTD) has been in the forefront of getting more women into Stem. Right from its founding in 2012, the university has maintained 40 per cent female enrolment.
It also has four scholarships available for female students each year called the Kewalram Chanrai Group-SUTD Scholarship for Women and Mastercard-SUTD Scholarship for Women. Ten female students have been awarded the scholarships since 2015 academic year.
Of course, the key participation of men cannot be emphasised enough. They are fathers, managers, CEOs and others who believe and support the cause. They are to be commended.
The debate about diversity of women in the workforce is multi-faceted with many issues, some of which need to be discussed more deeply in the years ahead.
A good start has been made with WiT@SG. Parents, brothers and others must also open their minds to encourage their daughters, sisters and friends so that they may participate fully in the digital economy.