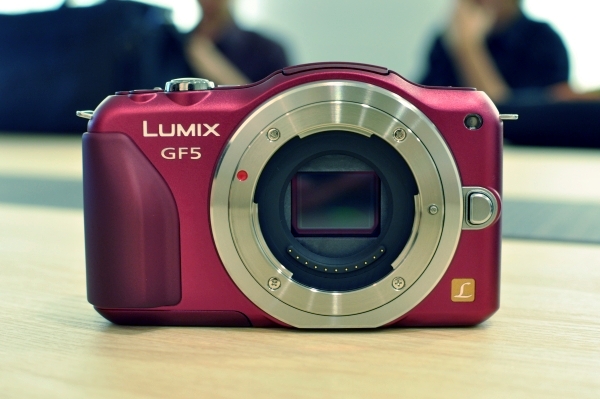 Mirrorless interchangeable lens cameras are all the rage right now, and the market is heating up with an even greater variety of brands producing their own take on the format – such as the Fujifilm niche X-Pro1 and Olympus OM-D.
Not to be left behind, Panasonic, which introduced the very first micro four thirds (MFT) camera back in 2008, just unveiled its latest addition to its MFT family: the Lumix GF5. We got our hands on pre-release prototypes to see just how well it'll stand up against the competition.
What's in a name?
Before we jump in, some of you might be a little confused about the name GF5. Didn't Panasonic unveil the GF3 just nine months ago? And what happened to the GF4? It doesn't help that the company has a truck load of MFT camera models, and it could feel like they're just throwing out cameras on to the market without thought.
But the GF5 helps to clear things up. For one, it's called the GF5 because the number 4 is considered really unlucky in Japan, and with the GX1 launched last November, Panasonic now has four classes of MFT cameras: the G and GF series for beginners, and the GH and GX for pros and amateurs who know their way around a camera.

Beginner-friendly
The GF5 is aimed squarely at beginners, and includes a new tutorial of sorts in camera. This programme lets users choose from several pre-loaded photos they want to emulate, then relays the instructions step-by-step so they can attempt to produce a similar shot.
Fourteen filter effects let shooters express their creativity, and these effects can be previewed on the 3-inch, 920k-dot LCD touch screen before the photo is actually taken. The camera can also recommend filters based on the user's selected shooting mode.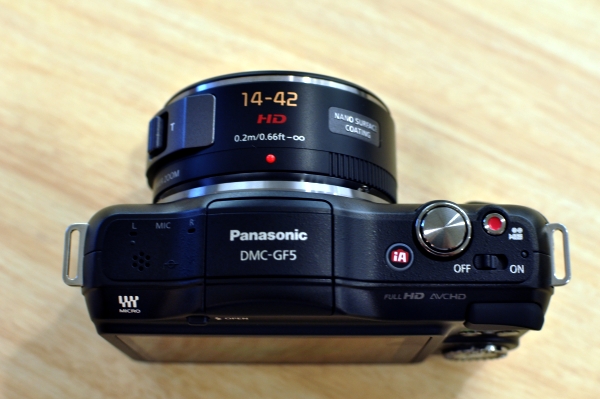 GF5 vs. GF3
Panasonic just made the GF3 obsolete within a span of nine months, and that's bound to make some people unhappy. Just how different is this new model?
Different enough, as it turns out. The GF5 has a new sensor which produces 30 per cent less noise than the GF3, but it still has the same 12.1 megapixels. There's also a new image processing engine and a graphic engine to boost performance.
The GF5 can push ISO up to 12,800, while the GF3 can only do up to 6,400. But from my hands-on, the picture quality starts to really deteriorate from ISO 1,600 and it's really not recommended unless you want unsightly grain in your photos.
Autofocus has been tweaked to be slightly faster in the GF5, and the camera can lock on to its subject in 0,09 seconds. It's also capable of shooting 4 frames per second at full resolution, an improvement from the GF3's 3.8fps.
If you're into shooting video, the GF5 can now do full HD (1080p) video at 30fps in stereo sound. You can also choose to record in the MP4 format, while the GF3 could only do AVCHD at 720p and mono sound.
Externally, however, not much has changed. The GF5 is a tad heavier, but you won't even notice it. I also like the enlarged grip for the right hand, which is certainly more comfortable than the GF3.
Lenses and accessories
No big surprises here. The GF5 is compatible with all existing X series lenses, although the selection is a bit limited at the moment. It ships with the 14-42mm F3.5-5.6 kit lens, which is amazingly tiny and has a unique zooming and focusing mechanism.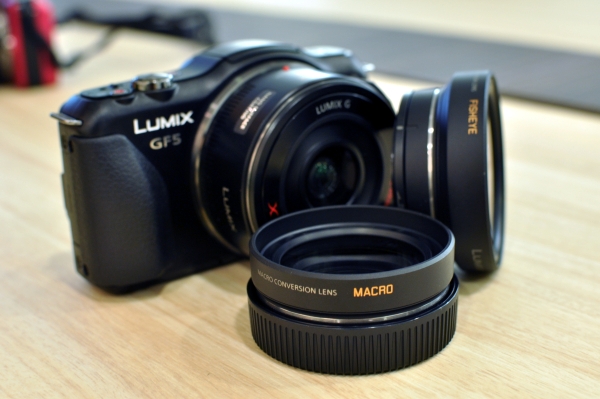 You can also play around with Panasonic's conversion lenses, which look like cute tiny caps you can screw onto the 14-42mm, bringing with them various capabilities such as macro or fish-eye shooting. I spent quite a while fiddling with these conversion lenses, and found it a challenge to screw them on and off. They definitely need more work on the usability front.
Round-up
The GF5 is a nice piece of kit, and could be a good choice for people looking to pick up photography as a hobby. But I still recommend picking up an entry-level DSLR for a better experience.
The only crucial unknown factor left is the price – the GF5 better be well-priced, or it might very well flop in a country saturated with DSLRs and other mirrorless cameras.