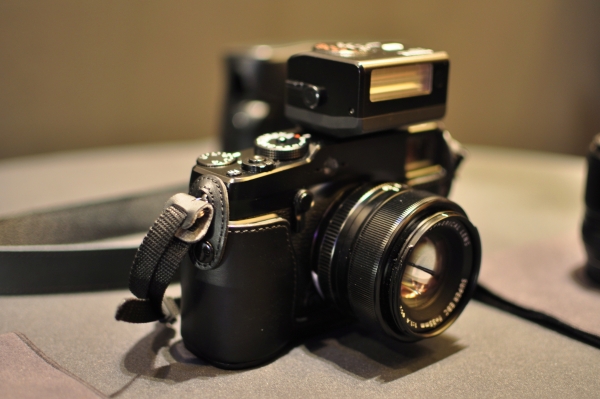 Fujifilm is experiencing a recent surge in popularity recently thanks to its excellent X100 advanced compact camera. This retro-licious model combines a beautiful rangefinder-style design, a DSLR-sized APS-C sensor, great lens and extensive manual controls for photography enthusiasts.
The company then followed up with the cheaper X10, which is modeled after its big brother but with the objective of capturing an even broader consumer market at roughly half the price of the X100.
Both cameras produced great images, but have high sticker prices equivalent to entry-level DSLRs. They targeted existing DSLR owners looking for a more portable alternative for casual shooting, and did pretty well in that respect.
With the just-launched X-Pro1, Fujifilm is riding this wave and jumping into the mirrorless interchangeable lens camera (ILC) category. And like the X100 and the X10 before it, the X-Pro1 is burdened by its enormous price tag even before reaching store shelves: the camera costs a whopping S$2,400 for its body only. Obviously, buying only the body is useless, so you'll have to throw in at least another S$900 to get the basic lens.
Let's take a look at the specs, which has quite a bit of new tech.
For the X-Pro1, Fujifilm has developed a new 16-megapixel CMOS sensor it calls the "X-Trans" CMOS, which the company claims to deliver resolution that is parallel, even superior, to a full frame sensor. To accomplish this, the sensor uses a different colour filter array with a higher degree of randomness than conventional sensors, and Fujifilm claims that this eliminates the need for a low-pass filter. This results in cleaner and sharper photos without moire and false colour.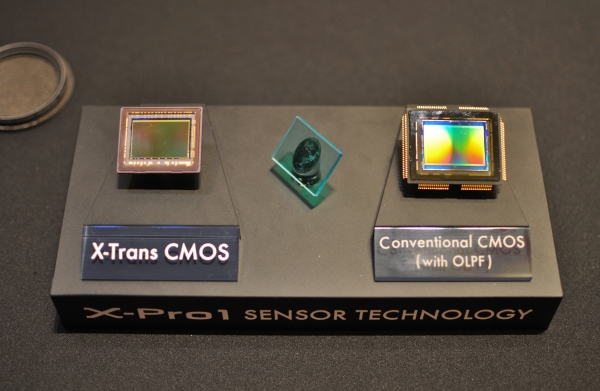 Fujifilm also developed a new all-electronic lens mount called the X-mount to complement the new "X-Trans" sensor. The lack of a low-pass filter means that the rear lens elements can be mounted deeper within the body as close as possible to the sensor, reducing the back focus of each lens and achieving high resolution all the way to the edge of the image.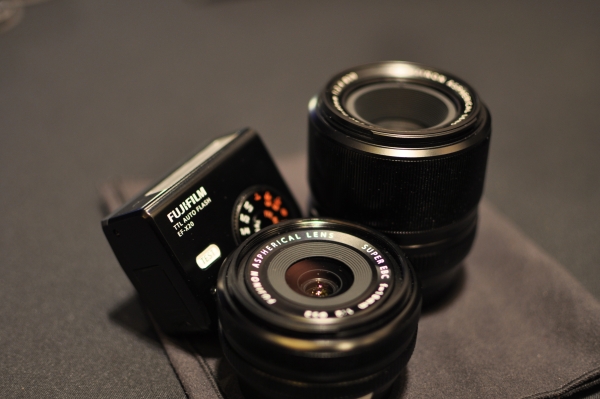 The most important part of ILCs is naturally the lenses. Fujifilm has prepared three new lenses to complement the X-Pro1: an 18mm f/2, a 35mm f/1.4, and a 60mm f/2.4 Macro. All three lenses have manual focus rings and a 1/3 step aperture ring for complete exposure control. Six more lenses, including zoom lenses, are on the road map and will hit the market from now to 2013.
In a throwback to the good old days, the X-Pro1 can also simulate the colour and tonal qualities of legendary film brands like the natural look of PROVIA, the saturated colours of Velvia or the soft looks of ASTIA.
All the other goodies of the X100 are also carried over, including all the dials and buttons to let photographers adjust settings manually to their hearts' content. The camera has a solid magnesium alloy build, and is topped off by a hybrid viewfinder and a hot-shoe for accessories like an external flash.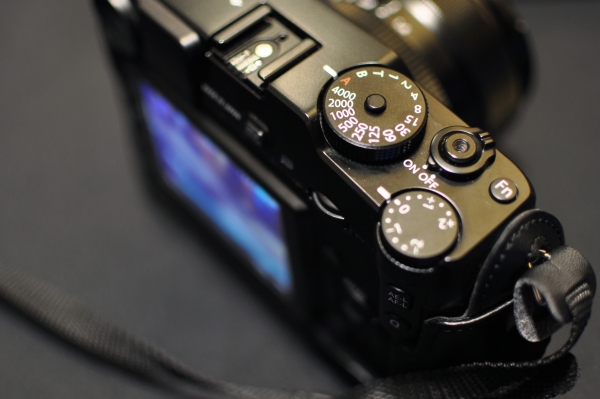 But who exactly is Fujifilm trying to target at a price point north of S$3,000? Photographers and enthusiasts who already own a DSLR or two would probably rather spend the money upgrading their existing kit or buy more lenses. Beginners looking to pick up photography might prefer to spend half the price on a decent entry to mid-level DSLR.
If you're shopping only for mirrorless ILCs, you can get the excellent Sony NEX-5N with two lenses at a much cheaper price! Plus, even top entry-level DSLRs like Nikon's D5100 or Canon's 600D cost much less.
Fujifilm representatives insist their new ILC is a premium product and claim to have all the engineering to back it up, and it's not that outrageous a claim when I look at the stunning image quality the X-Pro1 is capable of producing. Nonetheless, I just cannot imagine myself plunking down the cash for it.
Are you going to snap the X-Pro1 up when it hits our shores in March? Share your thoughts in the comments!