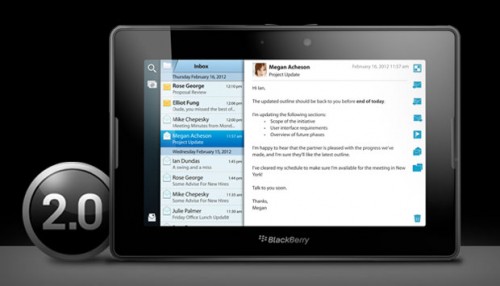 Almost a year after it first hit the stores, the Blackberry Playbook may finally be a tablet that is worth considering – if you can still get your hands on one.
In Singapore, electronics retailer Courts is selling the 7-inch tablet from S$498 for a 32GB version and an attractive S$528 for a 64GB model, having slashed prices by S$300 to S$400.
But unlike the fire sale of HP's doomed tablet last year, price is not the only attraction for the Playbook. Just this week, the tablet got its much-delayed 2.0 software update, which finally gives it e-mail access and other features that, if included at launch, could have given the otherwise attractive iPad alternative a chance.
Though its OS offered one of the smoothest multi-tasking and touch interfaces, the Playbook was famously "disabled" by a management "master-stroke" that would go on to define how not to launch a technology product.
The leadership at Research In Motion (RIM) had believed that the Playbook was always going to be a companion to their Blackberry smartphones, and decided to take out all the basic personal information manager (PIM) functions that everyone expected. You couldn't check e-mail on your Playbook – for that, you had to buy a Blackberry phone.
The Playbook could do regular stuff like play YouTube videos and surf the Web, even supporting multimedia websites using Flash. But being Wi-Fi only, it also relied on a Blackberry phone to go online if you were not at a Wi-Fi hotspot.
In the end, the Blackberry tablet that presented itself next to shiny new Android and iPad rivals on shelves everywhere was a crippled device, despite the otherwise smooth OS and attractive, slim design that boasted a dual-core chip and a pretty impressive display.
The result: RIM sold only 150,000 Playbooks last quarter, compared to the 15.4 million iPads that Apple sold in the same period, reported the BBC. And this was achieved with fire sale after fire sale last year, where the basic 16GB model was sold off first at US$300 then US$199 (it was launched at US$500).
To bargain hunters, the good news is that the hardware is still relatively current today. Plus, with the Playbook 2.0 update, you get all your e-mail, contacts and calendar on the tablet. You also get a "social hub" that shows all your Twitter and Facebook interactions in one place.
Essentially, the update reverses the massive mistakes made by the RIM leadership last year.
The changes may be too late to change the minds of people already fixed on buying an iPad or Samsung Galaxy Tab, but for those who only need the most common apps and prefer a bargain to the latest newfangled gizmo, the Playbook actually looks like it's worth checking out.