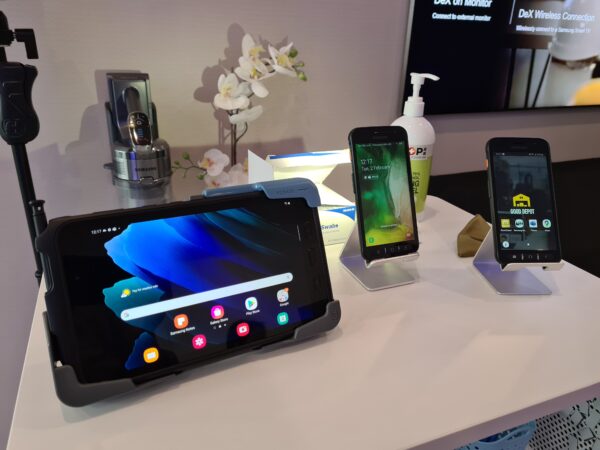 If you're looking for a phone or tablet that is rugged enough for a warehouse, sea port or hospital, then you might be interested to know that Samsung now has a range of tough devices made just for these commercial and industrial settings.
The electronics giant showed off the Galaxy Tab Active3 tablet and its XCover Pro phone, devices that are ruggedised from the ground up, in Singapore last week.
Aimed at business users, the two devices pass the MIL-STD-810H military standard and are rated for IP68 when it comes to keeping out dust and water.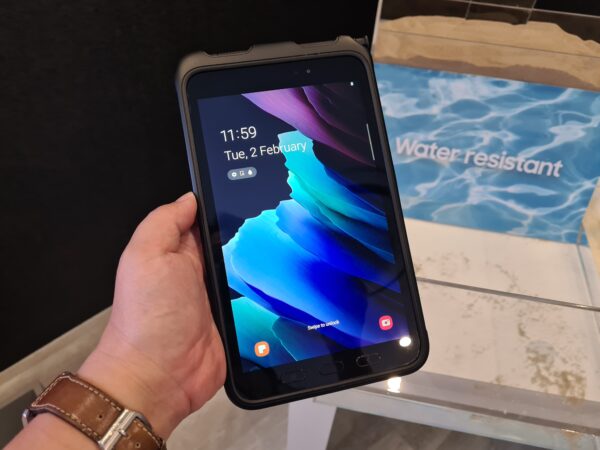 As you'd imagine, these devices are well protected around the edges, rather like how you'd snap on a case for your phone or tablet, except these designs have been more thoroughly tested.
The Galaxy Tab Active3, for example, can withstand drops of up to 1.5 metres with an included protective cover. It can also be submerged in water temporarily, as Samsung executives were keen to show reporters last week.
Besides being tough, the devices have to be practical too. They come with an option for heightened screen sensitivity, so if your are a nurse or warehouse worker wearing a glove, you can still operate the touch screen without an issue.
The screen also lets you scribble with Samsung's ruggedised S-Pen stylus when it is wet, so you don't have to spend time wiping off the screen, say, when caught in the rain.
Other useful features include swappable batteries, something that consumer devices have abandoned for slimmer, more attractive designs over the years.
This means businesses can replace old batteries with new ones and keep the devices going for longer than your typical phone, which lasts about a couple of years for many users.
Don't expect the latest and greatest in terms of hardware features you find in a regular phone or tablet, though.
The Galaxy Tab Active3, for example, offers a decent and handy 8-inch screen but is nowhere as large as a high-resolution 12-incher, like the Galaxy Tab S7+.
The resolution on the rugged tablet is a workable 1,920 x 1,200 and you get a regular LCD instead of a Super AMOLED display. Clearly, the emphasis is on prolonging battery life on the 5,050mAh power pack.
The XCover Pro phone also sports decent but not groundbreaking specs, such as 2,340 x 1,080 resolution on its 6.3-inch screen. It runs on a 4,050mAh battery that promises to last more than your average work day.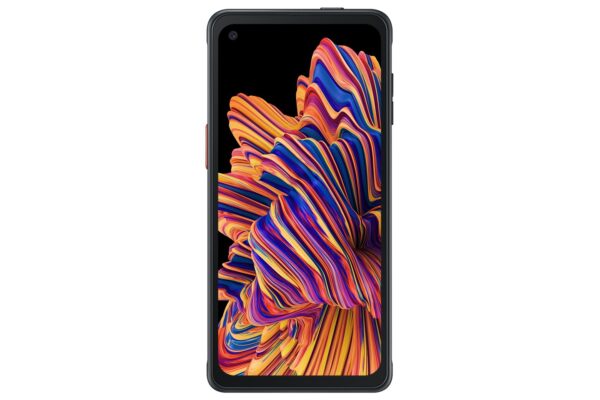 Will these ruggedised devices take off in a big way? Well, Samsung will hope that they open up opportunities in markets where users have traditionally used purpose-made, single-function devices, such as barcode scanners.
The Korean company certainly is pricing the devices to sell as a fleet. The Galaxy Tab Active3 is going for S$698 for the Wi-Fi version and S$798 for a version that also comes with 4G.
No local pricing yet for the XCover Pro which is out in March, but in the United States, it is going for about US$500 (S$664).