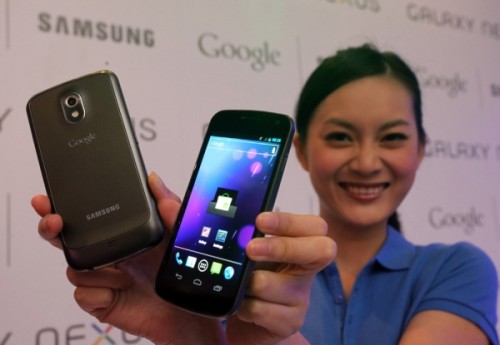 The much-awaited Samsung Galaxy Nexus, the next "Google phone" featuring the new Android 4.0 operating system, will only reach Singapore stores in February 2012, a month later than expected.
Samsung Singapore today said the units would be sold at S$948 (without contract), as it revealed earlier in November. However, the delay will not be good news for folks here who have been waiting for the latest and greatest from the Android camp.
The Galaxy Nexus, following in the Nexus One and Nexus S tradition, would come with a "clean" interface without any add-on software, which is a boon to those who want a "pure" Google experience without clunky extras. It has another plus: being a Nexus phone, it will be the first to get the latest updates direct from Google.
Android 4.0, or Ice Cream Sandwich is also desired for several new features, for example, a nifty face unlock, improved task-switching, and an updated Gmail interface. (See our hands on test for the Galaxy Nexus here)
The Galaxy Nexus naturally is expected to compete with the current flagship from Samsung, the Galaxy S II, which sports a smaller 4.3-inch screen compared to the Nexus' 4.65-incher.
The Galaxy S II runs Android 2.3 (Gingerbread) and is slated to be upgraded to Android 4.0 in Q1, according to Samsung HQ. However, the Korean firm's Singapore representatives were tight-lipped about any timeline for software updates for Singapore users, when queried by Techgoondu today.
At the launch event today, Samsung also showed off a number of other devices for the new year. The S$768 Galaxy Tab 7.0 Plus, out in January 2012, is an update on the original Tab, sporting a 7-inch screen and a faster 1.2GHz dual-core chip, while the slightly broader but slimmer and more attractive Galaxy Tab 7.7 with a dual-core 1.4GHz chip will go for S$898 when it arrives in February 2012.
A new mid-end phone also worth checking out is the Galaxy W, which runs Android despite the "W" moniker, which usually means Windows Phone in Samsung-speak. Out this month, it sports a 1.4GHz CPU and costs an attractive S$498. With operator discounts sometimes at about S$400 to S$500 for high-end plans, this could be a S$0 ph0ne well worth looking out for.
Samsung is dangling the same attractive price tag on its Omnia W. Similar to the Galaxy W, specs wise, this phone will be noted for running Windows Phone "Mango". For folks who are looking for a Windows phone, the Super AMOLED display makes it stand out from the competition when it hits the stores this month.