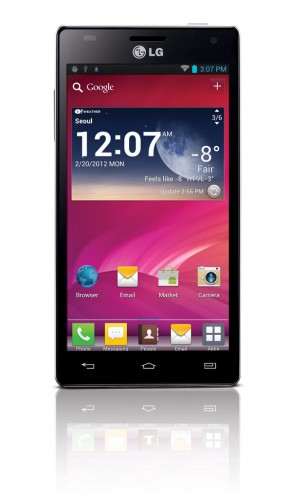 It may not have as much buzz surrounding it as Samsung's Galaxy S III or HTC's One X, but LG's equally-spec'd out Optimus 4X HD now hopes to draw those hard-earned dollars out of your wallet by going for quite a bit cheaper than arguably the two most attractive phones now.
For S$738, it will be one of the most affordable phones in Singapore to sport a quad-core chip, a 4.7-inch screen and a very sharp screen boasting 1,280 x 720 resolution, when it ships on July 28. As flagship phones go, the deal looks attractive.
Perhaps seeing how well fellow Korean electronics giant Samsung has done with its Galaxy phones, LG certainly spared no effort when it came to packing in the latest hardware.
The quad-core Nvidia Tegra 3 should run speedily with the latest Ice Cream Sandwich (ICS) apps and the generous 4.7-inch screen comes with high-quality IPS (in-plane switching) to offer a great view on the go. For those concerned about the interface, LG has done some work on the Android interface, customising it to come up with its own Optimus UI 3.0.
To top things off, there's a handy 2,150mAh battery pack included. So LG's Optimus 4X HD should carry just a bit more juice than the Galaxy SIII, which has a 2,100mAh battery. That's a good thing because these big screens do suck battery fast.
We'll have more to discuss about the LG Optimus 4X HD when we test it out soon!