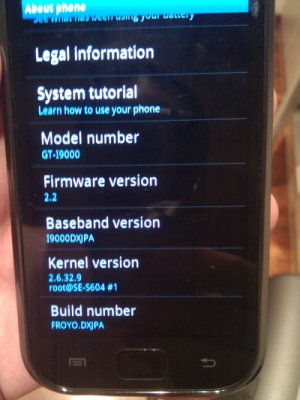 The official Android 2.2 update to the Samsung Galaxy S is here for Singapore users, a month after the operating system began rolling out around the world.
Among the promised goodies:
-Android 2.2 JIT compiler, which saw improvements in speed in the first Google Nexus One devices rolled out in May.
-Support for Adobe Flash 10.1, used to show off multimedia on thousands of websites
-Improved default keyboard
To get the update, you can go to a Samsung Customer Service centre to get it fixed, as what the Korean manufacturer advises on its Facebook page. Alternatively, DIYers can do it themselves with instructions over the Net.
I tried the latter when I upgraded my wife's Galaxy S a while ago and I have to say this takes a lot of patience. First of all, there's no over-the-air update as with the Google Nexus One, which was painless.
With the Galaxy S, you have to first install the Samsung PC software – I'd advise you to use Samsung Kies instead of New PC Studio. I wasted an hour fiddling with the latter – it didn't like Windows 7 and would not allow my connected Galaxy S to be updated.
Note that Kies will try to update itself after you install that 135MB file, taking up even more minutes. Then, it will download the official Android 2.2 OS onto the phone. All in, it took me more than 30 minutes.
The good news is, I've been happy with the update so far. When I fired up the browser, the New York Times website scrolled smoothly along even with all its text, nestled tables and, of course, Flash-based multimedia.
There are still some things to work around after you update. For example, some of the items on the home screen are gone (though the apps are still there). Plus, you'll have to download a new version of Facebook, since the last one – Facebook S – is not included in Android 2.2 (Froyo).
For more tips as well as shared experiences from other users, there's a lot of information on the Samsung Mobile Facebook page.