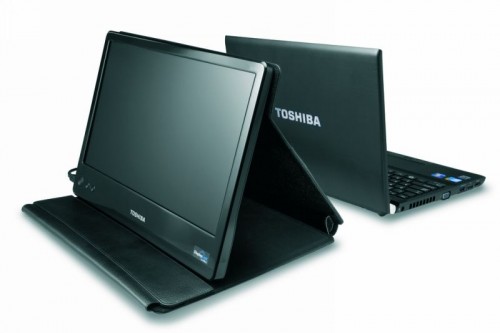 Here's something that has some real innovation involved – a monitor that runs off USB power that lets you hook up to any Windows laptop as a second screen.
Toshiba's new 14-incher, simply named USB Mobile Monitor, lets you fire up an additional screen, say, to show off your presentations to clients or to simply use as a second screen at home to complement your laptop's.
Including the cover and USB cable, it weighs just 1.27kg – lighter than most laptops. Another plus: it does not require a wall power supply. Okay, it supports a resolution of only 1,366 x 768, but that's about what you get on many 14-inch laptops anyway.
If you like, there's also an optional AC power adapter that lets you turn up the brightness up to its max of 220 nits (cd/m2). Unfortunately, Toshiba doesn't say how bright it is when it's on USB power, so we can't really compare.
In Singapore, the USB monitor is going for S$259 at the Toshiba retail stores at Funan Digitalife Mall and Sim Lim Square. I can imagine a lot of mobile warriors would be interested in this.