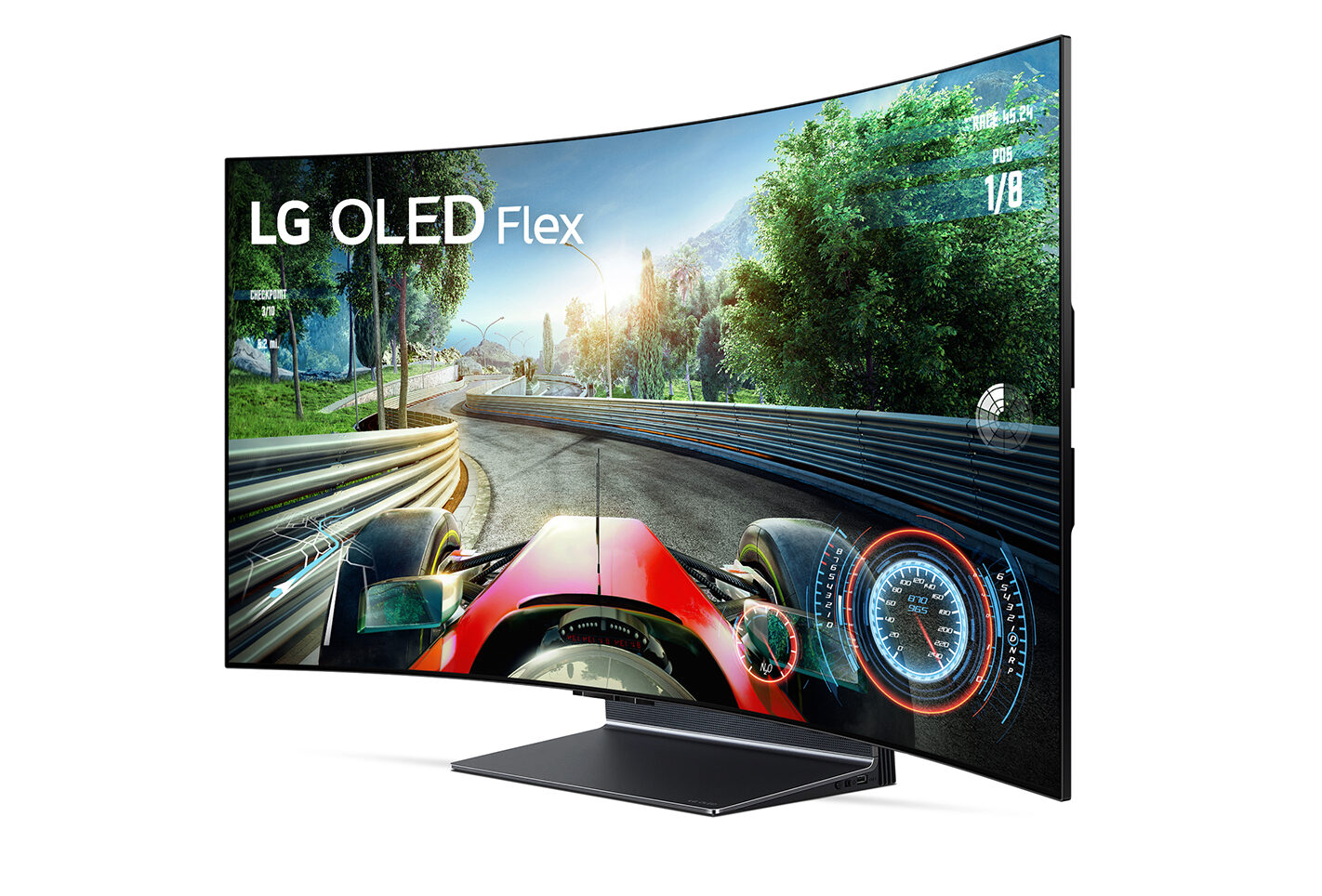 You've seen OLED screens make their way into gaming monitors in recent years so it isn't a surprise when you see something like the LG OLED Flex LX3 at first glance. Well, that is, until it starts bending.
Yup, the biggest trick that the Korean electronics manufacturer has pulled out of the bag here isn't the much-loved OLED screen technology that offers stunning contrasts and deep blacks. Nor is it the fact that this is a flexible OLED screen (we've seen some over the years).
But the 42-inch LG OLED Flex LX3 wins by letting you simply press a button on the remote and have it bend from a regular flat format into a curved screen. What's the game here? A more immersive experience, says LG.
The motorised feature lets you choose one of three preset modes – flat, 50 per cent curvature or 100 per cent curvature, up to a quite extreme 900R curvature.
Don't like that? You can even slowly adjust the curvature to your liking, in up to 20 steps, so you'd get the ideal "wrap-around" experience that you desire for a shot at Call of Duty or to fly an X-Wing fighter in Star Wars Squadrons.
The "magic" is in the motor in the thick monitor stand the pushes the flexible OLED screen into place every time you change from a regular flat format to a curved format, and back.
This is the reason why the 42-inch 4K monitor is bulkier and significantly heavier than your usual TV screen or PC monitor. Speaking of a flexible screen, you should avoid trying to bend the screen yourself.
I'll be honest, I wasn't a fan of curved TVs when they first appeared a few years ago. However, curved PC monitors are another matter because you sit close enough to the screen to have a "wrap-around" effect that can make a game more immersive.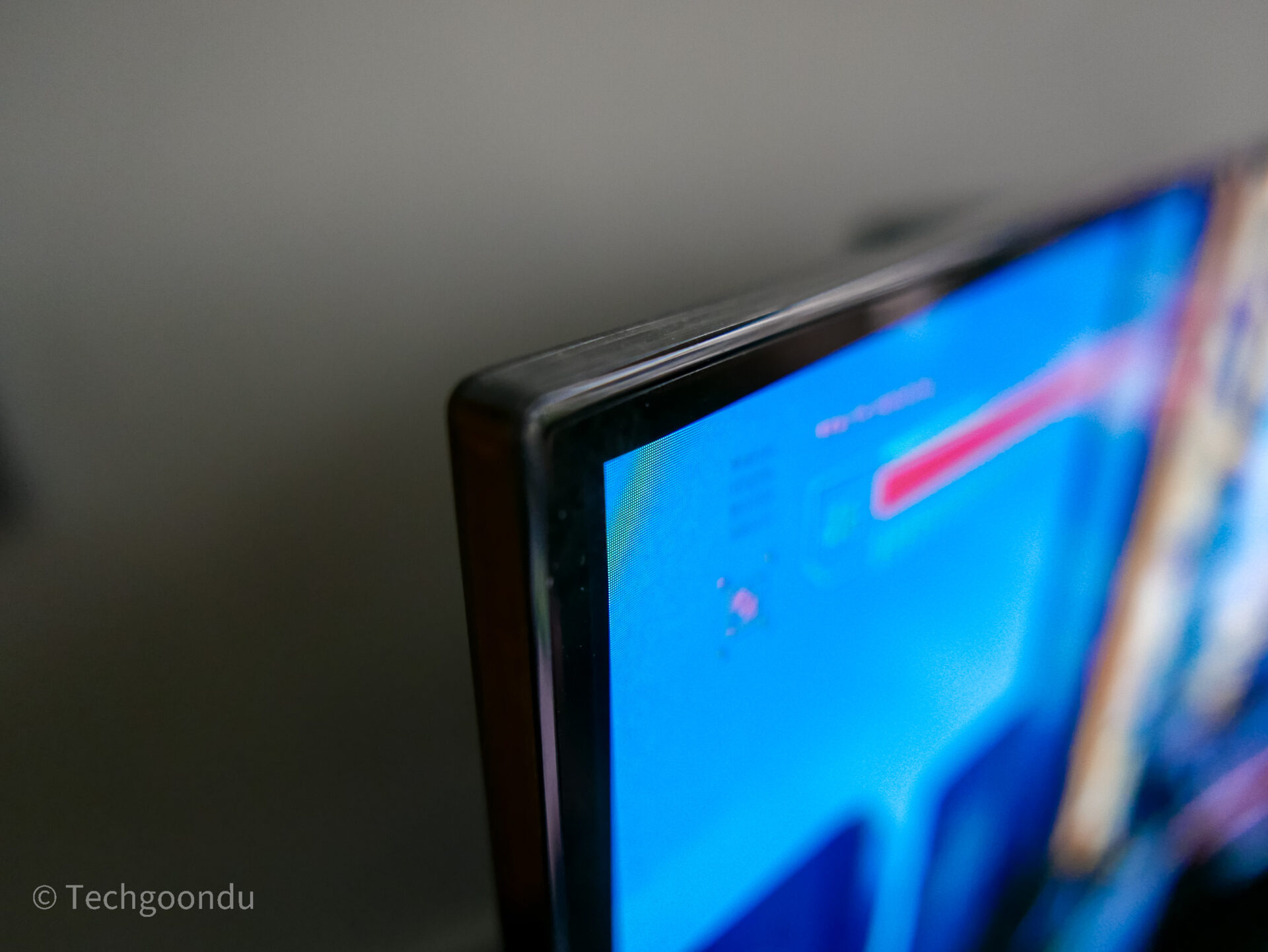 Fire up a first-person shooter like Cyberpunk 2077, for example, and you get a corner-of-the-eye glance of things in the dystopian Night City that the futuristic game is set in.
Also good are games that require a lot of situational awareness, such as a flight or space simulator. I find the full 900R curvature a little extreme but halfway between flat and full-curve would be my preference for gaming.
The good thing about a flexible, bendable screen is that I can return it to a flat format when I need to do some serious work. In other words, spreadsheets in the day; Call of Duty at night.
So far, I've not mentioned the screen quality of the LG OLED Flex LX3 yet. That's because OLED screens have long established their superiority here over other LED technologies.
In the new LG screen, you'll find excellent contrast and unrivalled blacks in anything from games to movies. Plus, LG has stuffed the new TV with support for the latest features, such as HDR.
As a gaming monitor, the LG OLED Flex LX3 also doesn't lose out to the OLED TV models that LG has been selling to demanding buyers such as gamers and video buffs.
There's a zippy 120Hz refresh rate, which means your games can run at a smooth framerate and you don't worry about tearing and other issues when plugged into a PC or game console.
The OLED Flex LX3 is also compliant with Nvidia's G-Sync and AMD FreeSync Premium, standards which make gaming smoother and which its regular OLED TVs also support.
Certainly, I didn't experience issues with lag or tearing when I plugged the monitor to my PC, which runs an AMD Ryzen 5 processor, 32GB of RAM and an Nvidia GeForce RTX 3080 graphics card.
To connect up, the LG screen offers four HDMI 2.1 ports by the side. Having the latest HDMI standard means you can be sure the monitor supports 4K resolution at 60 frames per second and with 10-bit colour for the best image quality.
The LG OLED Flex LX3, let's not forget, is also a regular TV, which runs the Linux-based WebOS software, so you can set up Netflix and other apps right on the TV if you don't want to fire up your PC to stream a movie.
Here, LG's magic-wand remote controller is easy to use and the interface is user-friendly, though I'd have expected LG to offer a more solid, premium device instead of a plastic one that looks very much standard-issue with its other TVs.
That also brings us to the price, which is a grand S$3,999 in Singapore. You can get it slightly lower – at about 10 per cent off – at retailers but that's still a tidy sum to pay for a 42-inch screen.
For the same price, you can buy a 65-inch LG G2 OLED TV, which is the top-end model from the Korean manufacturer. Of course, you can't use a 65-inch screen to do spreadsheets, unlike a monitor.
Even then, if you want a large 4K monitor, a Dell UltraSharp model costs about S$1,700 for a 43-incher. Not OLED or flexible screen, to be fair, but much cheaper.
In the OLED Flex LX3, LG seems to have come up with yet another left-field gadget – like its rollable TV a few years ago and a wireless TV last year. That said, the new screen is attractive and does fulfill a need, if you have the cash for it.
It may cost too much for the average PC user but I'm guessing there are gamers with deep pockets who have already bought an expensive PC with the latest graphic cards and are asking LG to take their money in exchange for an OLED Flex LX3.