Brought to you by BenQ
For designers, photographers and creative professionals who have to work with images and videos every day, one thing is crucial to the quality of their output – colour accuracy.
Without this, the mood of a video could change drastically. The message that the images are meant to convey could be impacted unexpectedly.
This is why many professional users turn to monitors that show them the same colour they expect to be delivered in the final photograph, video or website, for example. They also expect ease of use when it comes to connecting multiple screens to boost productivity.
To meet these requirements, BenQ has created the PD series design monitors specially tailored to Mac users who need colour accuracy as well as easy connectivity and adjustable comfort for their creative work.
The Calman- and Pantone-verified PD3220U (above left) and PD2725U monitors come with an M-Book mode that enables a user to connect up an Apple MacBook, for example, and recreate the same images from the smaller screen onto the larger 4K monitors, which come in 32 and 27 inches.
The IPS panels also offer 1.07 billion colours. Each is tested vigorously at a factory to ensure that they are calibrated for colour accuracy right out of the box. With BenQ Calman-verified monitors, users get immediate access to Display P3, sRGB, and Rec. 709 with accuracy and confidence.
The PD3220U and PD2725U are also Pantone-validated, which means they are able to render the full range of the Pantone colours accurately.
If you are working with different International Color Consortium (ICC) profiles for your projects, fret not. The new BenQ monitors have you covered as well.
If you forget to sync ICC profiles when moving from, say, Web design to video editing and back again, the monitors can automatically match and synchronise the ICC profiles on-screen when you change colour modes. The same, when you switch between your MacBook screen and the BenQ monitor.
This way, you do not have to worry about colour accuracy being affected as you multitask through the many design jobs in a day's work.
For designers who work with multiple monitors, the BenQ PD series also make it easy to hook up each of the screens to your Mac laptop or desktop computer.
With support for Thunderbolt 3, two 4K monitors can be easily daisy chained to reduce clutter and do away with messy cables. One Thunderbolt cable hooks up to a MacBook and is able to charge it up as well as deliver the video data.
There are also HDMI, DisplayPort and several USB connectors for those who need other connectivity options. The BenQ monitors are designed to help boost efficiency with their expandability.
What's also helpful here is a Hotkey Puck that BenQ has included with the monitors. Shaped like an ice hockey puck, this nifty controller enables users to easily adjust the brightness, contrast and volume of their monitors without reaching through several menus.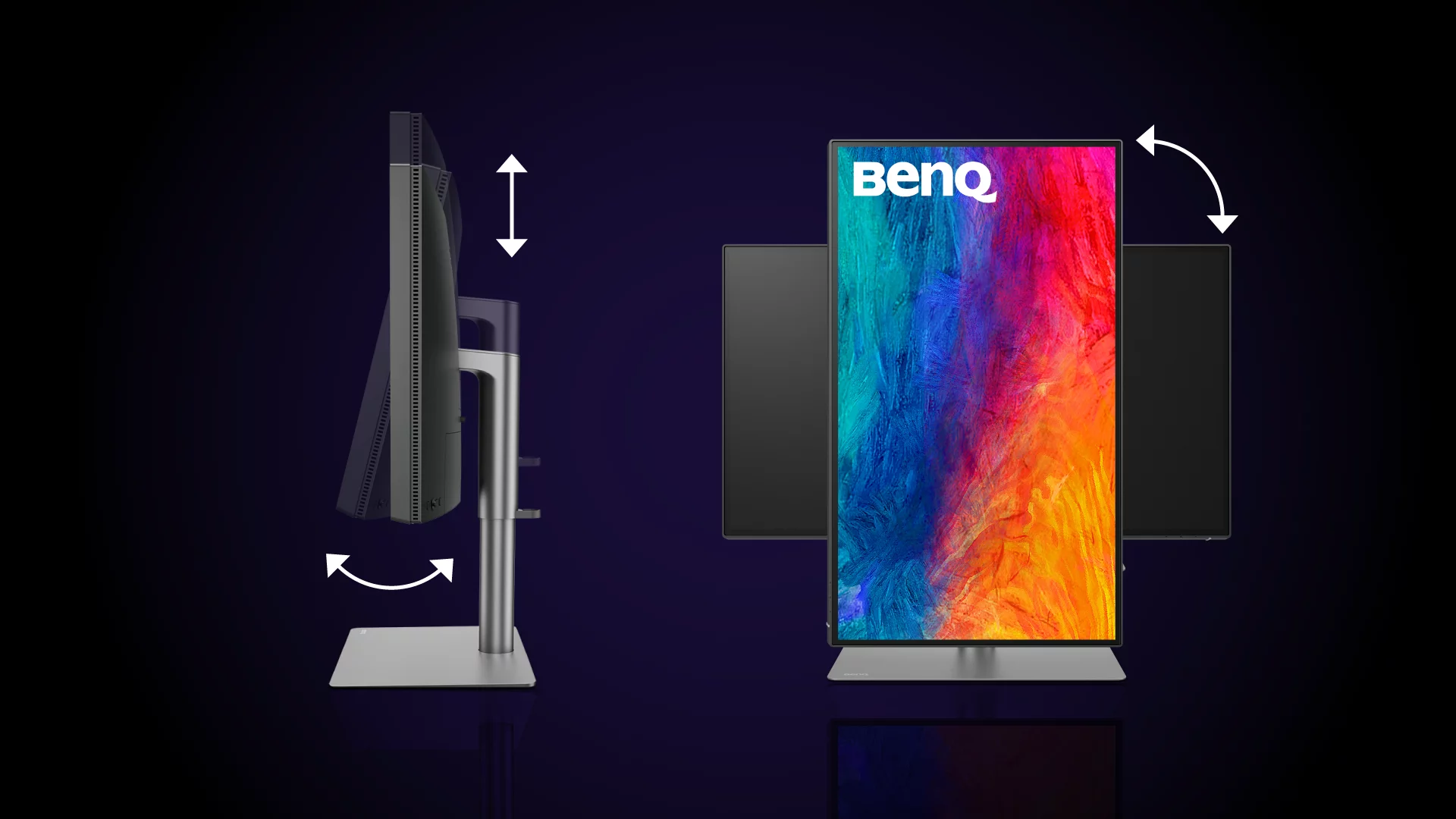 Of course, no monitor is complete without providing the comfort that is needed for users who spend hours in front of a screen each day.
Here, BenQ's PD series for Mac devices come with an anodised metal base and stand that not only looks great but enables a user to tilt, swivel, pivot and adjust the height to ensure he has the best view.
For users who require a portrait or vertical orientation, the BenQ monitors also support that feature. Simply push it into position to get your design into the right frame.

Find out how BenQ's PD series monitors can be your best design companions for your Mac here.