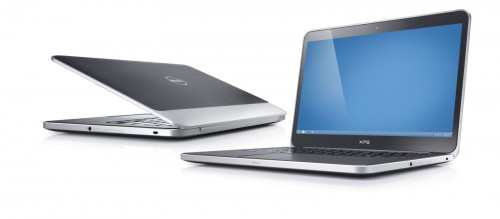 Those who still think that Dell puts out boring machines should check out its latest XPS 14 ultrabook just unveiled on Tuesday in Singapore.
Weighing in at 2.1kg, it comes with a 14-inch screen that nicely straddles between a smaller 13-inch ultrabook and a 15-incher for workstations. It's a machine that seems to be built for both portability and as a replacement for a desktop PC. And Dell's promising up to 11 hours of battery life with this new ultrabook.
The XPS 14 is sold as a premium ultrabook with an aluminium chassis, tough Gorilla glass protecting the screen and a discrete GeForce GT640M graphics chip, which should better the onboard Intel graphics. Speaking of which, yes, the XPS 14 will come with Intel's current Ivybridge or third-gen Core processors.
In particular, the models shipping now will sport a Core i5 CPU, with prices starting from S$1,399 for a base model that also includes 4GB RAM and a 500GB hard disk.
Unfortunately, and this is a possible deal breaker for many users, Dell doesn't seem to offer an option that comes with a speedy solid state drive (SSD). If you want that, you probably have to buy one separately and attempt to install yourself.
Otherwise, the XPS 14 does look the part as a well-thought out machine for folks on a limited budget. An array of two USB 3.0 ports, a mini Display Port for hooking up to monitors, an HDMI port for TVs, a network port and a memory card reader make this a well-connected business laptop.
It's true, Dell's other laptops in its Inspiron range, for example, don't quicken your pulse much. But its well-designed XPS range of desktops and laptops have always competed well with rival PC makers, and the XPS 14 laptop also looks quite capable of that.