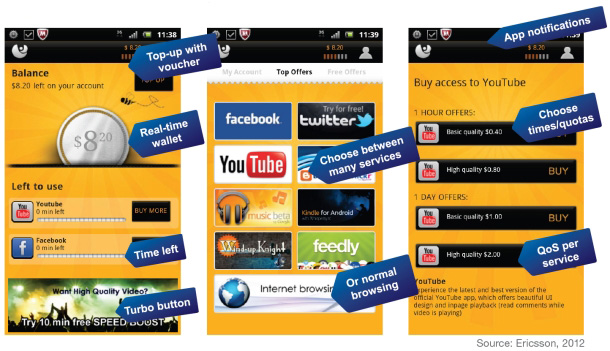 Although mobile data usage among prepaid customers has traditionally been low, an Ericsson study has concluded that the rise of affordable smartphones presents an opportunity for telcos to access the largely untapped market.
Given the largely value-conscious nature of these smartphone buyers, telcos in emerging markets are offering what Ericsson calls "smart packages" for pre-paid users to take full advantage of their smartphones, yet leaving the network relatively untaxed so that user-experience can be generally smooth across the board, Ericsson executives shared at a roundtable discussion on the sidelines of the CommunicAsia show earlier this week.
According to the network equipment vendor, such package ideas will invariably play an important role in driving mobile broadband uptake among prepaid smartphone users.
For example, time-based (e.g. hourly or daily) and session-based (e.g. watching YouTube, or playing a game) passes offer smartphone users flexibility in their data consumption and does not require them to commit to large spending.
Boosters can also provide smartphone owners who feel a service is worth paying for an opportunity to enhance their experience. For example, online video viewers can be offered a speed booster for a small charge. These boosters can also be flexible in implementation: whether time-based, quota-based, or session-based.
Telcos can integrate all of these packages offered through an app which acts as a dashboard, or any equivalent mechanism, where users can manage their various boosters and control expenses. The app can further act as a channel to push additional promotions to subscribers.
One Ericsson survey, conducted in January 2012 in urban areas of Jakarta and Surabaya, polled 500 consumers aged 16-59 who access internet/data services on their mobile phones for personal use and found that 52 percent of Indonesians are receptive to the booster concept, while 45 percent are interested in using a dashboard to self-manage services. In addition, Indonesians prefer packages that offer unlimited access to a small number of applications of choice – such as Facebook or YouTube – as opposed to large data cap plans.
Of course, these ideas are not exclusive to the pre-paid market, and it is possible they may work in the post-paid market as well. In mobile-crunched Singapore, telcos like SingTel and StarHub can consider other forms of mobile data packages instead of just slashing month data caps, said Tan Kok-Liang, vice-president for engagement practices for Singapore and Brunei.
Take Indonesia's Telkomsel and its "anti-throttling" speed booster. Called "Paket Turbo", the booster allows mobile broadband users to restore speeds back to their original plans once they reach their data cap, allowing them to continue high-speed surfing. This comes in 450MB and 1GB quota options with their respective additional fees.
In Kenya, Orange offers the "Zawadika Bonus" pre-paid top-up bonus programme. The longer you stick with the telco, the higher your bonus amount, ranging from 10 percent for three to six months up to 30 percent over 18 months.
Telcos may be facing network and revenue problems, but the Chinese saying of "finding opportunity in crises" should spur them to innovate and come up with unique solutions to tackle our increasingly crowded sky.