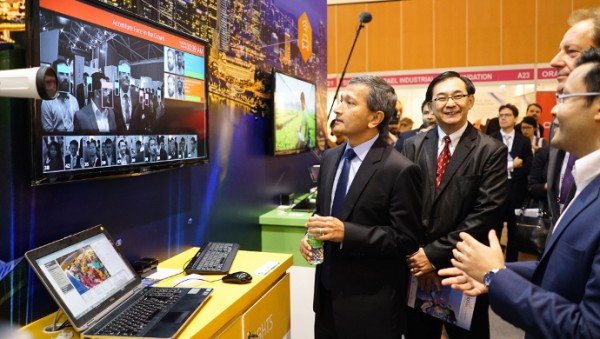 Self-driving, on-demand minibuses may be expected to start plying routes at the one-north business and industrial park within two years, said Dr Vivian Balakrishnan, Singapore's Minister for Foreign Affairs and Minister-in-charge of the Smart Nation Programme Office earlier this week.
Speaking at the opening address of the IoT Asia trade show and exhibition on Wednesday, he said the real "killer app" for autonomous vehicles is not the driverless car as exemplified by Google's on-going efforts.
Instead, he said, the government is interested in the technology's potential to solve what is commonly known as the "last mile" or "last kilometer" challenge in public transit.
This refers to the final leg of a commuter's journey from a transportation hub – such as an MRT station – to their final destination that is just beyond walking distance.
"What we're really looking at is autonomous minibuses or autonomous vehicles to close that final gap, which would be available on-demand and will literally bring you to the doorstep of your house, or from the doorstep of your house to the train station or to the bus interchange," he said.
He suggested that this could be tied-in with the government's on-going experiment with on-demand private bus services through the Beeline mobile app.
In his speech, the minister also revealed two additional developments that he expected to see in the near future.
First, the use of robots and automation in factories, warehouses, and malls will become pervasive. This is in line with the National Robotics Programme, which will be scaled up this year with an investment of more than S$450 million.
Several restaurants in Singapore are already testing out robots and drones to deliver food to customers, such as Rong Heng Seafood at East Coast Seafood Centre and Timbre @ The Substation.
Robotics will be "decisive in helping us address our manpower challenges as well as strengthen both the productive and innovative capacity of our companies," Dr Balakrishnan said.
The minister also outlined his vision that "every lamp post should be a smart lamp post", providing location services, Internet connectivity, video surveillance, and other sensors.
He lamented the fragmented use of existing lamp posts, and how different government agencies worked in silos just to make one lamp post function the way they want it to.
"It is one agency that puts up lamp posts to light up the streets, it is another agency that needs video feeds, it is another agency that supplies electricity, and when they find that it's not effective they put up solar panels," he said.
This makes it necessary for a more integrated approach for Singapore's quest to be a Smart Nation, he argued.
"It is those societies, those cities, those nations, with a culture that has the right blend of openness, innovation, cooperativeness, ability to defer gratification, ability to invest, and then the ability to execute, that will make all the difference between success or being left behind," he said.