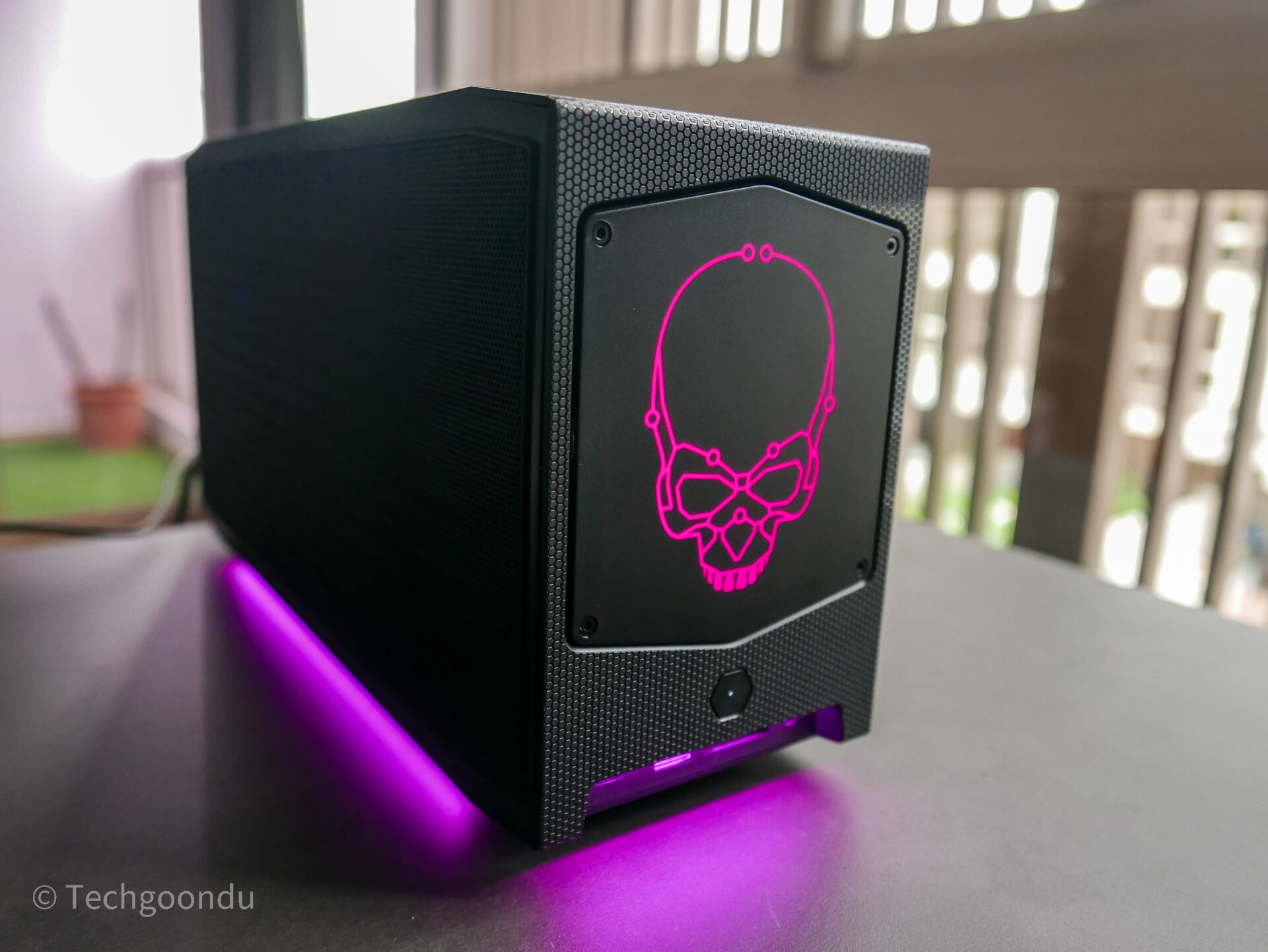 As PC components got smaller over the years, the idea of a gaming PC has changed from one of the familiarly huge watercooled desktops to small, shoebox-sized pocket rockets that can run the latest games in all their glory.
Chewing gum-sized solid state drives (SSDs) have replaced thick 3.5-inch hard disks and even their smaller 2.5-inch SSD counterparts.
High-performance graphics cards remain the largest (or longest) component, thus needing space for airflow, but even these obstacles have not stopped small PCs from packing the best hardware today.
What this means is that you don't have to worry about needing a large space for your desktop PC at home. Something small enough to be on your desk is plenty good.
I've had the chance to try out Intel's NUC 12 Extreme kit recently and it's one of the most powerful machines packed into a such a small chassis.
The main reason for that is because it's got much of the motherboard and CPU packed inside a neatly made module called the Intel Compute Element.
Open up the cover here and you can pop in your own SSD and memory modules, just like any small Intel NUC (Next Unit of Computing) kit.
There's space in front of this compute module to slide in the most powerful Nvidia GeForce or AMD Radeon graphics cards. Yes, the included 650-watt power supply is handy to have around.
Intel obviously has tested the thermals here to sell this kit, which has three 92mm exhaust fans at the top to assist your graphics card's already busy fans.
Now this extreme PC also comes with a 12th-gen Intel Core i9 or Core i7, which should make short work of most games today if coupled with a good graphics card.
The best thing is, this machine actually no bigger than your "next-gen" gaming console, so you can plug it into a 4K TV. Plus, its black finish (albeit with some obligatory LED lights) should fit in nicely on a TV console, making this one serious and good looking gaming machine.
I ran some quick tests on a test unit shared with Techgoondu. With a Core i9-12900 chip, 16GB RAM, 500GB Sabrent Rocket SSD and a mid-end Nvidia GeForce RTX 3060 Ti, it posted some impressive performance numbers.
In the 3DMark tests aimed at simulating real games, the PC scored 11,659 in the Time Spy subtest, 27,231 for the Fire Strike subtest and 61,540 for the Night Raid subtest.
What's interesting is that the machine is near-silent when it's on idle or doing simple tasks. When the benchmarks are fired up, the fans spin up, though not with an irritating high-pitched whirl.
Besides the Intel NUC 12 Extreme, there are other options in the market as well. Mini-ITX is the typical size that many DIY or aftermarket PC makers like Aftershock and Dynacore in Singapore offer, though these machines usually need a taller chassis than the NUC 12 Extreme.
That's because you will have a larger motherboard, so the accompanying chassis has to fit that in. Of course, with a larger chassis, you can also try to fit in watercooling components to cool things more efficiently and quietly.
For those lacking space at home, there's also the option of buying a regular laptop or small Intel NUC for work and then plugging in an external graphics card enclosure for that speed boost.
This offers flexibility but these add-on units could cost upwards of S$400, because they are like mini chassis with their own power supplies.
Another popular option would be to buy a gaming laptop, but that means you can't simply upgrade your graphics card when things get sluggish after a few years.
Don't forget gaming laptops with top-end graphics can cost close to S$3,000 or more, so they are probably not the cheapest option.
Intel's NUC 12 Extreme, previously codenamed Dragon Canyon, starts from US$1,450 (S$2,028) and you still need to factor in the SSD, memory and graphics card, so it's not cheap, either.
What you get in return is a machine you can upgrade over time and a size that fits in many places. In other words, a PC that is compact yet powerful and flexible for years of gaming performance.
Don't get me wrong: Large PCs are still cool, especially when you can showcase all the nice components inside, but small PCs that offer just as much performance is a boon now.
I'm still keeping to my large Silverstone TJ-07 chassis that is more than a decade old because I fortunately have the space under the desk for it. Plus, I still like the added space that makes swapping out components easy.
That said, a smaller unit of computing is surely the future for many gamers. What's nicer than a powerful PC sitting on your table?