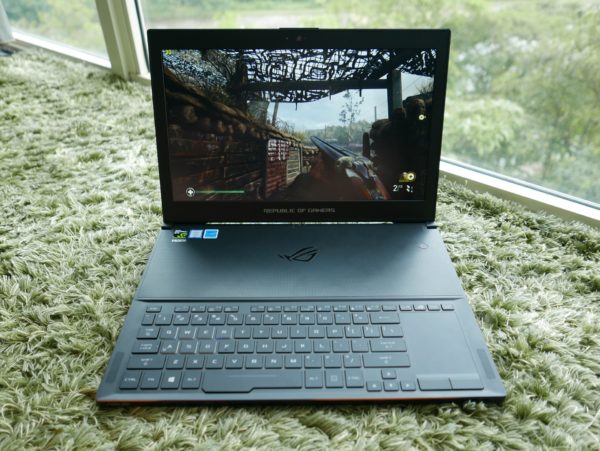 When I first saw it at Computex earlier this year, I knew the Asus ROG Zephyrus gaming laptop was a laptop to look out for in the months to follow.
Drawing on Nvidia's Max-Q design, it was among a handful that showed the way forward for top-performing gaming graphics on slim and great-looking machines.
So when I got my hands on the Zephyrus GX501, the model shipping in Singapore, earlier this month, I was happy to finally see a gaming machine that looks as sleek as its thinner ultrabook cousins.
Okay, let's be clear about "thin and light". The Asus gaming laptop is still 2.2kg, twice as heavy as a regular ultrabook that tips the scales usually around 1kg.
Yet, it's the sleekest design I've seen on a gaming laptop since… forever. The brushed metal look is solid and classy, while the ROG logo isn't overdone, unlike on some Asus peripherals.
Thank goodness, there are no blinking lights, either. Okay, the keyboard is lit, but there's an understated elegance that's missing from so much of today's over-the-top gaming gear.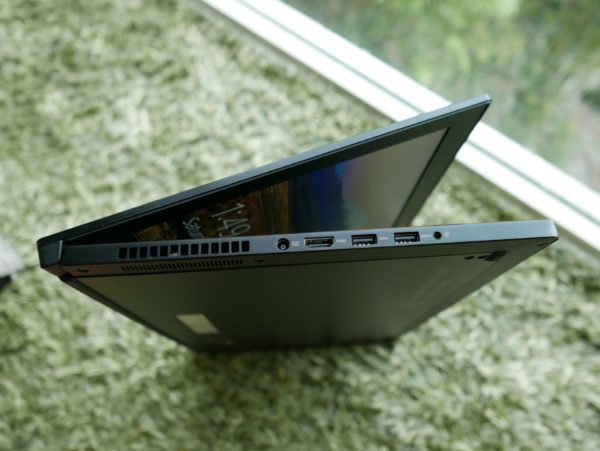 More importantly, the Zephyrus rocks the latest hardware. There's an Nvidia GeForce GTX 1080 onboard. That's about the fastest you'd get today, unless you're speaking of the GTX 1080 Ti for desktops.
That's not forgetting the Intel Core i7-7700HQ chip, a good 24GB of RAM and a 512GB solid state drive running on the fast M.2 PCIe x4 interface. All in, what you'd expect to keep up with the fast graphics onboard.
The 15.6-inch screen, while large enough, has a rather modest 1,920 x 1,080 (Full HD) resolution. At this resolution, the GTX 1080 (with 8GB of memory) onboard doesn't really break sweat with the latest games.
I played the early missions of Call of Duty: WWII, the first-person shooter, and the Asus laptop had no problem delivering smooth frame rates, even with all the eye candy turned on.
At the modest Full HD resolution, the machine ran at more than 100 frames per second – way more than the 60 usually desired for smooth gameplay – when I repeatedly peered at the Steam in-game frame counter.
Clearly, the graphics chip onboard is made for greater things and you'd probably have to output to a larger, sharper screen to stat troubling the GTX 1080.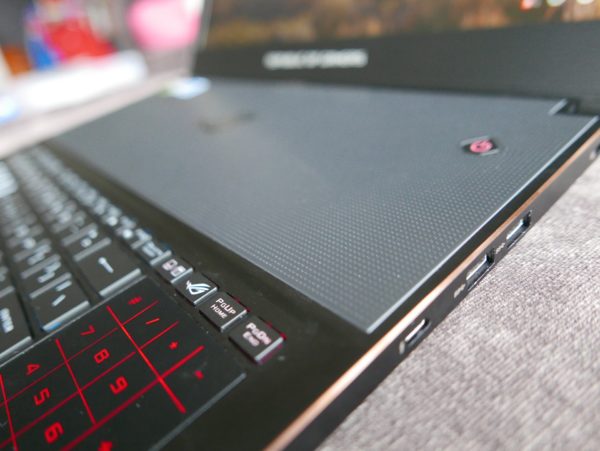 Unsurprisingly, the Zephyrus also aced synthetic benchmarks aimed at mimicking how games play on PCs.
With the 3DMark Time Spy subtest that measures DirectX 12 performance, it scored 5,446. For comparison, an average ultrabook with Intel's on-chip graphics typically scores under 400.
The gaming laptop also dealt easily with less demanding 3DMark subtests, such as Fire Strike (13,976), Cloud Gate (28,568) and Sky Diver (30,952), which have fewer graphical effects.
What about regular tasks you do with your PC? Here, the graphics element doesn't pull it too much ahead. It scored 3,555 in PCMark 10, which is only slightly better than the Asus ZenBook 3 Deluxe's 3,422 earlier this year.
I don't think gamers will be too concerned, though. For those with deep-enough pockets, the Asus Zephyrus is the sleek gaming machine they have been waiting for.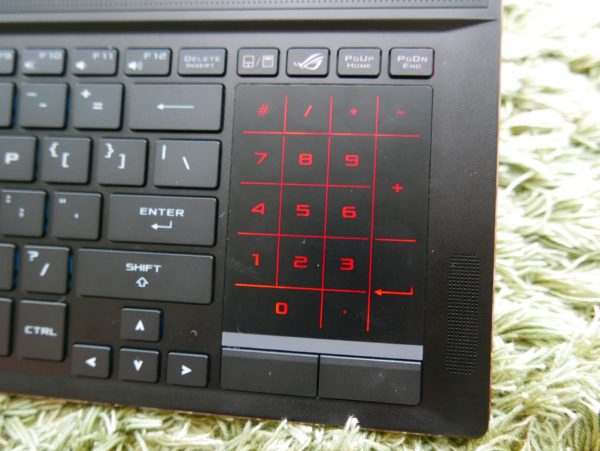 And this is not just a pretty-looking machine. The design looks well-thought-out, with a practical edge.
The large area above the keyboard is where the graphics chip is cooled aggressively. To keep things so slim, fans can't be huge so there has to be a way for heat to dissipate from a hot GTX 1080 chip. Fortunately, this metallic surface feels warm – not skin burning – even when a game is being fired up.
Another innovative touch is a notch at the back of the laptop. Reminiscent of Sony's original Vaios of years ago, the Zephyrus screen helps prop up the bottom of the machine when it is pushed back.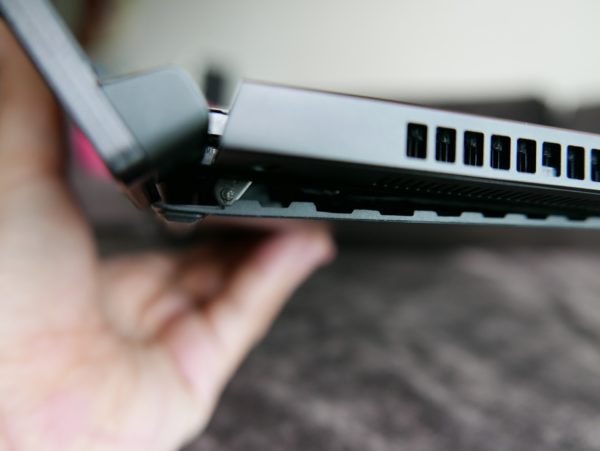 A little opening then takes advantage of the elevation to let out some heat as well. Every crevice matters to keep things cool enough for the slim machine.
If there's one area I'd caution about the Asus laptop, it is battery life. Though it comes with a decent 50 watt-hours polymer battery, you'd not want to be playing too many games without your power brick plugged in.
This isn't an ultrabook built for day-long usage, but I'd expect you to know that already when buying a gaming laptop.
For such a flagship, the Zephyrus shows the polish that is expected. The keyboard is comfortable with better key travel than usual, though if you want a mechanical keyboard, you should get a noisier one. The touchpad doubles up as a soft number pad when you want to do some numbers.
And sound is decent from the speakers firing up from the sides of the keyboard. Playing Call of Duty: WWII, I feel the pounding of explosions and the sound of bullets hitting wood and concrete all around me. It is pretty immersive for the limited size.
Plus, for geeks, little extras like the Asus gaming app let you tweak the machine for fun without going into the motherboard settings like how overclockers of old used to do.
For all that, the Asus Zephyrus is a really enjoyable gaming machine, especially if you have S$4,578. More importantly, it could be the first of many slim yet powerful gaming laptops to come.