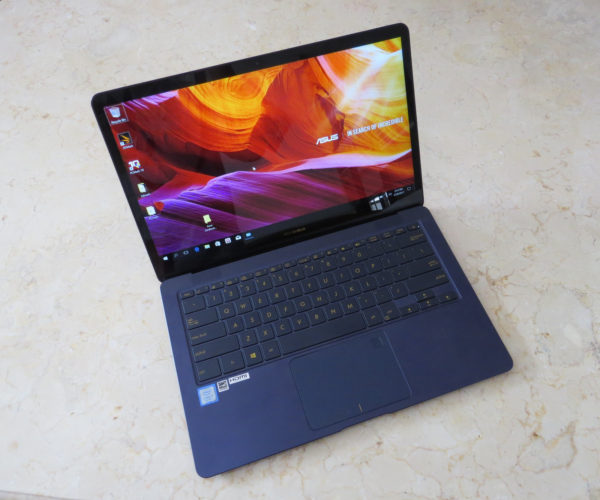 It may be difficult keeping track of the many ZenBook models from Asus these days, but one look at the ZenBook 3 Deluxe from this year's lineup and there's no question it's a top-end ultrabook.

Unlike many previous ZenBook ultrabooks, this one comes with a 14-inch screen instead of a more common 12- or 13-incher in this class. Yet, it has kept to the same slim, svelte profile in a light 1.1kg frame.
The main reason for this are the slim bezels around the display, something which Dell has won over so many fans with its XPS 13.
On the Asus, the slightly bigger screen is great for folks who need more space, especially to open a couple of windows to multi-task. I'm one such user, who often types on one window and refers to a media release, for example, on another.
Yet, being just 12.9mm thick means that the ZenBook 3 Deluxe can be slipped into a bag easily as you travel. The all-aluminium clamshell chassis in Asus' so-called Royal Blue is quite a design feat, even by the high standards of previous ZenBooks.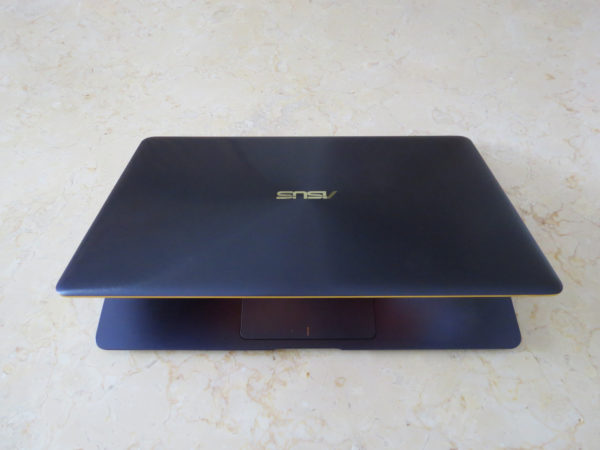 It feels solid and smooth in your hands yet remains so portable. After many ZenBooks over the years, it seems Asus has finally perfected the attractive concentric circle finish it's known for, through a 40-step spun-metal process.
Make no mistake, the ZenBook 3 Deluxe is one of the best looking, if not the most attractive, among ultrabooks today.
In performance, it matches up as well. The unit I tested came with an Intel Core i7-7500U processor, 16GB of RAM and a 512GB of solid state drive connected on the zippy PCIe x4 link.
Together, the components pushed out some good numbers in benchmark tests. In PCMark 10, which measures everyday productivity tasks such as videoconferencing and spreadsheet editing, the ZenBook 3 Deluxe scored 3,422. That's par for the course for its engine.
This isn't a gaming machine, but the Asus laptop did surprisingly well in some 3DMark tests that mimic actual games played on PCs. The processor and memory no doubt helped out the modest Intel Graphics 620 graphics system onboard.
In the Cloud Gate subtest, which measures graphics performance in basic and home PCs, the ZenBook 3 Deluxe scored 6,245. In a slightly tougher subtest called Sky Diver, aimed at gaming laptops and mid-range PCs, it came back with a score of 3,761.
Both are pretty decent. And surprisingly, it beat out the results from a gaming laptop, the Lenovo Legion Y720 we tested last week.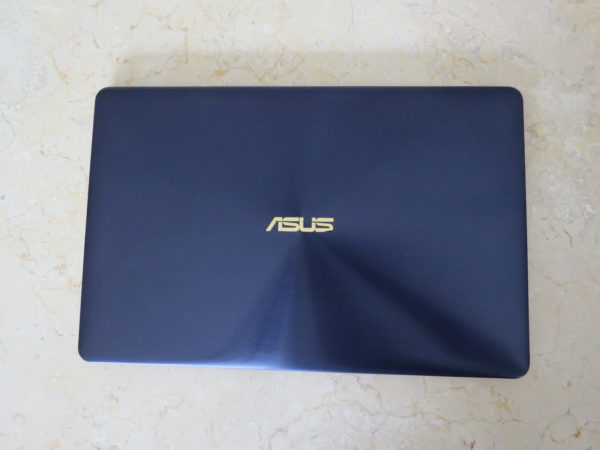 However, in the toughest 3DMark subtests, the ZenBook 3 Deluxe shows its limitations. In Fire Strike, it scored only 895 and in Time Spy, it got a low 373.
The good news is that ultrabooks need no longer be weak performers in games – as long as you are willing to pony up some cash for an external graphics setup.
The ZenBook 3 Deluxe can be plugged into the S$888 Asus ROG XG Station 2, which lets you slot in a top-end desktop graphics card and run things like a desktop gaming PC at home.
The one thing you know you have to sacrifice with such a thin laptop is the convenience of having many ports. Okay, the ZenBook 3 Deluxe isn't too bad here with three USB-C ports, two of which support Thunderbolt 3 and 40Gbps transfer speeds.
And it's a good thing Asus has included an adapter to connect to regular USB devices like flash memory drives, as well as an adapter to hook up HDMI devices.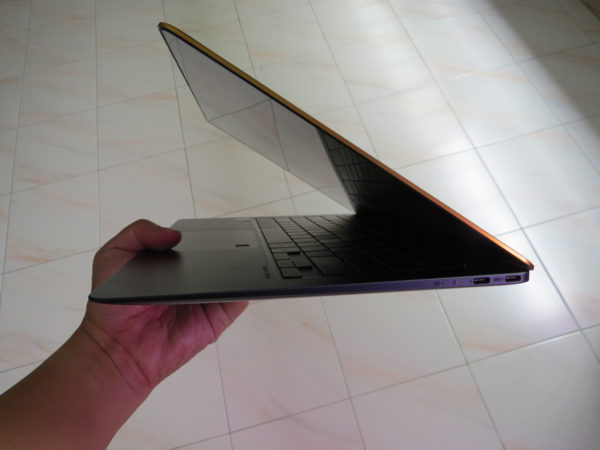 However, do remember that you may need one port for charging the laptop. And speaking of that, the 46 watt-hour lithium-polymer battery isn't the largest around, in terms of capacity. It promises nine hours of battery life, which also isn't the longest either, even among ultraportables.
Dell's XPS 13, for example, sports a 60 watt-hour power pack that promises as long as 22 hours of usage on a Full HD screen.
That's the resolution that the Asus ZenBook 3 Deluxe comes in as well. Perhaps the Taiwanese PC maker knew it was smarter to keep to a lower resolution display, instead of pushing out a Quad HD or 4K screen that would suck more more juice.
The screen itself isn't shabby, to be honest. The high contrast is something that Asus has featured on its ZenBooks for a while, and in the latest version, it doesn't disappoint either.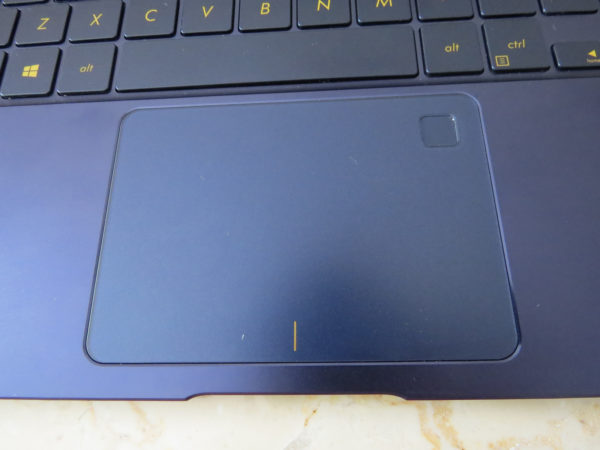 Indeed, there are many nice touches on the ZenBook 3 Deluxe that deserve attention. The keyboard remains reasonably comfortable with its wide layout and noticeable key travel. The touchpad is large and smoothly moves the cursor across the screen.
Audio is top-notch here as well. Usually an afterthought, the speakers on the ZenBook 3 Deluxe are anything but. They are capable of precise, full-bodied and deep bass even when played loud. It's a wonder why larger laptops so often sound worse than these tiny moving magnets here.
And finally, the laptop is easy to place on your lap. It doesn't feel that hot despite spinning up when tasked with, say, benchmark tests. Together with a copper heat pipe under the chassis, the fan whirls up to keep things cool, but never in an annoying turbine engine sort of way.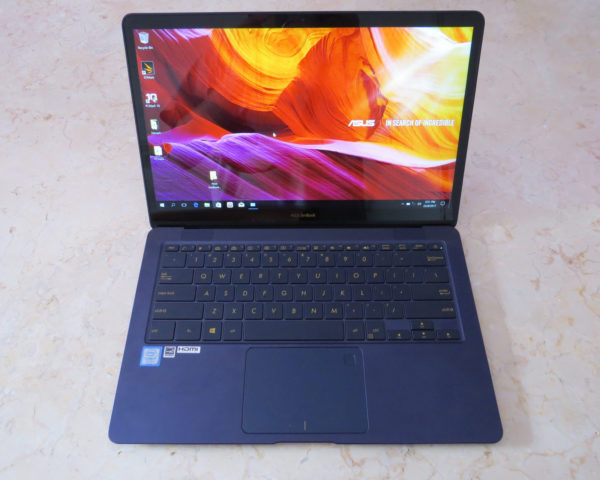 There's really a lot to like about the ZenBook 3 Deluxe, which I'd rate as one of the top ultrabooks to own now. This latest clamshell design from Asus is one stylish performer.
Now if the Taiwanese company can somehow pop in a larger battery without sacrificing the slim design, that would be a big boost. And, of course, lower the price too. The high-end model I tried out goes for a cool S$2,698, which isn't cheap at all.
If you are willing to have a still-handy Core i5, 8GB of RAM and regular 512GB instead of the faster PCIe one, then you can cut the price by S$500 to S$2,198. Still expensive, but you're paying for quality.