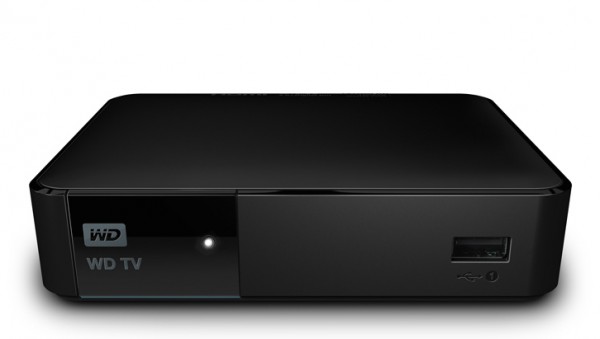 Cord cutters, a term that refers to folks who trade their cable TV subscriptions for online video services, would typically use a media player to stream content from a home server or an Internet TV service such as Netflix and Hulu to a TV.
In recent years, a flurry of media players and devices such as Google Chromecast, Amazon Fire TV and Apple TV have hit the market to cater to the demands of a generation of viewers who prefer to watch TV shows on-demand, rather than stick to a TV schedule or channel bundle from a cable TV service provider.
Joining the fray is Western Digital's WD TV that lets you play all your media files housed on a media server or portable hard drive on your TV, as well as watch TV programmes and movies from Hulu, Vudu and other online video streaming services.
The WD TV is the top of the line product in the WD TV family of media streamers that includes WD TV Live and WD TV Play. While they share similar features such as supporting a wide range of video formats in full HD resolution, WD TV is the only member in the family that lets you cast your smartphone screen to the TV.
As with most other media players I've tested, setting up the WD TV is a cinch. For most people, it's as simple as hooking up the device to a TV via a HDMI cable, and connecting it to the Internet via a network cable or Wi-Fi.
After the WD TV is powered up, you'll be greeted by a welcome screen, which can be customised with two themes. I was prompted to update the device's firmware to the latest version that supports new WD TV apps such as BBC iPlayer.
WD TV comes with a remote control that looks like a regular TV remote. It's not the most elegant looking out there as compared with the sleek Apple TV remote, but it does its job. You can also download the WD TV Remote app from the iTunes App Store and Google Play to control the media player.
On the home screen, you can pin your favourite apps or switch to Services to get a full list of WD TV apps, which differs based on where you are. Oddly, Netflix is not on the list of US-only apps on the WD TV, though it's available on WD TV Live and WD TV Play.
To access apps such as Hulu Plus, Pandora and Vudu in Singapore, make sure you have a VPN or DNS routing service such as UnoTelly. Then, switch the device's location to the US and enter your DNS settings in the settings menu.
Of course, if you already subscribe to DNS/VPN services from MyRepublic or ViewQwest, you can skip the DNS set-up process. Check out our guide on watching NetFlix and Hulu in Singapore.
While the WD TV's menu is neatly organised, things get a little slow at times. For example, it took a while to replay a video on a flash drive after I played it the first time. The device also stalled occasionally as I was navigating the menu.
Most TV apps offer pretty much the same experience across various media players with some slight differences. For example, compared with Hulu Plus on Apple TV, WD TV's Hulu Plus app does not include a list of recently-watched shows on the landing screen. On the other hand, you get to choose the streaming bitrate for Hulu Plus shows on WD TV, but not on the Apple TV.
If you have a home theatre system, you can take advantage of the optical audio output that lets you pipe DTS or Dolby Digital audio streams to an AV receiver. But note that there's a quirk in the audio settings: you have to manually switch to stereo or HDMI if you want the TV to handle the audio instead.
At S$169, the WD TV is a good deal if you have a large video collection that you want to watch on a big screen. With Miracast support, it's also good for showing off videos from your smartphone on a TV, which works perfectly with my HTC One M7. For those who stream lots of content, the lack of popular live TV apps like Sky News, Bloomberg as well as movie apps like Netflix is a potential showstopper.
For media players to be as ubiquitous as cable TV set top boxes, Western Digital and other hardware makers need to reduce the friction in user experience — the subtitle button on the WD TV's remote control doesn't work in Hulu Plus, for example.
That would surely frustrate mainstream consumers who expect these things to work without calling a helpline.