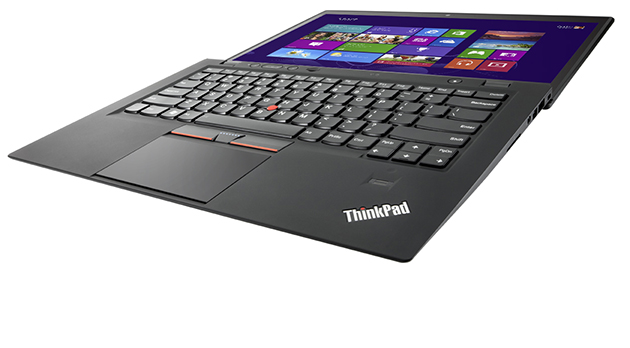 Of all the ultrabooks designed to take on Apple's MacBook Air, few were as stunning as the ThinkPad Carbon X1, which combined the ThinkPad's classic design with modern speedy chips and a super thin body.
Lenovo is back at it once more with the newest iteration of the X1, this time with a 10-point multi-touch screen that enables users to take advantage of Windows 8's touch-friendly UI.
The 14-inch (1,600 x 900) Carbon X1 Touch boasts a list of features engineered for the road warrior, starting at its svelte profile of 20.8mm and a weight of only 1.54 kg. Its carbon fibre chassis lends it strength and durability so users won't have to fret even if the laptop takes a few hard knocks on the road.
There's also Lenovo's RapidCharge technology, which juices up 80 percent of the X1 Touch's battery in 30 minutes, and optional built-in 3G ensures that Internet connectivity is just a click (and mobile broadband subscription) away, wherever you may be.
Businesses will also appreciate the X1 Touch's built-in security and manageability including Intel vPro, an integrated fingerprint reader, Trusted Platform Module and BIOS encryption.
Underneath the hood you'll find your choice of Intel processors, 8GB of RAM, and up to 256GB of solid state storage.
Here's the hard-to-swallow part: at a starting price of S$3,299, most consumers probably won't even consider paying through their nose for one.
But for mobile workers looking to squeeze out every ounce of productivity offered by their machine, the X1 Touch is definitely one of the top choices.
UPDATE: Since its announcement, Lenovo has updated the starting price for the laptop to start from S$2,999.