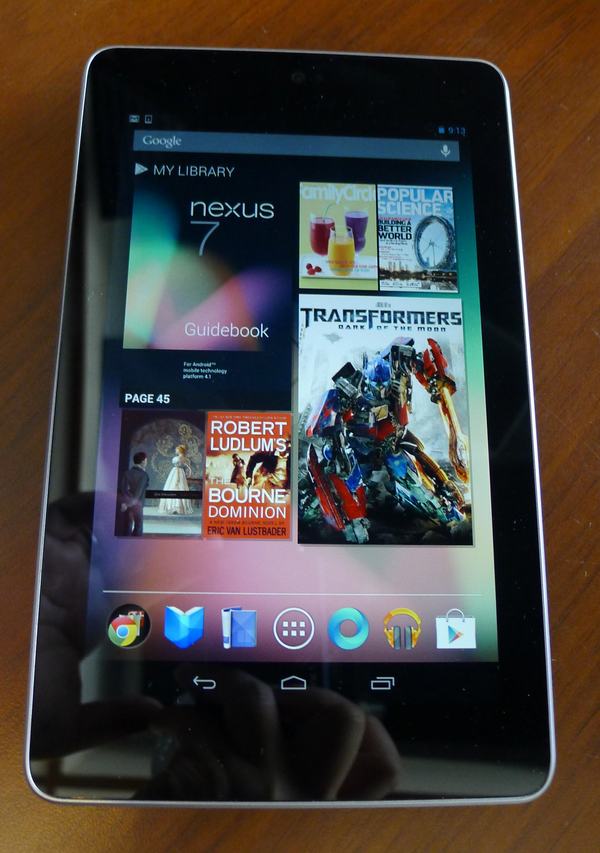 Google's new tablet recently started shipping in the United States and you bet some eager users in Asia have already bought it either through an overseas shipper or at stores there.
A friend of ours had his Nexus 7 shipped to Singapore over the weekend and he was nice to let us have a quick hands on with the much-touted US$199 gizmo over lunch today. Here's what we think of it.
For starters, what the reviews are saying is true: the Nexus 7 is silky smooth to use. As with the first Nexus gizmo, the Nexus One smartphone, Google has created a "clean" Android interface for its first branded tablet. This means doing away with add-ons such as Samsung's Touchwiz, which often slow things down.
The moving between menus feels instantaneous, without the slightest hint of lag. Coming out of an app, say, a book reader, to return to the home screen, you don't feel that the quad-core engine on the Asus-made device is taxed at all.
The Jelly Bean operating system, or Android 4.1, is what they all say it is – really smooth to use and seamless when switching between tasks. Truly, there is no other Android tablet that runs as fluidly as this, even if the difference is by the split-second.
Indeed, even when compared to my Samsung Galaxy Tab 7.7, which is rocking Ice Cream Sandwich (Android 4.0) now and is proving to be very zippy, Google's Nexus 7 feels faster. Perhaps it's due to the quad core CPU, or maybe it's down to the Jelly Bean OS in the new tablet being more optimised.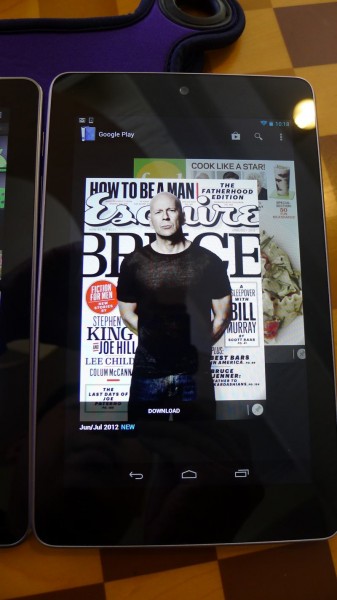 Whatever it is, the device is one powerhouse in your palm. I played a Transformers: Dark of the Moon movie that came as a free download and the high-res 1,280 x 800 screen really excels. In terms of sharpness and pixel density, the Nexus 7 doesn't lose out to the new Apple iPad by much, not practically anyway.
If you don't believe me, try reading a magazine or book with it. The sharpness shows in the fine lines in text as well as the images where there are intricate details. The quality is not something you'd expect from a US$199 tablet.
Clearly, Google has seen Amazon's Kindle Fire succeed where previous Android tablets haven't – grab a beach head in a market where the iPad is still dominant.
Like Amazon, Google is about selling services. If it can inspire other Android tablet makers like it did with the Nexus phones, then it'd probably be more than happy to let others come up with more compelling, perhaps more expensive offerings running the Jelly Bean software.
To be honest, when I compared the Nexus 7 to my Galaxy Tab 7.7, I still prefer the thinner Samsung tablet and the more vibrant colours on its Super AMOLED Plus screen.
The Samsung tablet also comes with a memory card slot that you can use to bring along an unlimited number of movies on a flight, while Google's Nexus 7 only has 8GB or 16GB onboard, depending on the model. Plus, if you want to get connected on the go, the 3G-enabled Galaxy Tab 7.7 is easier than the Wi-Fi-only Nexus 7.
It's a little unfair to compare a US$500+ rival with the Nexus 7, of course. For the US$199 that Google and Asus ask for, the Nexus 7 certainly doesn't disappoint with its hardware. Besides the Nvidia Tegra 3 CPU, IPS (in-plane switching) screen and lightweight 340-gram frame, the new tablet impresses with its simplicity.
There are only three hard buttons on the side to control the power and volume. There's also a handy near-field communications (NFC) link built in, so you can easily exchange data with friends using Nexus devices by beaming to them wirelessly.
One thing we didn't test was the battery life, as we only had a brief session with the Nexus 7. Google states that it should run for nine hours when watching HD movies, or 10 hours when surfing the Web or reading a book or magazine, but we'd have to get a unit in to use for a few days to ascertain that.
There's a 1.2-meg camera facing you, so you can make video calls. Take note that there's no camera on the back of the tablet, so you won't be able to take pictures like with a phone. But we don't think we'd miss that, since it's quite counter-intuitive – and dorky – to hold up a tablet to take a picture.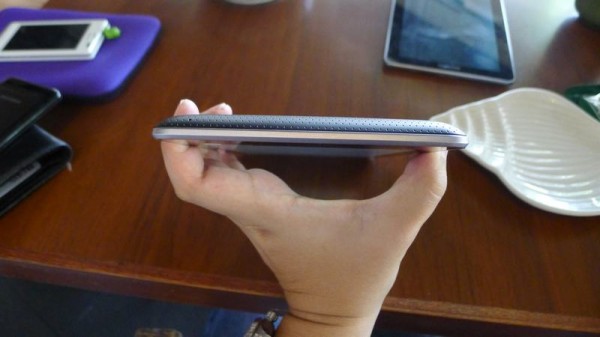 Like many other reviewers, we'd heartily recommend this US$199 tablet for folks buying their first tablets. At its price, it is the best "basic" tablet, bar none.
Coupled with the ultra-smooth Jelly Bean interface, the Nexus 7 is one compelling tablet that even Apple iPad diehards – if they take their eye off their cherished tablets for a moment – will appreciate.
The Android market is full of useful apps, from e-readers like Flipboard, Zinio and Google's own Currents to excellent video players such as MX Player, which lets you play almost any format of video you like. On the Nexus 7, these apps will shine.
Previous Android tablets were good, but somehow never made a dent in the popularity of Apple's iPad. Now, just like how the Nexus One convinced the first Android adopters that there was something better than the sleek marketing from Apple, the Nexus 7 could just do that with tablets.